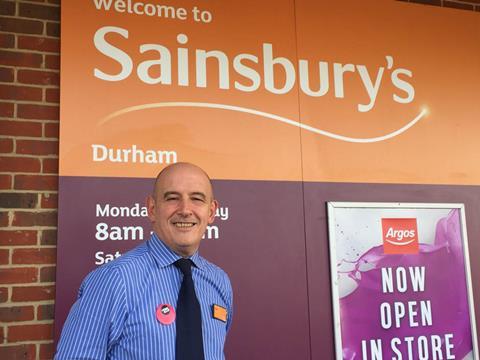 This is your fourth Grocer 33 win. How does that feel? Winning it four times is marvellous. I have previously won it while I was working in branches in the North East and London and now I've won it twice in this store, which is fantastic because it shows we have consistency.

You were one of the first Sainsbury's branches to get an Argos concession. How is that going? Yes, we trialled Argos in May 2015, prior to the acquisition of Home Retail Group. From day one, us and Argos have operated as one store. The customers love it. It's very popular for the collection of Ebay purchases, which is another big service that Argos branches are used for, and obviously brings customers in.

Do you feel ahead of the game now the HRG acquisition has gone through? Yes. It's going to be a pretty quick rollout of all things Argos but we've already got that, so we're certainly one step ahead and the Argos colleagues are delighted that they've been acquired by a company with Sainsbury's heritage.

You are also one of the stores pioneering a click & collect service on groceries. Is that proving popular? We have click & collect on groceries, clothing, Argos and Ebay so we've got all elements of the service in our stores. Again, it's a great service for customers because they can get everything via the internet. It's significantly growing.

The launch of the new Sainsbury's free-from range seems to be going well, with 'Gary' vegan cheese becoming a social media sensation. How is it going in your store? It's been a tremendous success so you could say everybody loves Gary! We have previously had some fresh free-from produce, but not enough to warrant a special display. So now you can go and get all your free-from products in one location rather than shopping around all categories; it's like a shop within a shop. Sales have been fantastic.
Winner: Sainsbury's Arnison Retail Centre, Pity Me, Durham
Manager: Russ Walker
Size: 64,000 sq ft
Opened: 1990
Market share: 16.7%
Nearest rivals: Lidl - 0.1 mile, Asda - 0.5 miles, Tesco - 2.1 miles, Aldi - 2.5 miles, Morrisons - 3.5 miles
Store data source: Analysis by CACI. Call the market planning group on 020 7602 6000