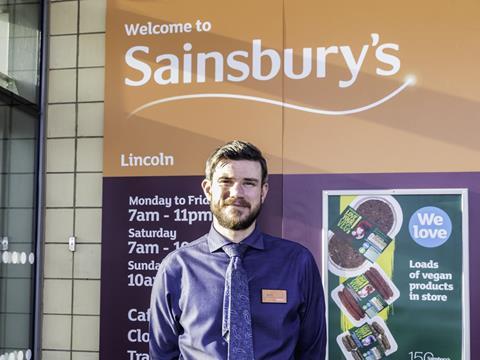 Your store scored highly in terms of store standards. Has the new Lettuce Know app helped? Yes. It's great for keeping on top of availability and store standards. Customers can leave feedback and commentary and store managers and teams can monitor what's been said in real time. This allows us to take the appropriate action with any challenges we're facing, although our feedback has been largely positive.

Did you have major availability issues in your store during the switch last summer? We didn't, but if we do have any issues around availability we manage them as soon as possible, and our teams know it is high on the agenda. [Head Office] has supported us immensely under the managerial changes too.

Over Christmas Sainsbury's highlighted 'cautious customer spending' - is that something you saw? No, our customers still went for a lot of foodie gifts, and the store actually overperformed compared with expectations.

Sainsbury's is really pushing its vegan range at the moment. How is it going in your branch? Our vegan lines are flying off the shelves. We've been bringing them to customers' attention with discovery plinths.

What is your favourite part of the store? I love the size of it, as it gives so much space for products in different categories. There are so many departments, from grocery to clothing, electricals and our café. Plenty of shoppers pop in to do their weekly food shop then browse other categories while they're here, so we have to inspire them and be a real ­destination store.

The store has just turned 25. How did you celebrate? We had a ribbon-cutting ceremony led by an employee who has worked for Sainsbury's for the past 35 years. It was great to celebrate with colleagues, and Mike Coupe visited us to be part of the anniversary.
Winner: Sainsbury's Tritton Road, Lincoln
Store manager: Scott Ward
Opened: 1994
Size: 104,000 sq ft
Market share: 21.4%
Nearest rivals: Iceland - 0.1 miles, Lidl - 1 mile, Aldi - 1.6 miles, Asda - 1.7 miles
Store data source: Analysis by CACI. Call the market planning group on 020 7602 6000