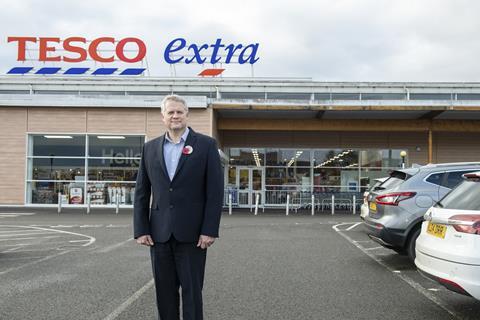 Winner: Tesco Kilmarnock
Store manager: Andrew Mexcon
Opened: 2010
Size: 60,000 sq ft
Market share: 22.9%
Nearest rivals: Iceland – 0.6 miles, Asda – 1.1 miles, Morrisons – 1.1 miles
Store data source: Analysis by CACI.
Call the market planning group on 020 7602 6000
How is Scotland's tiering system affecting shopping habits? Kilmarnock is in tier three, which means we can't meet people from other households in our homes. There's not been a fantastic amount of difference in shopping patterns since the tiering system came in, but it has continued the trend of customers visiting us less but purchasing more when they do, which we've seen since day one of the pandemic. It's clear shoppers are planning ahead. Customers have also by and large been very confident with the Covid-19 safety and hygiene measures we've introduced, such as cleaning trolleys and offering hand sanitiser. Everyone is playing their part, with the vast majority of customers consistently wearing their masks, while the team is very conscious of maintaining a safe distance from one another and customers.
What plans are in place should outside queues build up? We're getting Tesco's traffic light entry and exit system installed on 16 November. Tesco has also sent umbrellas to all stores across the estate to help keep customers dry should they have to wait outside. These will be sanitised between uses. They're a great addition, alongside our greeters at the front door ready to answer customers' questions.
Would your customers take to online deliveries if the store offered them? Yes, I think customers and the local area would really benefit from online grocery deliveries or a click & collect service. It would be a real help for those who don't want to come into stores to do their shopping right now. We have the capacity for deliveries and it is something Tesco is looking into for us.
The store had perfect availability. How did you achieve that? I have a fantastic team of really dedicated and engaged colleagues on the replenishment and management teams that all work very hard to ensure customers can get the products they want. We replenish stock every day in a timely fashion, which is especially important given we're not a night shift store and don't have that additional time to stock shelves. We've done a lot of work this year to improve the shopping experience, including availability, which we started by highlighting our most popular and essential lines to replenishment staff to make sure we consistently have good stock levels.
Has the 10% Christmas bonus gone down well? It goes a long way to reward the team for the hard work they've done and will continue to do between Christmas and new year. They are really focused on the parts of shopping that are important for the customer, including service and safety.
How are sales of Christmas items going so far? I was taken aback by how quickly customers started buying into Christmas products once Halloween was out of the way, with toys, cards, stationery and gifts doing particularly well over the last couple of weeks. Customers are really ramping up their Christmas shopping. It's clear people still want to have a really great celebration despite Covid-19.