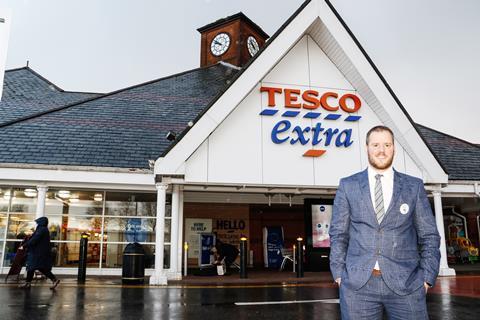 Winner: Tesco Salisbury, Wiltshire
Store manager: Shaun Sennett
Opened: 1989
Size: 115,000 sq ft
Market share: 28.6%
Nearest rivals: Waitrose – 2.6 miles, Morrisons – 16.4 miles, Sainsbury's – 17.4 miles, Asda – 18.4 miles
Store data source: Analysis by CACI.
Call the market planning group on 020 7602 6000
Have shopping patterns changed since lockdown ended and Salisbury moved up into tier two? During lockdown we had many shoppers buying non-essential items they couldn't get elsewhere, such as toys. Since the tiering system came in, we've continued to have a lot of customers opting to shop online, so we haven't had the usual footfall we'd expect at this time of year, but it is picking up. To keep everyone safe, larger Tesco branches are opening all checkouts this week and next week during peak hours and this store is closing at 1am every day until Christmas Eve, aside from Sunday.
How much has the pandemic increased online demand? Our e-commerce arm is one of the top 10 in the country in terms of sales. All our delivery and click & collect slots get maxed out every day and we've more than doubled the size of our operation this year to meet demand. The online team are really passionate about giving customers their perfect order, and that's reflected in the increasingly positive feedback we're getting.
How did customers and staff react to Tesco returning its business rates relief? We've not had any comments in store but there's been so much positivity about it online. I know some of the other grocers have done the same now, but our customers were so happy to see us leading by example.
What's the best way to foster customer loyalty? It comes down to having strong availability, good customer service and a range of deals. It starts with customers being greeted by marshals at the front door, followed by us keeping on top of availability and cleaning routines, picking quality items for online orders, being helpful to customers and highlighting our key deals such as Clubcard Prices. This promotion has gone down a storm and, alongside our Aldi Price Match initiative, has gained us a lot of loyal shoppers. Clubcard Prices has also led to a 55% uplift in Clubcard usage at the tills. What's really vital right now is that customers feel safe too, and many of them tell us they feel that way thanks to our traffic light entry and exit system, cleaning stations, hard-working cleaning team and strong social distancing measures.
How do you ensure staff are motivated? The best way to keep employees engaged is rewarding them for their hard work and helping the community. Last Friday, when the mystery shopper visited, almost the entire team wore Christmas jumpers to mark Save the Children's Christmas Jumper Day. Everyone who wore a festive outfit was entered into a raffle to win a PS5 console. Getting great feedback really gives employees a lift as well, so any standout customer comments we receive get printed off and placed on the staff noticeboard, and put on our team Facebook group. Anyone who receives two or more great comments in a week gets to spin the service incentive wheel, which will land on a prize such as chocolates, an hour-early finish or a full paid day off.