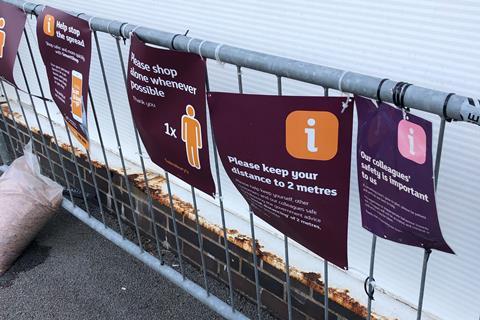 The "well managed" Sainsbury's in Matlock nabbed the top spot in this week's Grocer 33, beating Waitrose by just one point.
It achieved the win thanks to 100% availability, strong store standards and great customer service. Our mystery shopper highlighted plentiful coronavirus safety measures throughout her Saturday afternoon visit. There was also "excellent" signage and queue management.
Positive first impressions continued inside the branch with sanitiser in the foyer and announcements reminding customers of Covid-19 measures. Our shopper came across tape signifying a two-metre distance in every aisle, which worked well. There were bottlenecks at either end of the bread aisle, however, while the fruit & veg section became a "pinch point".
Employees were "extremely polite and helpful" with one taking our shopper to an item she couldn't find, and walking her back to her trolley, all while keeping a safe distance.
Checkouts were busy, but the process was helped by social distancing markers and a "friendly, helpful, careful and efficient" till operator. Our shopper was "unnerved", however, when this employee coughed into her hands before continuing to scan groceries.
Waitrose in Poynton, near Stockport, was this week's runner-up. The only black mark was for availability, with "noticeable gaps" in the fruit & veg section, gondola ends and promotional displays, but our shopper was impressed by the store's logical layout and obstruction-free aisles, and had a positive overall experience during his visit, with plenty of neatly stacked trolleys, barriers at the entrance, and a security guard managing the outside queue.
After a five-minute wait, our shopper was met with a calm and ordered atmosphere, trolley wipes, hand sanitiser and social distancing reminders. There was a short wait for the checkouts too, and while queues were not managed by employees, there were social distancing markers on the floor. The till operator was efficient.
Coronavirus safety measures were a big focus for Morrisons St Andrews, with a marshal monitoring customer numbers, floor markers as social distancing reminders, hand sanitiser and staff wearing face masks. Our shopper felt safe throughout, despite the branch being busy.
She found employees difficult to find, but experienced "helpful" service. When an employee spotted his restocking trolley was obstructing our shopper in the snacking aisle, he was quick to move it.
Tesco in Blackburn "showed its age" with its low ceiling and limited natural light, but the fact it wasn't busy allowed our shopper to do her shopping quickly. Its one-way entry and exit system impressed her, but she was disappointed this wasn't followed up with a similar format on the shopfloor. Tesco also had a "very untidy" sanitising station.
The majority of employees were "very polite" and the checkout operator offered to pack the shopping.
Asda Small Heath, Birmingham, was let down by a lack of social distancing enforcement and not all staff wearing face masks, which left our shopper feeling unsafe.
There were no promotional displays to speak of, and Asda struggled when it came to availability.
Our shopper did find the aisles were clean with no spillages, and employees, replenishing shelves, were working behind barriers so customers couldn't get too close.
WEEK 16: Saturday, 26/09/2020 (4pm-7pm)
WINNER
Asda
Morrisons
Sainsbury's
Tesco
Waitrose
Location
Birmingham
St Andrews
Matlock
Blackburn
Poynton
Date
26/09/2020
26/09/2020
26/09/2020
26/09/2020
26/09/2020
Time slot
4pm-7pm
4pm-7pm
4pm-7pm
4pm-7pm
4pm-7pm
Shop starts
05:15pm
04:15pm
04:15pm
04:07pm
05:17pm
Visit Duration
01:31
01:09
01:10
00:45
01:05
Shop Duration
01:30
01:02
00:58
00:38
00:50
Car Park (10)
9
10
9
9
10
Signposting (up to 1)
1
1
1
1
1
Queueing time to park (up to 2)
2
2
2
2
2
Trolleys (up to 2)
2
2
2
2
2
Queueing time from parking the car to enter the store (up to 3)
3
3
2
3
3
Feedback (up to 2)
1
2
2
1
2
There were barriers to enter from one side and exit through the other. There were also signs to enforce social ditancing but could've stood out more.
I did not have to queue at all to enter the car park. It was fairly busy but there was plenty of room to park. There were barriers set up outside the store, and a marshal to keep things orderly but I was able to walk straight in. There were stickers etc in place and guidance as you entered the store. There was also clear signage pointing to click and collect.
Signage and queue management were both excellent. There was plenty of clear (new looking) signage in the car park, both painted on the ground and signposts for parents and child and disabled spaces, there was a one way system, which was clearly marked and zebra crossings for pedestrians. There was a queue to enter the store, (which was on the paved area alongside the trolley collection point and marked with barriers). When I arrived there was 10 shoppers in front of me, all standing 2 metres apart on stickered footprints on the ground. There was signage all along the queue requesting shoppers to keep apart, pay by card, wear masks and to shop alone where possible. The trolleys had a sign above saying they were clean and I spotted cleaning supplies in an empty trolley adjacent to the stack (although I didn't see anyone using them while I was there). There was a man on the door to the foyer, managing shoppers in and out of the store (via a shared entrance/exit), he was wearing mask, visor and gloves and holding an ipad on which he appeared to be counting shoppers in and out of the store. He was very smiley and welcomed every shopper in and said thank you and goodbye to every shopper leaving. I queued for just over 5 mins as the queue was moving quickly (which I was grateful for as it had turned very cold!). The overall impression was that it was an extremely well managed and efficient system, which was working very well at the time of my visit.
There were no queues to enter the store. A one way system was in place, there was a separate entrance and exit door. This was divided by metal mesh fixtures. There wasn't a member of staff supervising entry and exit, there was a security guard just inside the door, to the right.
There were barriers in place and a security guard was managing the queue at the store entrance. I was asked to wait for a couple of minutes before I was allowed to enter.
Store standards (20)
14
16
19
13
19
First impression (up to 5)
2
5
5
3
5
Feedback
It was quite crowded and there were many people rather close to eachother and that was not really delt with by the staff. The man at the door was handing out free face masks.
There were hand sanitising stations at the door and throughout the store. There were not a lot of staff about but those that were were helpful and always kept their distance.
The great first impression outside the store continued inside, with a sanitisation station in the foyer and consistent clear signage throughout the store. There was tape on the floor in every aisle, making it easy to maintain a 2 metre distance, footprint markers everywhere that queues might build, regular consistent notices and announcements reminding customers how they can keep each other safe. The aisles themselves were uncluttered and mostly had plenty of room to allow customers to pass each other safely. The management of the numbers of shoppers in the store was working well as generally the aisles had only a few shoppers there at any one time. The exceptions to this were the bread aisle which was packed when I got to it with shoppers queued on both sides and some waiting at either end and also at the end of the fruit and veg aisle where there appeared to be a pinch point with customers waiting to pay via the self service tills, obstructing shoppers trying to keep their distance rounding the end of the fruit and veg aisle (see photo). Other than those two minor issues, it was excellent throughout.
The store was relatively quiet for a Saturday afternoon. The sanitising station, to disinfect the trolley, was very untidy. There was a single container of hand gel on a ledge as you entered the store. There was a sign advising about the Covid 19 measures and advising that customers needed to wear a face covering.
There were trolley wipes and hand sanitisers available in the foyer. Staff were on hand to provide assistance and there were occasional customer announcements to maintain social distancing.
Displays (up to 3)
0
1
3
1
3
Availability and replenishment (up to 5)
5
4
4
3
4
Feedback
The aisles were not messy and were well stacked by staff. Some shelf stackers were even barriered off so customers couldnt get too near.
There were not as many displays as usual, but useful products were on view and the flower and plant department were attractive as usual (photos to follow). More aisles than usual had half-empty shelves but staff were replenishing them. I had trouble finding the crisps I wanted as they were on a bottom shelf which was half empty but a nearby assistant pointed them out to me. He was heading that way to replenish the shelf.
The shelves were mostly very well stocked, with no particularly messy or empty areas despite the shop being towards the end of a Saturday. There were some staff around replenishing shelves in the dairy and alcohol sections but they were unobtrusive and taking care to avoid shoppers. There were one or two cages in the store but these were not causing any obstruction and had been carefully placed in more spacious areas to avoid doing so.
Most displays were well stocked. The beans section was messy, as was the toilet roll aisle (a sign of panic buying again?). No sections were stripped bare.
The store was generally well stocked. However, there were a few noticeable gaps in the fruit and veg section as well as some of the gondola ends and promotional displays.
Obstructions (up to 3)
3
2
3
3
3
Spillages (up to 2)
2
2
2
2
2
Condition of the store in terms of cleanliness (up to 2)
2
2
2
1
2
Feedback
There weren't any eye-catching seasonal displays.
There was one large trolley replenishing the crisps and snacks aisle but the assistant was helpful, and moved it when he saw it was an obstruction.
The store was very clean and tidy throughout, I didn't spot any litter inside or outside of the store. The shelves, fridges, freezers etc were all good clean condition despite this not being a particularly modern store. All of the end aisles, additional promotional displays etc were neatly tucked away so as not to impede shoppers. Even the areas out of use (such as the counters and café areas) were spotlessly clean and tidy.
The store is relatively old and is showing its age. It suffers from having limited natural light and a low ceiling. There was room to manoeuvre as it was not especially busy. I felt there was room and that no aisles, bar the deli one, were particularly cramped.
The store was generally clean and tidy and there were no noticeable maintenance issues.
Store layout (10)
4
8
8
7
10
Did the store layout seem logical and intuitive? (up to 2)
2
2
2
1
2
Was it easy to navigate the store while also feeling safe? (up to 6)
0
4
4
4
6
Did the store offered any Click & Collect services? (up to 2)
2
2
2
2
2
Shop Floor Service (20)
13
19
18
18
17
Product location (up to 5)
3
5
5
5
5
Staff politness/responsiveness (up to 5)
4
4
5
4
4
Feedback
One member of staff let me have their pen to tick off my shopping list. Others also tried to help in finding items.
When I couldn't find sun dried tomatoes an assistant showed me where they should have been. There was no label on the shelf so I took something similar instead. The same story for the Own Brand Almond Fingers. Another assistant checked for me on the shelf and as there was no label couldn't help further. She didn't offer to check in the back. I took another similar product instead.
I asked Debbie to help me find the butternut squash. She was working in the dairy section, restocking shelves (I couldn't find a member of staff in fruit and veg). She was extremely polite and helpful and led me to where she thought they would be (which is where I had been looking). She spent several minutes walking up the aisle checking all of the labels, before checking stock for me. She came back to tell me that they didn't have any and then walked back to dairy with me, where I had left my trolley. I also asked for help locating the prosecco as the shelf with the label for the item was empty (it was on offer). The gentleman who helped me was restocking in the area and immediately asked me how many I wanted before heading of check if they had any more. He returned with a case of 6, asked if I meant one bottle or one case, handed me the one bottle and started loading the rest onto the shelves. Both members of staff who helped were very polite and happy to help.
I had assistance from 2 members of staff and they were both very polite.
staff were generally very helpful and attentive when I made my enquiries. When I asked a female with fair hair where the fruit & nut muesli was in stock, she helpfully scanned it and replied that it was due in on tonight's delivery. When I asked a female with dark hair where the Waitrose honey roast ham was, she helpfully searched for it with the help of her handheld terminal, before finding a hidden packet in the chiller. When I asked a female with fair hair whether Waitrose vegan lasagne, Quorn mince and Quorn pieces were available, she checked the freezer before replying "I think we used to, but not now." However, she didn't offer to check the system. Finally, when I asked a female with dark hair where the Hovis Seed Sensations loaves were, she kindly pointed them out for me.
Was it easy to find a member of staff (up to 3)
1
3
2
3
2
Were staff easy to identify through their uniform or name badges (up to 2)
2
2
2
2
2
Staff presentation (up to 5)
3
5
4
4
4
Feedback
Not all members of staff were wearing face masks but the ones I conversed with maintainded a distance.
All staff wore face masks except the check-out staff who had a screen in front of them. None that I saw wore gloves, but that's all right with me because I think gloves can simply pass infection from one product to another.
All members of staff on the shop floor were neatly dressed in clean uniforms and were wearing masks and in some cases gloves too. They all kept a safe distance and were there to help when I needed to but were being careful to keep out of the way of shoppers. Both members of staff were quick to offer to check stock for me and despite the fact I had clearly interrupted them carrying out their restocking, didn't leave me feeling like I had troubled them.
I spoke to a lady who was restocking the deli aisle. I asked her where the Tex Mex dips were. She located them and chose a pack which had the best date. She apologised that this was only until the 30 September. Sarah checked whether there was nay Tanqueray Gin in stock, as there was none on the shop floor. She went to the warehouse and brought me a bottle, this was on special offer.
Staff wore masks and kept a safe distance when assisting me.
Tills and checkouts (20)
9
19
17
18
18
How well managed were the queues leading up to the till-operated checkouts in terms of maintaining order and social distancing? (up to 2)
0
2
2
2
1
How well managed were the queues leading up to the self-service checkouts in terms of maintaining order and social distancing? (Please observe after you've completed your shop, and include observations around attentiveness to customers requiring help due to flashing lights/unattended items in bagging area) (up to 2)
0
2
1
2
2
How long did it take to queue (prior to scanning) (up to 4)
2
4
4
4
4
Please rate checkout staff on their customer service and safety (up to 7)
3
6
5
5
6
Time for G33 items to be scanned (including payment) (up to 3)
2
3
3
3
3
Was the till receipt free of mistakes? (up to 2)
2
2
2
2
2
Feedback - please provide any further details/feedback on the tills and checkout:
Customers were not socially distanced
There was a member of staff monitoring the queues and all customers were leaving a good distance between themselves and the person in front. The girl at the checkout did not chat at all but showed care in handling the goods and was quick at her job, but paused if she saw I was not keeping up with the packing.
The tills were a little busy when I came to pay, however there were enough open that customers could queue at the end of each aisle (on the clearly marked footprint stickers), allowed customers still completing their shop to pass safely. The lady who served me was looking up and checking that I was keeping my distance but was also very friendly and welcoming. Despite the fact that she was genuinely very lovely, while still being careful and efficient(and got bonus points for checking that this 45 year old was over 25 when scanning the alcohol - clearly a benefit of wearing a mask), I noticed her coughing into her ungloved hands a few times when serving the man in front of me and myself. On a couple of occasions she immediately used hand sanitiser before continuing but on the others she didn't. I'm sure she just had a cold but it was a definite chesty cough which was a little unnerving but not unexpected at this time of year. I was subsequently very careful to gel my own hands immediately after I put the shopping into the car and very carefully wiped everything down, and/or put aside for quarantine, all of my groceries. The self service queue was also busy and as mentioned before there was an issue with keeping a distance by the fruit and veg section. Half of the 6 checkouts were out of service but there was a member of staff present working hard to help customers quickly and keep the queue moving as fast as possible.
The assistant was yawning as I was loading the stock on to the conveyor belt. I asked her if it had been a long day. I asked if the store had been busy today and she commented that it was relatively quiet at that time. She did not wear a mask and seemed to struggle hearing me through my mask. She was polite and did ask if I needed nay help with my packing.
By the checkouts, there was tape indicating safe distances for customers to adhere to, however, there were no staff available to manage my approach. On the other hand, the self-service area was well supervised. The cashier greeted me and began scanning my goods through efficiently. I was then offered carrier bags. After payment, I was thanked for my custom and offered a friendly farewell. Although the wearing of masks somewhat impeded communication between the cashier and me, I still felt that the service could have been a little more engaging.
Availability score (20)
9
12
19
16
15
Of the 33 items on your shopping list how many were:
Available (up to 20)
27
29
32
29
29
Out of stock (-2 per item)
5
4
0
0
1
Not stocked (-1 per item)
1
0
1
4
3
Availability %
84.4
87.9
100.0
100.0
96.7
Please note down the items on your shopping list that were out of stock (please highlight the products that have managed to get a satisfactory substitutions)
Maltesers Malty Instant Hot Chocolate (350g)
ASDA Shades So Soft Toilet Roll (12)
ASDA Diced Beef (400g) Tarczynski Kabanos Exclusive (115g)
ASDA Baker's selection
6 Hot Cross Buns
Chestnut mushrooms (I took ordinary closed cap mushrooms instead),
sun-dried tomato paste (I took a feta, tomato and olive tapenade instead),
frozen broad beans (I did not take other frozen veg because there was little available that I did not already have plenty of - the range was very limited),
and own brand almond fingers (I took Mr Kipling Almond Slices).
N/A
N/A
Fruit & nut muesli 1kg
Please note down the items on your shopping list that were not stocked (please highlight the products that have managed to get a satisfactory substitutions)
Caprio Apple & Rasberry Multifruit Drink (2l)
N/A
Butternut squash - they did have pumpkins available which I could have substituted but I chose not to.
I substituted Bachelors Mushy Peas (for the Harry Ramsdens) and Branstons Original beans (for the low sugar and salt variety).
The Sensations Crisps were not stocked (lots of other flavours were available) and the store did not stock the Yeo Valley Honey yogurts 4 x 100g (there were no individual 4 packs of honey yogurt)
OL vegan lasagne 450g
Quorn mince 300g
Quorn pieces 300g
Please give any other details or info about your shopping trip, good or bad
N/A
The click and collect is in the car park near the disabled parking and well indicated.
Although the store was fairly busy, at no time did I feel unsafe and I could always find someone to help me, which they did with care and attention to safety. I think they might have been able to give me more information about whether an item was not stocked or out of stock, but presumably they were paying more attention to safety. I also feel the frozen food section could be a bit more varied, but the fresh and takeaway food counters were open as usual and the meat and fish counters had a lovely array of food.
There was a clearly marked click and collect only area in the car park, which looked very busy as I drove into the main car park. I was unable to ascertain whether this was because there were lots of C&C customers or whether people were parking in the wrong place, however there looked to be plenty of spaces and the area was distinctly separate and away from the main car park, which would speed up the process for customers. In the store there wasn't a one way system, however the aisle were wide enough in most places for customers to pass safely on either side of the aisle. I didn't at any point feel crowded or unsafe.
The store isn't particularly large but there was a good range on offer which included, clothing (including Halloween dress ups), homeware, garden supplies, books and entertainment and promotional displays (such as 'Mrs Hinch Home' cleaning and home fragrance). The end aisle had a good range of mixed discounts and offers plus some seasonal goodies for Halloween (but thankfully not an obvious push for Christmas yet). Despite it's size and the range available, the store was very well ordered and I was easily able to locate all of the items on my list, with just the butternut squash not stocked. Had I not been taking my time to look around the entire store, I could have been in and out in 15-20 mins, which I would have thought is the kind of efficient shopping experience that most customers will be looking for at the moment (and also key in managing the queues and flow through the store). Clearly there were some services closed for obvious reasons but the range on the shelves looked more than adequate. The overall impression was that the store was being very well managed and careful consideration had been given to making shopping there as safe and efficient as possible, given the store size and layout. I'd like to reiterate how great the staff were, everyone I had reason to speak to was, without exception, cheerful and helpful which is always a pleasure to encounter.
The aisles have yellow 2 metre tapes on but there isn't a one way system. Customers could enter aisles from both ends.
There were some very noisy crows and seagulls near the very full bin in the car park. They were fighting over a pizza box. A customer left her car and commented that it was like "being in Blackpool". The bin did look messy.
The shopping experience was quick and I did manage to locate the majority of the items. Having the shopping list split into the relevant departments reduced my locating time.
The cafe was temporarily closed, presumably due to Covid. At the checkout, I was not offered a complimentary newpaper or hot drink with my purchases.
TOTAL SCORE (100)
58
84
90
81
89