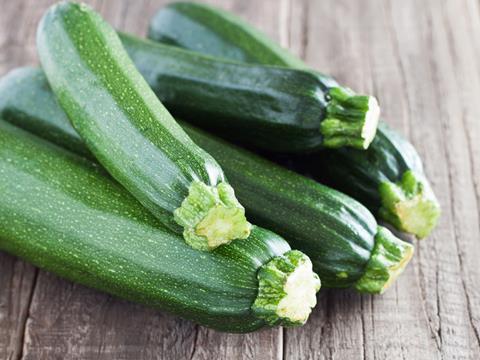 Tomorrow, at 5pm GMT, the world will stop and stare at Donald J Trump's inauguration as the 45th president of the United States.
Alongside Brexit, it's been the big story of the past year, as we've seen The Donald rise from relative obscurity as The Apprentice bloke with the dodgy barnet to leader of the free world. But a far more pressing issue has been dominating the headlines this week: the great veg shortage of 2017.
The UK has been "gripped" by a produce shortage due to poor weather in southern Spain, with some headlines warning of "panic stations" as clean eaters across the land run out of courgettes for their spiralisers.
There are #courgettecrisis and #courgettegate hashtags doing the rounds on Twitter, and various members of The Grocer editorial team have been deployed to explain what's going on to a host of different news outlets over the past few days.
So what is going on? As a regular reader of The Grocer, you'll know that Murcia in southern Spain has been deluged by record rains, leaving waterlogged fields full of mud where lovely produce for our supermarket shelves should be.
There has also been snow in other key growing regions in Italy and Greece, leading to a paucity of courgettes, broccoli, peppers, tomatoes and leafy greens such as spinach.
As these regions supply anything north of 80% of our fruit & veg at this time of year, this is a big problem for UK retailers. And by all accounts, the problem will persist until at least March.
The shortages have prompted some to say we should switch back to seasonal fruit and veg consumption, just like the old days. But it's difficult to see a return to 1950s standards (thank goodness!), when a banana was a treat and shoppers had to queue up for the most basic of food items.
As delicious as parsnips and spuds are, they don't really fit in with the multitude of healthy eating trends we have today – all of which pretty much rely on plenty of exotic products to be available all year round. So it looks like we will have to deal with these shortages, and shop around until supplies of courgettes et al come back on stream.
But here's some food for thought: if you think this current 'crisis' is bad, just imagine what it would be like once we have our 'hard' Brexit.
Growers and wholesalers have already warned they have concerns over trade barriers and the increased border checks we might get if the UK fails to agree a trade deal with the EU. As one told me late last year, "you can't afford to have lorries carrying short-shelf-life veg sat waiting at the border".
We can all laugh at the crazed media frenzy around #courgettegate, but shortages of key produce – or at least significant price hikes on them – could be the shape of things to come. And that will be no laughing matter.