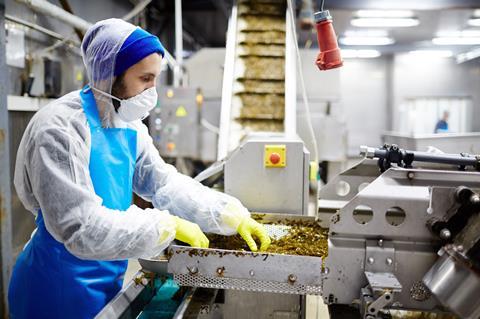 There are a few days left to enter Factory Manager of the Year at The Grocer Gold Awards 2020.
The new award, to be announced online on 10 November, was created to celebrate the heroic efforts made by food and drink suppliers to keep supplies on supermarket shelves during the coronavirus crisis.
Entries must be made online here and before Friday 23 October.
"It's taken a heroic effort by UK food and drink factories to maintain supply as a result of the coronavirus." said Adam Leyland, editor of The Grocer.
"And remarkably, despite staff shortages and the need for extra safety measures, production actually increased in many cases to meet extra demand.
"While the efforts of store workers have been publicly recognised, the work going on behind the scenes to supply groceries to the nation's supermarkets, convenience stores and online operations has not had the recognition it deserves. In celebrating the industry's value, resilience, creativity and sheer commitment at The Grocer Gold Awards next month, we could not let that contribution pass unrecognised.
"Our Factory Manager of the Year Award will therefore enable us to shine a light on the invaluable work that's taken place on factory shop floors up and down the country, with the winner being announced during our 'Golden Week' of celebration next month."
Food Manufacture editor Rod Addy said: "In these historic times when food and drink factory managers face unprecedented pressures, this is the right moment and way to boost their morale and celebrate their often unsung achievements.
"In reality there can be few jobs more worthwhile than maintaining the flow of food and drink to consumers' tables, which is why food production staff are rightly classified as key workers during this horrific pandemic. It's high time to shout about their efforts and nominate your own factory champion. Food Manufacture is proud to help make that happen."
The Factory Manager of the Year competition will be run in association with sister title Food Manufacture, pulling in experts from the operational side to help judge the winners.
Nominations will be welcomed for factory managers running all types of UK-based grocery supply operations, including finished goods (branded and own-label), non-food and packing facilities. Self-nomination is permissible if testimonials are also provided. Entries must be submitted here or using the form below, with a panel of expert judges considering entries based on a 500-word submission, as well as other supporting documents including images, video and other files.
The shortlist will be announced on 2 November with the winner to be revealed on 10 November as part of the 'Golden Week', The Grocer's week-long celebration, which has been created to crown the winners of The Grocer Gold Awards 2020. For more information please contact Anna Lunn.
To add diary reminders to your calendar for each of the events taking place during the Golden Week, click here.