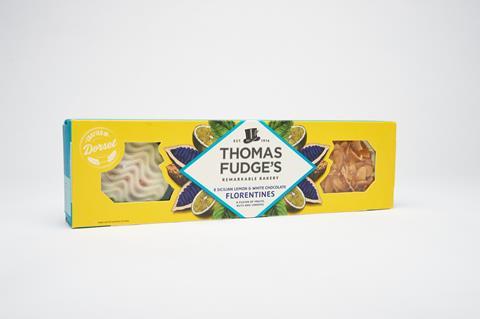 Winner: Thomas Fudge's Sicilian Lemon & White Chocolate Florentines
A delicious flavour combination combining the tang of Sicilian lemon and silky smooth white chocolate helped this new addition from Burton's Biscuits, launched in April 2021, more than justify its slightly premium price tag. This sophisticated flavour palate coupled with the light, crispy Florentine-style bake could even see the product blend right in as an after-dinner party snack, suggested one judge. Designed as part of the manufacturer's spring/summer offering, these Florentines provide a unique and clever alternative to typically heavier cakes and biscuits that might fall out of favour during summer picnics and get-togethers.
This product ticked everything in terms of appearance, smell and flavour, offering something a little bit different and less mainstream. Judges said they would enjoy this product as a lovely premium after dinner treat.
Highly commended: Mr Kipling Signature Deluxe Millionaire Whirls
Finalists:
Baker Street Stollen
Cadbury Nuttier Cranberry, Almond & Peanut
Jammie Dodgers Muffins
Maryland Cookies It's Mint To Be
Mr Kipling 8 After Dinner Chocolate & Orange Fancies
TGI Fridays Chocolate Rocky Road
With thanks to our sponsors