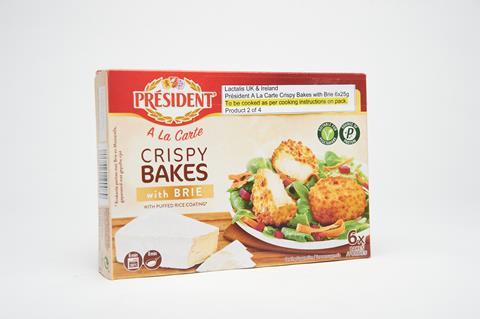 Winner: Président A La Carte Crispy Bakes with Brie
Cheese proved to be a lockdown hit with British consumers, huge numbers of them tucking into blocks of indulgent gooiness as a form of comfort and sending take-home sales in the category through the roof. With this first foray into the hot cheese sub-category in June 2020, manufacturer Lactalis UK and Ireland smartly sought to capture that desire for comfort as well as deliver excitement with brand new formats. These A La Carte Crisp bakes, small crispy bakes of Brie, coated in puffed rice and irresistibly melty when baked in the oven for six minutes, provide the perfect balance of both.
Judges voted this product as the winner because it was different from anything seen before. The puffed rice coating gave the bakes a lovely crunch which contrasted well with the gooey brie centre and they stayed crispy even after they had cooled. As well as offering great value for money, these bakes would have appeal for both kids and grown-ups.
Highly commended: Alfresco Greek Baking Feta with Lemon, Herb & Chilli Oil
Finalists:
Galbani Mozzarella di Latte di Bufala Maxi
The Laughing Cow Blends Chickpea & Cheese Spread with Herb
With thanks to our sponsors