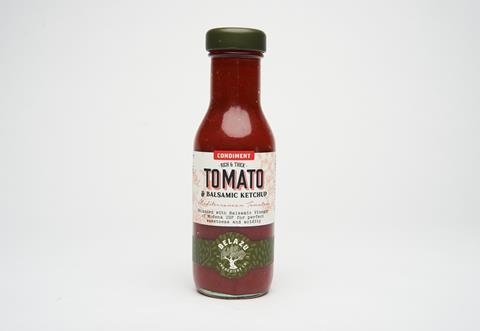 Winner: Belazu Tomato and Balsamic Ketchup
All that extra time spent cooking at home has led to an explosion in interest in condiments and table sauces in the last year, with Brits increasingly seeking out innovative alternatives to the classics. With its Tomato and Balsamic Ketchup, launched in April 2021 after months of recipe testing, blind tastings and consumer research, this addition by Belazu aims to meet this desire for uniqueness and quality in the category. Each bottle contains 800g worth of tomatoes, with the brand's own signature Balsamic Vinegar di Modena added to create an intense tomato flavour, followed by a soft vinegary tang. Not only does this twist to the classic flavour add interest, but it also provides versatility, working as well dolloped next to fries as used as a marinade for pork ribs.
Described by judges as a tasty, thick, textured and flavoursome sauce, this product is a great alternative to standard ketchups. A premium product that feels homemade and has a diverse end use not limited to a dip.
Finalists:
Heinz [Seriously] Good Vegan Mayo Garlic Aioli
Heinz [Seriously] Good Vegan Mayo
Heinz Vegan Salad Cream
Hellmann's Vegan Mayo Garlic
OSU Apple Cider Vinegar with Blueberry & Pomegranate Juice
With thanks to our sponsors