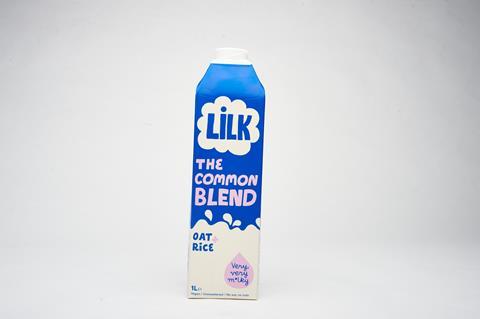 Winner: LilK The Common Blend
In a crowded category the powerful on-pack design and branding helps LiLK's The Common Blend more than stand out. As does its decision to combine both oat and rice to create a blended plant-based milk that judges agreed closely matched dairy milk in both taste and mouthfeel, as well as being versatile enough to be used in all sorts of different scenarios. Not only has the milk been created to taste neutral in tea or coffee, but it can also foam and blend seamlessly into hot drinks, and be sipped cold too. It also stays consistent with its brand narrative throughout, using eco-friendly packaging that reduces the environmental footprint, and also helps facilitate efficient carton filling to minimise waste.
The judges first comments were on this product's powerful branding and unique packaging making it very distinctive and stand-out. The product offers a clean flavour that allows the blended element to come through. A great product in a now popular market.
Highly commended: Alpro My Cuppa
Finalists:
Buttermilk Plant-Powered Hot Choccy Bombe
Minor Figures Matcha Latte Green Tea & Oat M*lk
The Collective Raspberry Plant Greek Style Yoghurt
With thanks to our sponsors