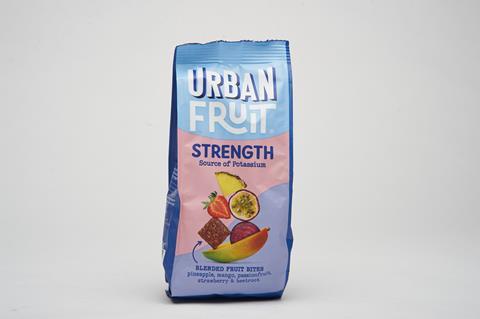 Winner: Urban Fruit Strength Blended Fruit Bites
First launched in June 2021, this latest addition to the Urban Fruit range sees the brand take on a brand new proposition: the booming wellness trend. A first in adult dried fruit snacking, the trio of 'wellness' bites each offers a different functional benefit: immune, strength and glow. Each is formulated by pairing ingredients well-known in the wellness industry, such as turmeric, beetroot and ginger, with a range of fruits. The Strength SKU, for instance, combines mango, pineapple, passionfruit and strawberry with beetroot, an ingredient rich in potassium that contributes to normal muscle function. Combining the simplicity of dried fruit and veg with the huge and growing market for functional products, Urban Fruit has tapped into a brand new demographic.
Such a close contest with the Kind bar, yet these Urban fruit bites pipped it. Full of nutrients and one of your 5 a day, these bite sized balls go a long way. A revelation in sweet snacks said our judges, an innovative product not seen in this way in this market.
Highly commended: KIND Dark Chocolate Orange Almond
Finalists:
Bliss White Chocolate & Raspberry Flavour Whip Bars
Creative Nature Gnawbles Cheeky Choc HazelNOT
PROPER Chocolate Popcorn Bar Salted Caramel
With thanks to our sponsors