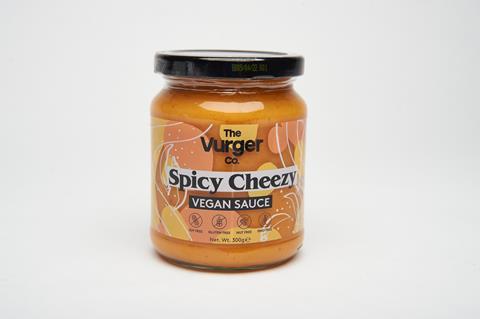 Winner: The Vurger Co Spicy Cheezy Vegan Sauce
This launch by The Vurger Co. in May 2021 is a unique proposition whether you're following a vegan diet or not, with the Spicy Cheezy Sauce a shelf-stable ambient product that can be used as both a dip straight from the jar, but also a heated sauce to be used with pasta, for example. That versatility won it huge praise, as did its flavoursome and aromatic formulation, made using a sweet potato base. It's suitable for practically anyone too, not only 100% vegan but also gluten-free, GMO-free, palm-oil free and soya-free as well as being, rarely in the plant-based category, but-free.
A versatile vegan sauce that can be used many ways. This product has an appetising colour and a lovely peanutty aroma and delivers in its taste too. Its spicy, tomato flavour means it would work brilliantly in pasta and other dishes. Not only vegan but nut free too so an attractive offering.
Finalists:
Merchant Gourmet Spicy Cajun-Style Lentils & Red Kidney Beans
Plot9 Thai-Style Chickpea Curry
With thanks to our sponsors