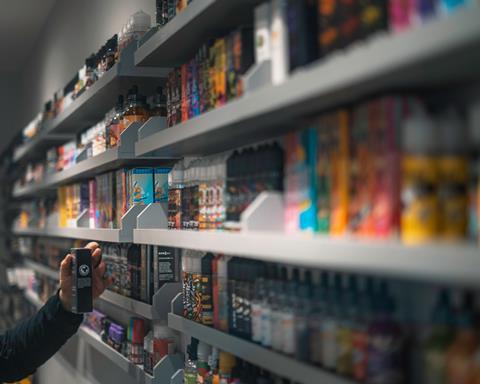 A third of vape products sold in the UK are not compliant with regulations, research from the Chartered Trading Standards Institute (CTSI) suggests.
The professional association for Trading Standards bodies found a third of products sold have incorrect or absent health warnings, over-capacity tank sizes, a higher than permitted concentration of nicotine, contain CBD, or are incorrectly labelled. The data was drawn from multiple local Trading Standards bodies across eight regions of the UK.
The CTSI said Trading Standards teams were being "overwhelmed" by the "tidal wave" of non-compliant vapes being sold, and pointed to "a wider issue of faults in the supply chain".
Further to the non-compliant products on the market, CTSI said underage sales were "snowballing, and getting out of hand".
The institute is calling for clearer direction from government, including from the Department of Health & Social Care and other relevant agencies such as the Medicines & Healthcare products Regulatory Agency in relation to non-compliant products.
The non-profit is also urging government to introduce tougher sanctions on producers, suppliers and retailers who don't comply with the law.
This includes Trading Standards teams being given powers to issue "restorative justice sanctions" so suppliers pay the costs of local authorities to seize and then dispose of non-compliant vapes. "These costs should not be borne by local authorities but by the importers, distributers and suppliers of vape products," CTSI said.
The findings come after bestselling disposable brand ElfBar was stripped from supermarket shelves after its products were found to contain over the permitted maximum amount of nicotine liquid.
Both major vaping sector industry bodies issued statements to say they shared the CTSI's concerns.
However, the Independent British Vape Trade Association (IBVTA) questioned the findings. "If there is any substantiated evidence of a level of sales of non-compliant vape products in the UK at one in three, we are unaware of it," it said.
The association added that it supported a review of current regulations.
"However, such a review would not change the fact that blatant and obvious non-compliance of many products with current regulations has been more than apparent in the UK market for well over 18 months now," the IBVTA said.
"It would seem sensible to ensure that the existing regulations are adequately policed before considering changing or adding to them. We therefore wholeheartedly support the request for better resourcing and enablement of enforcement through Trading Standards," it added.
The UK Vaping Industry Association (UKVIA) reiterated its proposal to on-the-spot £10,000 fines for retailers found to be selling illicit products or to minors, a national registration scheme for all retailers selling vapes, and a national test purchasing scheme.
"Critical to the success of our proposals will be a ramping up of enforcement and this requires major funding in resources on the ground," the UKVIA said.
"By Trading Standards' own admission, resources are sadly lacking and the government needs to step in and look at this situation as a matter of urgency."