Brexit is brewing trouble for tea brands. While some predict price hikes, others can only see uncertainty in the tea leaves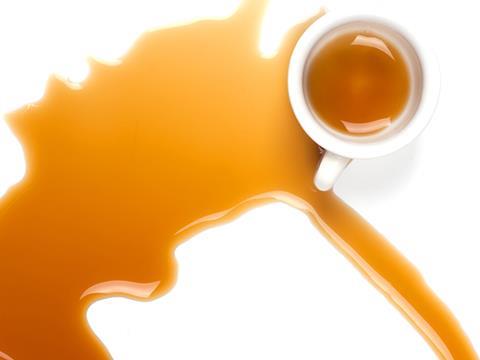 Brexit is brewing trouble for tea brands. While some predict price hikes, others can only see uncertainty in the tea leaves, making the future of the market pretty dim. "It's impossible to provide an accurate prediction of how the tea market will or will not change post Brexit, but what we do know is that commodity prices are being affected by exchange rate movements," says Peter Dries, director of customer and shopper marketing at Tetley.

The brand is spearheading calls for supermarkets to put up tea prices, warning it cannot continue to swallow cost price rises. "The weak pound is just one element of a much bigger picture," adds Dries. "Tetley prices have not changed for some years, while costs of production have risen. Discussions are ongoing in a process that began before the currency fluctuations we see now."
Commodity prices are fluctuating but unit prices have remained decidedly static in tea over the past year, although the market saw value losses of £28.3m. Tea wasn't the only hot beverage category to suffer losses, though. Instant coffee saw value sales fall £17.6m while hot chocolate cooled by £5.7m. Only premium roast & ground coffee garnered any value growth - an impressive £22.3m.
Data Box
For 20% off the complete category ranking click here and enter discount code NIELSENGROCER
Data supplied by nielsen.com
Tea's decline continues to be driven by everyday black tea as Brits broaden their hot drinks repertoire, but it's not the end of the great British cuppa just yet. Black tea still accounts for the bulk of all tea sales in the UK. "Consumers are moving away from the traditional 'multiple cups a day' mentality," believes Henry Goodchild, Spar UK senior trading manager, grocery.

PG Tips bore the brunt of this, despite a 5.5% cut to average price per unit. Yorkshire Tea, meanwhile, once again defied the category's decline with value and volume growth. Paula Goude, category manager at Yorkshire owner Taylors of Harrogate, attributes its continued success to strong advertising performance and a host of new product launches over the past year.

"Our Brewtopia TV campaign continues to run and has performed very well in driving shopper penetration - over the last year we've recruited 610,000 new households," says Goude. "In August we launched three new brews, created to meet specific needs that were previously unfulfilled by black tea and address the trend among consumers who were switching out of the category for specific occasions."

Breakfast Brew, with an extra powerful punch of Assam, Breaktime Brew, with citrusy refreshment, and decaffeinated Bedtime Brew make up Yorkshire's new lineup. The brand insists it isn't resting on its laurels. "We are close to becoming the second biggest standard black teabag brand in the UK and we're focused on sustaining growth in 2017 through further investment in marketing and advertising," Goude adds.

Typhoo, another black tea success story from a year ago, was unable to maintain growth with nearly a quarter of sales lost. "Regular black tea has become highly commoditised through over-promotions across all retail channels,"says Typhoo marketing controller Adil Hamid. "Shoppers have been trained to buy larger tea boxes on deal, despite volume demand remaining inelastic."

Black tea has also lost shelf space to the likes of green tea as well as fruit & herbal infusions, Hamid adds. "Both subcategories have a large amount of flavoured variants that require more shelf space. However, duplication and the 'long tail' of the range needs to be managed more effectively."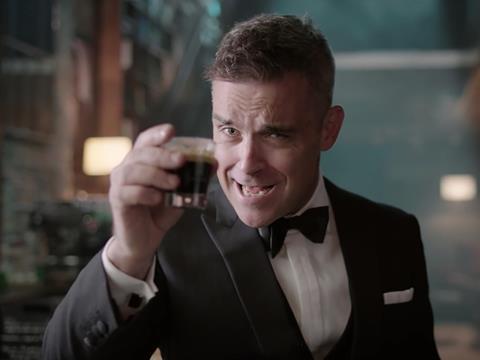 Nespresso has George Clooney and Café Royal has Robbie Williams… coffee is becoming a land of heartthrobs. Swisss brand Café Royal has been using Robbie to help flog its coffee in Europe since 2014 and now it's turning its sights on Britain, with ads starring the ex Take That star. The brand made its debut in the British supers earlier this year and has achieved sales of £460k so
Brands in this arena are certainly reaping the benefits. Pukka's sales are up by a quarter while Teapigs' sales rose by nearly 10%. But MD and co-founder of Pukka Herbs, Tim Westwell, warns the subcategory isn't immune to price fluctuations. "A significant part of Pukka's cost of sales are sourced from outside the UK. As the pound weakens, our material cost increases. Whilst we try to mitigate this through our exports, a large proportion of these are denominated in sterling, making it more difficult to maintain our percentage margins," he says, noting Brexit isn't the sole cause of the increase in price.

Added benefits for tea could be a way to soften the blow of price increases and encourage consumers to pay a bit more for a cuppa. "Consumers aren't just looking for a tea that looks and tastes great, but one that also delivers a functional benefit - from helping them to sleep, supporting digestion or even rebooting energy levels," Westwell adds.

Tea's big boys are taking note. Tetley extended its Super portfolio with three new Super Green Teas as well as Super Fruits earlier this year and has unveiled a £5m campaign to support the range. Twinings, meanwhile, has invested almost £17m in its range of fruit and green teas in an attempt to recoup losses from the declining black tea market. "Twinings are starting the fruit & herbal tea revolution, investing £10m in packaging to improve consumer experience, and £6.6m in media to reach a wider audience and drive scalable penetration growth," says Vicky Keenan, head of brand at Twinings.

PG Tips is hoping its coveted monkey will help win favour with fruit & herbal tea consumers while bringing new ones into the fold, as part of its multimillion Keep It Tea campaign. "Our new green tea campaign will encourage shoppers to trial our fantastic range of flavours," says Lola Danlos, senior brand manager for PG tips at Unilever UK. "The range has seen phenomenal growth in the past few years."

PG Tips' green tea sales have grown by 16% over the past year, according to the brand, with new launches including Green Tea Strawberry Cupcake, Green Tea Lemon Pie, and Green Tea Orange.

Tea pods also represent an area for growth, according to Unilever, but they are still small fry compared with their coffee counterparts. Despite concerns about the environmental impact of coffee pods, Brits splashed out an additional £8.2m on the grocery market's biggest player, Tassimo.
Top Launch 2016
Tassimo even added £2.2m to hot chocolate sales while the category's top five players all suffered value and volume decline. Cadbury is hoping its new Freddo Drinking Chocolate, launched in August, will alleviate losses alongside a relaunched Cadbury Highlights and its Make Winter Wonderful campaign, which it is reviving for the season.

"Hot chocolate is highly seasonal, with two-thirds of the total volume sold in Q4 and Q1, so by leveraging the season through impactful campaigns and marketing, there is huge opportunity to drive sales," says Rachel Alcobia, brand manager for refreshment beverages at Mondelez. "Currently only one in two households buy hot chocolate."

The same goes for coffee pods, according to Taylors of Harrogate, which ventured into the fray last June with Nespresso-compatible capsules that have amassed £2m in sales.

"The coffee pod market is very much still in the early stages and consumer uptake is still relatively low in comparison with the Western European market," says Chris Payne, brand manager at Taylors of Harrogate.

Other brands and retailers have also launched Nespresso-compatible pods. "We were one of the first supermarkets to launch an own-label coffee pod range compatible with Nespresso. They have been hugely successful for us - exceptional quality at a market-leading price," says Verena Alter, head of department, own-label buying at Lidl UK.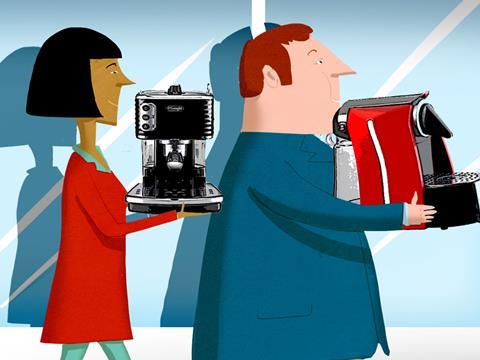 No wonder roast & ground coffee is flying, with average prices rising 2% over the past year. It's because Brits are going potty for coffee pod machines and forking out as much as 30p for a cup of Joe (from a pod) at home. A Harris Interactive poll for The Grocer in September found that 30% of Brits now own coffee pod machines, up from 22% a year earlier. Those aged 25 to 34 are most likely to own a machine, with 38% claiming to do so.
Spar, Percol and even Starbucks have also tapped the trend. "The availability of increasingly high-quality coffee on the high street has led to rising consumer expectations for coffee in their own homes," says Nigel Padfield, category & shopper controller, Jacobs Douwe Egberts. "This has created a nation of budding coffee connoisseurs who are keen to trade up at home."

Pods aren't the only way to drive growth, as proven by Nescafé's roast & ground coffee, which added £6.9m to sales. While Nescafé Dolce Gusto contributed, Nescafé Azera and Gold Blend are showing strong growth, according to owner Nestlé.

Nescafé has managed to grow its instant coffee sales despite Brits trading up, adding 3.7m to its sales. But second biggest brand Kenco has been less fortunate, with sales down £12.5m and Douwe Egberts down £3m.

"Existing products have been rationalised in the last year to make way for new and exciting innovations in segments such as single serve," says Padfield. "We have seen instances of duplication being removed from the market, delisted products being reintroduced as consumers switch spend and also retailers increasing their range."