Petcare is in the doghouse. The biggest brands have had millions clawed from their sales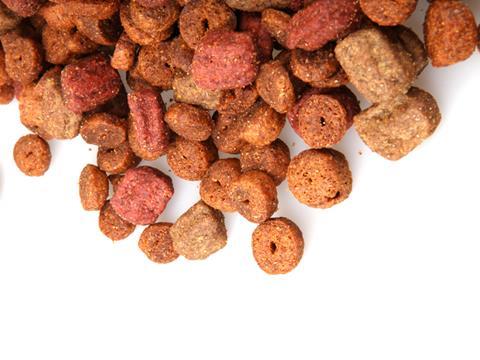 Petcare is in the doghouse. The biggest brands have had millions clawed from their sales in the past year as shelf space has been cut and more premium products have continued to chew away at their market share.

"Manufacturers are facing more pressure from retailers as they aim to reduce ranges to simplify shopper experience," says Nielsen analyst Maya Sherry. "Manufacturers are challenged to display their best performing products to win space. As retailers expand own label, space for brands is being hit. In the latest 12 weeks, The Co-op has cut branded petfood distribution by more than 15%."
Data Box
For 20% off the complete category ranking click here and enter discount code NIELSENGROCER
Data supplied by nielsen.com
Despite the downturn, Felix comfortably remains top cat. Value has dipped 0.3% on volumes up 1.9%, reflecting the importance of price in this competitive environment. Purina says premium products such as As Good As It Looks, Goodie Bags and Crispies have been key to the brand's success. "Shoppers have increasingly sought out luxury options as an alternative menu for their cats," says Nestlé Purina marketing development director Liz Wood. "We expect premiumisation and treating to continue to grow in the coming year."

Whiskas has fallen further down the rankings, down 8.7% on volumes down 6.1%, and has responded with NPD such as Creamy Soups, which it claims is the first of its kind in the UK. "It offers something completely new for cats," says Mars Petcare category & customer marketing director Stephanie Case.

Also licking its wounds, Bakers has recorded the steepest value loss in the top 10, down 15.3% on volumes down 15.2%, dragging down overall dry dogfood sales and leaving more on-trend brands like Harringtons and Pooch & Mutt to lap up the opportunity.
Top Launch 2016
"The shopper's rejection of Bakers is fuelling the dry dog decline," says Tom Page, sales & marketing director of Harringtons, which has seen growth of 42.1% on volumes up 35.5%. "It's all about premium and the humanisation of the market. Shoppers over time have become a lot more conscious about what they are feeding their dogs."

This means health is also a key trend. "Although culinary credentials are important, it is the ingredients' link to health benefits that really engages pet owners," says Lily's Kitchen sales director Helen Barr. "For cats, the culinary names cue taste for the owner, giving confidence that their cat will enjoy the meal versus refusing to eat it."

Gluten-free dogfood is muscling in on the market. "Dogs have only been fed gluten since cheap, mass-market brands started using wheat to make up 90% of their food," says Guy Blaskley, founder of Pooch & Mutt, up 52.1% to £619k. "You never see wild dogs chasing a stalk of wheat."

But you might see the big brands chasing gluten free in 2017.