Health is the common thread linking together many of the successful challenger brands in this year's The Grocer Top Products survey. Low-calorie ice cream Halo Top, sports nutrition brand Grenade and healthy snacking specialist Grenade have all secured a spot in our list of fastest growing brands under £50m by absolute value change. In this case, it seems health really does equal wealth.
Data source: Nielsen, 52 w/e 8 September 2018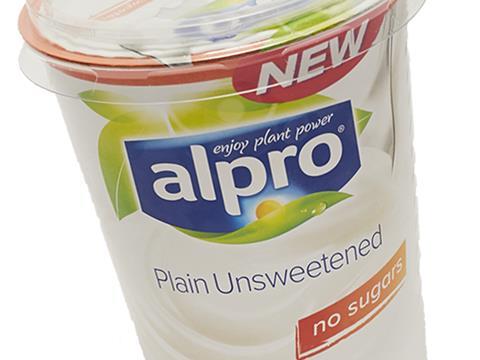 10. Alpro yoghurts and desserts, Alpro
▲ £43.5m (+£8.3m)
The boom in vegan and free-from eating habits has put Alpro in a prime position this year. While its fresh milk sales have rocketed – up 9.1% to just shy of £135m – its yoghurt and dessert lines rose an eye-watering 24% in value. Perhaps even more impressively, this was simply down to the growing popularity of its existing lines, rather than a raft of innovation. Alpro has also been working hard on its in-store positioning – especially in Tesco – to ensure plant-based fare sits "in the heart of the store".
9. Grenade sports nutrition, Grenade
▲ £16.4m (+£8.7m)
The aptly named Grenade has exploded in popularity since being founded in 2009. The mainstream appeal of the brand's bars, biscuits, spreads and shakes have enabled it to go beyond the constraints of sports nutrition – even gaining an exclusive M&S listing this year. All of which made it a prime target for private equity giant Lion Capital, which acquired Grenade for £72m last March. Since then, it has rocketed up the sports nutrition rankings to become the number one brand – overtaking the likes of Sci-Mx and Maxinutrition.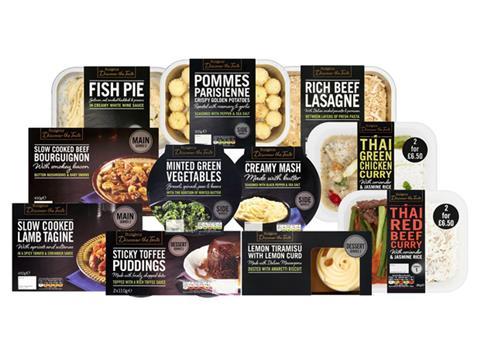 Discover the… ready meals, Booker Belmont
▲ £8.8m (+£8.8m)
At a time when meat-free and exotic recipes are fuelling ready meal growth, Discover the… is going against the grain. Its dishes including a Sticky Toffee Pudding, Chicken Tikka Masala and a Thai curry are pretty standard fare yet its compelling prices – a Discover the Choice Italian pasta and sauce combo comes at £3, while two ready meals can be snapped up for £5 – have made it a hit with shoppers. As a result, the Booker brand is now the ninth largest in chilled ready meals.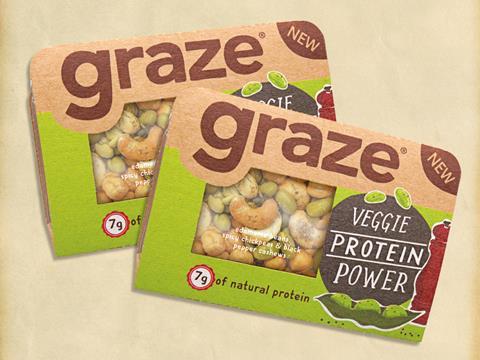 Graze cereal bars and protein snacks, Graze
▲ £10.1m (+£9.2m)
The Graze brand has come a long way since starting out as a DTC business. Now a common fixture in the supermarkets' revamped, healthier 'guilt lanes', its snacking lines have gone from strength to strength. The brand's protein bites – now worth £7.2m in their own right – have been a key driver of this £9.2m growth. But there has also been an impressive performance from its Superfood Bites Oat Squares, containing ingredients such as 'super cacao' and chia seeds. Since launching this year, the squares have amassed a substantial £2.3m in sales.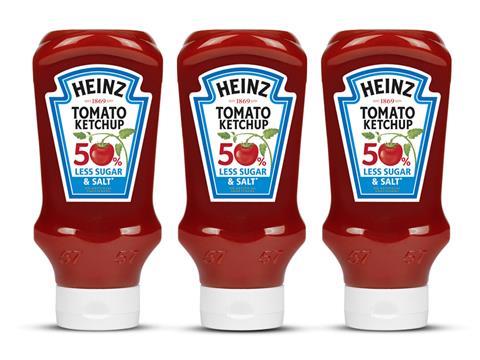 Heinz Tomato Ketchup 50% Less Sugar and Salt, Kraft Heinz Co
▲ £16.6m (+£9.3m)
Healthy variants are driving growth in the competitive sauces market – and none more so than this Heinz reduced sugar and salt offering. The extra £9.3m in sales made it the fastest-growing sauce brand this year. However, it's not all incremental growth for Heinz. Its standard tomato ketchup has fallen £4.9m as shoppers switch to the healthier alternative.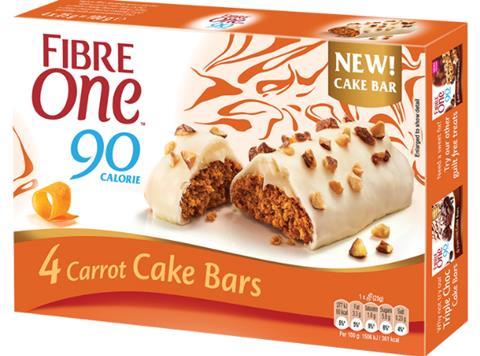 Fibre-One, General Mills
▲ £19.6m (+£10.1m)
This low-calorie bar landed on shelves somewhat quietly back in 2015. It took over a year for General Mills to unveil a TV campaign for the brand, aimed at post-Christmas dieters, in January 2017. At the time, General Mills said the investment demonstrated its confidence in the product targeting consumers who "don't want to deprive themselves when it comes to great flavour snacks". Since then, sales have soared to near £20m, prompting the manufacturer to add new "guilt-free" bars to the range in August.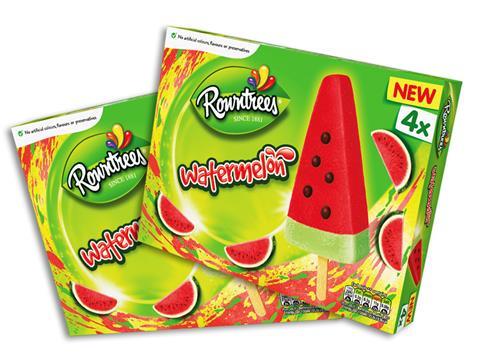 Rowntrees ice cream, Froneri
▲ £30.6m (+£12.5m)
This year's heatwave was a gift for ice cream brands. That was particularly true for the handheld category, which generated over £100m in extra sales. Magnum cleaned up to the tune of an added £23.2m but, in terms of brands under £50m, Rowntrees was the winner. The launch of its watermelon ice lolly in April can't have hurt its performance. Designed to look like a watermelon, the lollies contain just 61 calories each – targeting shoppers looking for a healthier way to cool down.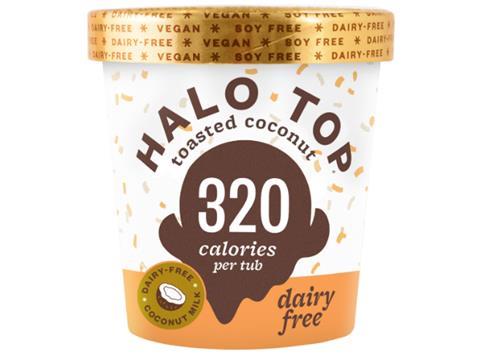 Halo Top, Halo Top/Eden Creamery
▲ £13.1m (+13.1m)
Credit for the most-hyped launch of the year goes to Halo Top, which made its UK debut in January to a flurry of press activity. Sales have proved it wasn't just hype. Since then, the low-calorie US ice cream has racked up over £13m to become the UK's sixth largest tub brand. The promise of all the flavour with a fraction of the calories appears to have struck a chord with consumers. The top four low-calorie ice creams included in this year's Top Products survey – Halo Top, Breyers Delights, Oppo and Wheyhey – added over £21.2m to the market.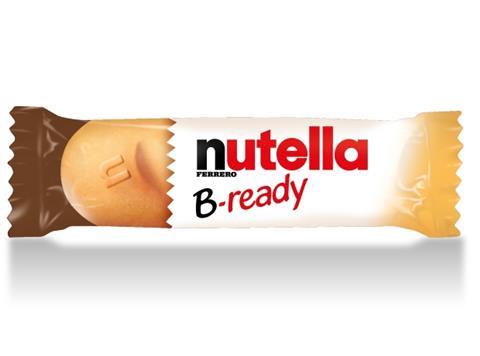 Nutella B-Ready, Ferrero
▲ £15.5m (+£13.9m)
Keen to nab a share of the growing healthy snacking market, Ferrero unveiled its Nutella B-Ready bar at the tail end of last year. Its £15.5m sales over the past 12 months suggest the 115-calorie proposition has proven a crowd-pleaser. Ferrero's customer development director Levi Boorer attributes this success to the company's "winning formula" for launching NPD, which includes "heavyweight investment" in above-the-line marketing and in-store activity.
L'Or instant coffee, Jacobs Douwe Egberts
▲ £35.9m (+£17.8m)
Talk about a well-timed launch. JDE's premium L'Or brand hit the shelves at the beginning of 2017 – proving just the right moment to capitalise on the growing demand for premium coffee at home. In just under two years, its instants have racked up over £35m – making it the fourth biggest instant coffee brand in the UK. Its Nespresso-compatible pods are similarly proving a hit with the caffeine crowd. Over the past year, they have added an extra £6.9m to their value to become the fifth largest pod brand.