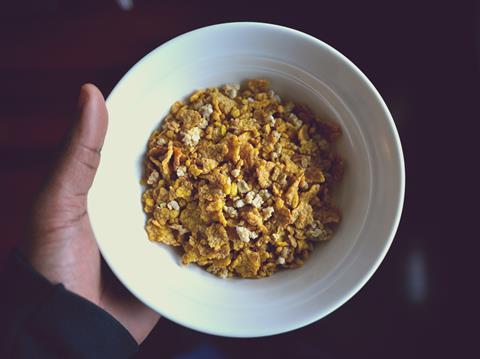 Turns out it's more than just Brexit dividing the nation. Britain has also fallen into two extremes in its breakfast habits.
Overall, cereals are up £103.5m thanks to lockdown and the resulting increase in at-home breakfasts. It may look like gains across the board – and, indeed, Nielsen notes 80% of the top 50 brands are in growth. But dig deeper, and a dichotomy emerges.
On the one hand, there were some notable gains in the healthier end of the market. See the 17.3% value growth of Kellogg's Fruit & Fibre, or the 20.3% growth for number 23 brand Lizi's to £9.1m. The latter was responsible for just one of many health-focused launches over the past year. Lizi's functional Super Muesli range made its debut in January, while Cereal Partners Worldwide's GoodBelly and WK Kellogg by Kids (see Top Launch below) also hit the shelves over our data period.
On the other hand, a noticeable appetite for indulgence emerged. Kellogg's Crunchy Nut was by far the biggest winner of the category, amassing an extra £21.3m. Tasty it may be but healthy it is not, containing more than 33g of sugar per 100g. Coco Pops also did a roaring trade, up £6.6m.
It's a trend noticed by Nielsen. "Tasty flavours – especially chocolate and honey – seem to have benefited the most, with Weetabix Chocolate, White Chocolate Coco Pops and Honey Cheerios seeing particularly strong performances," says senior client analytics executive Danny Branigan.
This isn't necessarily a tale of two very different consumers, though. It's more a sign of how the nation has responded to Covid-19 over time. "In the early weeks of the pandemic, we saw healthy eating take a backseat at breakfast time," says Francesca Theokli, marketing director at Weetabix Food Company. "However, in recent weeks the focus has shifted back to health as we look to increase our resilience and, in some cases, shift a few pounds built up during lockdown."
Nestlé Cereals echoes that point. Although many struggled to stay healthy during lockdown, "more and more consumers are prioritising nutrition", says Toby Baker, regional marketing director UKA.
Overall, he believes the value for money and non-perishable nature of cereal made it a popular choice in the past year, during which an extra 14.2 million kilos were sold.
Plus, Kellogg's points out cereal was a convenient option at a time of turmoil. "The growth in cereal was also due to the time constraints people were facing such as the challenges of home schooling," says Ben Simpson, Kellogg's revenue & channel director.
The question is whether this love of cereal will last beyond lockdown. If so, will shoppers prioritise their health or their tastebuds?
Top Products 2020
In association with Nielsen
Top 20 Cereals
£m
£ change
%
Total volume change:
3.9%
Total Category:
1438.4
103.5
7.7
Total Own Label:
323.5
5.9
1.9
This year's rank
Last year's rank
Brand
Manufacturer
£m
change (£m)
change (%)
1
1
Weetabix
Weetabix
153.3
8.7
6.0
2
2
Quaker
PepsiCo
117.4
2.7
2.4
3
3
Crunchy Nut
Kellogg's
109.7
21.3
24.1
4
4
Cornflakes
Kellogg's
57.2
7.9
16.1
5
5
Coco Pops
Kellogg's
54.3
6.6
13.9
6
8
Cheerios
Cereal Partners
51.6
8.9
20.8
7
6
Special K
Kellogg's
50.3
3.3
7.0
8
7
Shreddies
Cereal Partners
49.5
5.2
11.6
9
9
Rice Krispies
Kellogg's
43.7
7.8
21.7
10
10
Shredded Wheat
Cereal Partners
32.3
2.3
7.5
11
11
Krave
Kellogg's
28.8
0.7
2.7
12
12
Alpen
Weetabix
25.7
0.0
0.0
13
13
Frosties
Kellogg's
25.1
2.0
8.7
14
14
Jordans Country Crisp
Jordans & Ryvita Co
22.8
1.4
6.7
15
15
Jordans Crunchy Cereal
Jordans & Ryvita Co
22.0
2.2
11.1
16
16
Dorset Cereals Muesli
Jordans & Ryvita Co
18.0
0.6
–3.0
17
18
Fruit & Fibre
Kellogg's
16.9
2.5
17.3
18
20
Weetos
Weetabix
13.9
1.1
8.5
19
19
Scott's
PepsiCo
13.8
0.6
4.7
20
17
Kellogg's Variety
Kellogg's
13.4
1.6
–10.7
The Grocer's Top Launch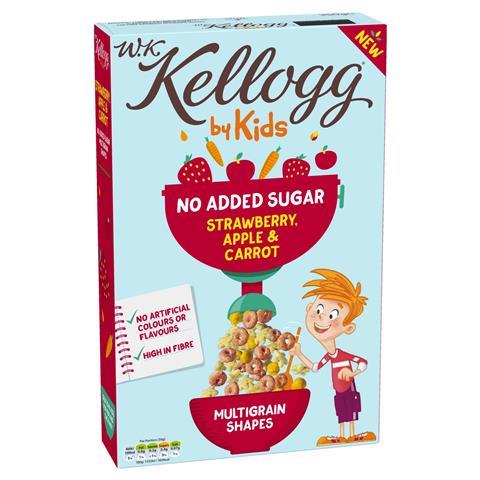 WK Kellogg by Kids, Kellogg's
Getting kids to eat carrot and beetroot for breakfast may seem like a fool's errand. But Kellogg's has done just that with this range. The two no-added-sugar variants – Strawberry, Apple & Carrot and Blueberry, Apple & Beetroot – are designed as an antidote to the sugar-laden cereals that rile parents. Meanwhile, the "fun" shapes are designed to appeal to the kids. The combination of fun and health seems to have done the trick: according to Kellogg's, its data names it the biggest cereal launch of 2020.