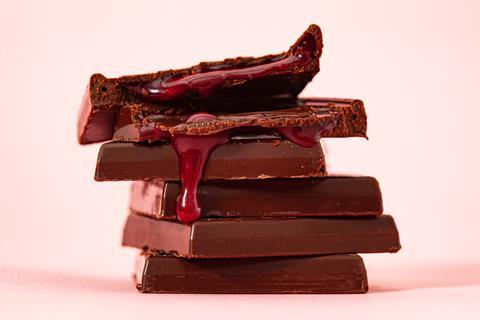 While global politics become increasingly tumultuous and extremist, Brits can rest assured that democracy is thriving – at least in the UK chocolate market.
Never before has chocolate been so accessible to so many shoppers. The category smashed through the £4bn ceiling in grocery this year as it unveiled innovation to accommodate myriad palates, food trends and dietary requirements.
New products have catered for veganism, weight management, allergies and indulgence. Take Galaxy's plant-based trio, which made headlines last month. The Smooth Orange, Caramel & Sea Salt and Caramelised Hazelnut variants contain hazelnut paste and rice milk alternative – making the Mars Wrigley brand the first major name in milk chocolate to add a vegan version.
The Galaxy launch has already "opened up ideas about what we might do more of with veganism", according to Mars chocolate business unit director Kerry Cavanaugh.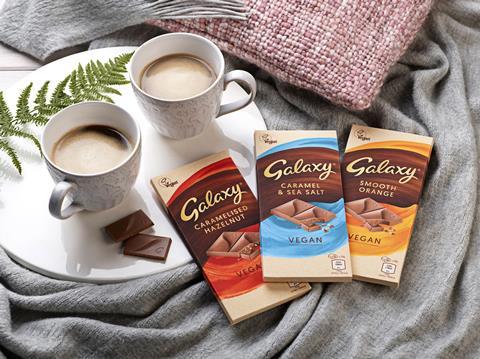 Whatever the supplier does next in the plant-based space, it'll likely face stiff competition, suggests Jonathan Chapman, director of Raw Halo. The brand this year reformulated its vegan Mylk chocolate range to combine cacao, creamed coconut, lucuma powder and coconut sugar. "We've seen some great innovation in vegan-friendly chocolate over the past five years," he says. "Those looking for dairy-free chocolate have never had it so good."
Indeed, vegan-friendly is no longer a niche claim in confectionery. "Vegan claims in chocolate jumped from 8% of launches in 2017 to 11% in 2018, as one in eight UK shoppers now claim to be vegan or vegetarian," says Karen Crawford, MD of Elizabeth Shaw
And demand is on the rise, insists Veganuary. A poll carried out by the organisation in the autumn found vegan versions of milk chocolate were the "treats that vegans crave most". Cadbury's Dairy Milk topped the list of treats that were sorely missed, followed by the Mars bar.
This means confectioners "are missing out on a huge potential market of sweet-toothed vegans" claims Veganuary head of communications Toni Vernelli. "With so many dairy-free milks, creams and spreads available, making vegan versions of bestselling [milk] chocolate treats should be easy as pie."
Perhaps. But for now, brands are focusing on another sort of vegan chocolate: dark. Its lack of milk makes it a natural fit for plant-based. That means "dark chocolate is becoming an increasingly popular option", according to Montezuma's MD Bruce Alexander. "The dark chocolate market is expanding and companies are introducing new and unique flavours for those choosing to follow a vegan diet."
But innovation in dark chocolate isn't just to sate vegans. It's also a powerful tool for driving value for the category. "If you were to look at any chocolate fixture in any of the supermarkets, on the premium side it's all dark chocolate, pretty much," says Oliver Shorts, CEO of Seed & Bean. With eight of its 10 bestselling SKUs being dark, the artisanal brand has enjoyed value and volume growth of more than 24% this year.
Dark is "one of the biggest growing trends" in chocolate, notes Susan Nash, trade communications manager at Bournville owner Mondelez. It already accounts for more than 13% and penetration "is growing 2.7%, while repeat buyers are up 2%" she adds.
For an illustration of her point, look no further than Bournville. The dark chocolate old-timer's value grew by a whopping 36.6% on volumes up 45.5%, having added an Orange variant bar and Giant Buttons.
With dark chocolate on the up, "creating ranges suited to this is important for brands to stay ahead" says Ed Smith, co-founder of Doisy & Dam, which has grown its predominantly dark portfolio by 23.5% over the past year, with volumes up 26.1%.
"Cadbury has done a great job of this by creating their Darkmilk product – milk chocolate with a bit more richness and less sugar than their Dairy Milk range."
A great job indeed. Darkmilk has generated £9m in its first 12 months. Not only are sales encouraging, but it this year sparked a legion of high-profile imitators, including Galaxy Darker Milk and Ritter Sport Cocoa Selection.
Their aim is to appeal not to vegans (they contain dairy) but to bridge "the gap between dark chocolate and milk chocolate, says Galaxy brand director Sarah Mellor. "Consumer demand for options in the dark chocolate category is growing, but we also know that dark chocolate can be polarising."
It's true some are put off by its bitter taste. But confectioners are canvassing potential new shoppers by adding "new and unique flavours", says Bruce Alexander of Montezuma's, which in February expanded its 100% cocoa Absolute Black range with a trendy Hemp & Sea Salt variant (and then went on to make an extra £346k).
The beauty of dark chocolate, says Seed & Bean's Shorts, is its ability to better handle interesting and unusual ingredients. "We've tested them on milk chocolate, but the taste doesn't work."
There are other benefits, too. Like the lower sugar content. In an unflavoured form, dark chocolate has greater appeal to punters wanting to reduce their sugar intake. Green & Black's popular 70% cocoa bar, for instance, has 29g of sugar per 100g, while its Mondelez stablemate Cadbury Dairy Milk provides almost twice that at 56g.
CDM fought back on that front in the summer by adding its healthier 30% Lower Sugar milk chocolate. "We're seeing an increased focus on lower-sugar options within snacking categories," says Mondelez's Nash. "In fact, more than a third of consumers are actively cutting down sugar consumption, making reducing sugar one of the biggest priorities."
However, Nielsen client manager Adam Paulson offers a word of warning. Still being new to the market, "the jury is still out on whether offerings like Cadbury's reduced sugar variant will testify to the success of brands' attempts to appeal to a health-conscious consumer, or fall flat in an indulgent category". Because, as Doisy & Dam's Smith confirms, taste remains "the most important factor when it comes to purchasing or repurchasing a product". Which explains the gains made by leading brands Maltesers and Kit Kat, who are moving into indulgent gifting formats, or premium brand Lindor.
So, to put it in political terms, mainstream milk chocolate will win the shopper vote every time. Although they're at growing risk of losing their majorities.
The Top Products
In association with nielsen
Top 20 Chocolate
£m
change (£m)
change (%)
Total Category:
4012.4
183.5
4.8
Total volume change:
4.3%
Total Own Label:
285.1
6.6
2.4
This year's rank
Last year's rank
Brand
Manufacturer
£m
change (£m)
change (%)
1
1
Cadbury Dairy Milk
Mondelez
566.7
46.4
8.9
2
3
Maltesers
Mars Wrigley
219.7
30.1
15.9
3
2
Galaxy
Mars Wrigley
217.7
-0.9
-0.4
4
4
Lindt Lindor
Lindt & Sprungli
145.7
19.6
15.5
5
6
Kit Kat
Nestle Rowntree
110.2
13.5
14.0
6
5
Kinder
Ferrero
104.0
-15.7
-13.2
7
7
M&Ms
Mars Wrigley
102.2
6.6
6.9
8
8
Cadbury Twirl
Mondelez
98.5
3.3
3.5
9
9
Celebrations
Mars Wrigley
94.0
1.3
1.4
10
10
Cadbury Wispa
Mondelez
91.2
4.6
5.3
11
11
Quality Street
Nestle Rowntree
83.6
4.7
6.0
12
14
Snickers
Mars Wrigley
75.5
4.0
5.5
13
13
Cadbury Heroes
Mondelez
74.4
1.1
1.5
14
12
Mars
Mars Wrigley
73.4
-2.2
-2.9
15
16
Milkybar
Nestle Rowntree
70.4
6.7
10.5
16
15
Ferrero Rocher
Ferrero
68.5
-0.8
-1.2
17
18
Aero
Nestle Rowntree
62.9
9.7
18.3
18
17
Cadbury Creme Egg
Mondelez
60.4
3.8
6.7
19
21
Cadbury Mini Eggs
Mondelez
54.7
6.3
13.1
20
20
Smarties
Nestle Rowntree
53.8
5.3
10.8
The Grocer's Top Launch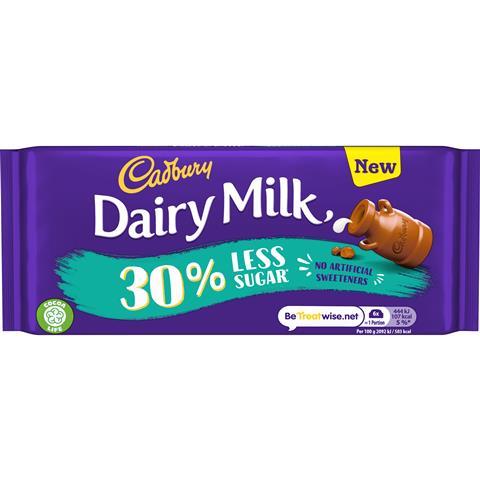 Cadbury Dairy Milk 30% Less Sugar by Mondelez
As Top Launch picks go, this one was a no-brainer. The UK's biggest chocolate brand unveiled its healthier chocolate in July after 12 years of planning, three years' development, about 35 recipes, and six rounds of consumer testing. It contains 37g of sugar per 100g, compared with regular CDM's 56g, and no artificial sweetener. Instead, it uses soluble maize fibre for sweetness, while promising the same "iconic texture and taste profile of Cadbury Dairy Milk".