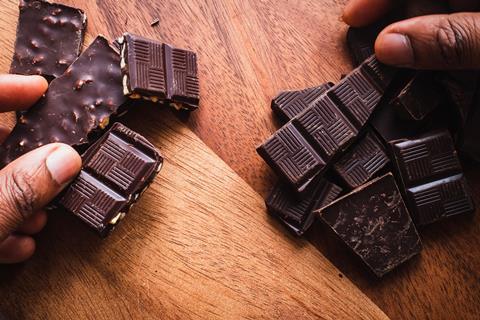 Chocolate is no longer flavour of the month. In contrast to last year's sweet performance, this year's sales are likely to leave a bitter taste in the mouths of suppliers.
In fact, while other categories benefited enormously from Britain's stockpiling and comfort-eating, chocolate failed to add value in Nielsen's read of the grocery market, and only saw a 0.7% increase in volume.
It would be easy to blame Covid-19 for such woes. After all, lockdown largely put an end to on-the-go and impulse purchases, and Easter took a serious hit too.
That led to a slump in sales for some lines, admits Susan Nash, trade communications manager at Cadbury owner Mondelez. But she goes on to stress that "most consumers say they are eating roughly the same amount of confectionery now as they were before lockdown".
Ferrero customer development director Levi Boorer is similarly bullish. "Confectionery represents a category that has something many others don't: resilience," he says. "We are still seeing that confectionery is one of the few categories where shoppers are willing to spend money on the products that they love, in order to treat themselves."
So, what's the reason behind chocolate's underwhelming year? The answer may lie with Mars Wrigley. It was facing a torrid time even before the pandemic hit the UK.
In early March, the supplier blamed a "mechanical breakdown" for shortages of several of its biggest chocolate brands. As a result, Mars admitted it was unable "to make as many treats as we would like" at that time. "For the time being, you may not be able to find Maltesers, Revels, and some other Galaxy treats including Minstrels, Counters, Galaxy Milk and Ripple," it said.
So, while shoppers were stocking up during lockdown, "the most loved Mars brands weren't available" notes Nielsen senior confectionery client manager Ana Godoy. "The lockdown period contributed to 52.4% of top four Mars chocolate brands' MAT decline."
Value sales of Galaxy and Maltesers plummeted by 23.5% and 29.7% respectively over the 16 weeks to 8 August. The two brands end this year with a combined loss of £75.7m.
Still, Mars is determined to stay positive. It "had a difficult start to the year but that's behind us now" claims a spokeswoman, who says it is "back on track and fully focused on delivering a year of great-tasting treats in 2021 for our customers and consumers alike".
It's got some serious catching up to do. While Galaxy and the like were unavailable, the nation's sweet tooth was satisfied by Mars' chief rival, Cadbury.
The Mondelez brand "benefited from the lockdown months like no other top chocolate brand" says Godoy. And how! Cadbury Dairy Milk has added £68.6m over the past 12 months, while Twirl is up £8.7m and Wispa has raked in an extra £11.9m. That's a total of £89.2m for Mondelez's powerhouse trio.
Then there's Cadbury Bournville. It might be 112 years old, but it's been flying off shelves with youthful vigour. The veteran brand has netted the sixth-biggest value gain in the category, growing £9.8m to £28.6m. That's a 52% increase.
It's growth that's indicative of Brits' rekindled romance with dark chocolate – which has seen Bournville stablemate Green & Black's grow by 3.5% to £43.3m.
Meanwhile, Cadbury Darkmilk, launched in 2018, has doubled its value to £23.6m. The 40% cocoa brand represents a crucial part of chocolate's growth, suggests Mondelez's Nash, who says darker variants continue to bring new shoppers into the category. "Although not all consumers grow to love the stronger flavour profile of dark chocolate, many still appreciate a richer-tasting chocolate as their tastebuds mature."
Mixed fortunes
So Mondelez has coined it in across various levels of cocoa content, with only Creme Egg and Mini Egg making noteworthy losses (£9m between them) as coronavirus clobbered the Easter market.
The fortunes of the UK's other confectionery giants, however, have been much more mixed. Take Nestlé. Munchies is up 31.7% in value and Smarties has grown by 12.4%. The Swiss supplier's biggest winner by far, though, was Aero. A £17.3m (27.5%) gain makes it the second-largest in the category, behind Dairy Milk.
Yet at the same time, Nestlé has seen its flagship treat, Kit Kat, shed £9.8m and lose 2.8% of volume sales.
There's a good explanation for the varied results. It's all down to format, says Nielsen's Godoy. "The seismic shift in confectionery buying habits created by Covid-19 drove consumption into home formats," she says.
"Brands that were in a position to leverage the increase in in-home occasions fared better than those reliant on singles and out-of-home formats." Which explains why Kit Kat struggled while Munchies soared.
Products reliant on gifting suffered too, as social distancing rules put a dampener on big get-togethers.
"Gifting occasions such as Mother's Day and Easter looked very different this year, particularly as the occasions fell earlier on during lockdown, at a time when people were trying to adjust to the new restrictions and had to cancel many family gatherings," says Ferrero's Boorer.
However, the worst is over, believe suppliers, as they dream of a bumper Christmas. "In the past few months, we have started to see consumers gifting once more, with Mondelez almost back to growth in this segment," says Nash. "In fact, brands such as Cadbury Heroes are growing ahead of the gifting and sharing category."
It remains to be seen whether Heroes will recoup this year's £1.8m loss over the festive period. What's also uncertain is the impact on chocolate sales of government's new obesity strategy.
Its proposals include curbing in-store promotions of foods high in fat, sugar or salt, and introducing a 9pm watershed for the advertising of such products on TV and online. There could also be a total HFSS online ad ban, despite protestations from the industry.
"While we welcome the aims of the government's obesity strategy, we believe that many of the new proposals will have a limited impact on obesity rates with unintended economic consequences," says Boorer. "They focus too much on banning and controlling and not enough on encouraging and educating."
Looks like there could be another turbulent year ahead for the UK's chocolate makers.
Top products 2020
In association with Nielsen
Top 20 Chocolate
£m
£ change
%
Total volume change:
0.7%
Total Category:
4014.9
–1.6
0.0
Total Own Label:
269.9
–15.3
–5.4
This year's rank
Last year's rank
Brand
Manufacturer
£m
change (£m)
change (%)
1
1
Cadbury Dairy Milk
Mondelez
642.0
68.6
12.0
2
3
Galaxy
Mars Wrigley
186.6
–31.2
–14.3
3
2
Maltesers
Mars Wrigley
175.5
–44.5
–20.2
4
5
Lindt Lindor
Lindt & Sprüngli
152.8
6.9
4.8
5
4
Kinder
Ferrero
148.0
–8.0
–5.1
6
8
Cadbury Twirl
Mondelez
107.3
8.7
8.8
7
10
Cadbury Wispa
Mondelez
103.3
11.9
13.1
8
6
Kit Kat
Nestlé
100.4
–9.8
–8.9
9
7
M&M's
Mars Wrigley
98.5
–3.7
–3.7
10
9
Celebrations
Mars Wrigley
87.4
–6.6
–7.1
11
11
Quality Street
Nestlé
83.0
–0.6
–0.8
12
17
Aero
Nestlé
80.2
17.3
27.5
12
13
Cadbury Heroes
Mondelez
73.2
–1.8
–2.4
12
12
Snickers
Mars Wrigley
72.4
–3.2
–4.2
12
15
Milkybar
Nestlé
70.9
0.3
0.5
12
16
Ferrero Rocher
Ferrero
67.1
–1.4
–2.0
12
14
Mars
Mars Wrigley
66.4
–7.0
–9.5
12
20
Smarties
Nestlé
60.6
6.7
12.4
12
21
Terry's Chocolate Orange
Carambar
59.5
7.8
15.0
12
23
Lindt Excellence
Lindt & Sprüngli
56.5
10.1
21.9
The Grocer's Top Launch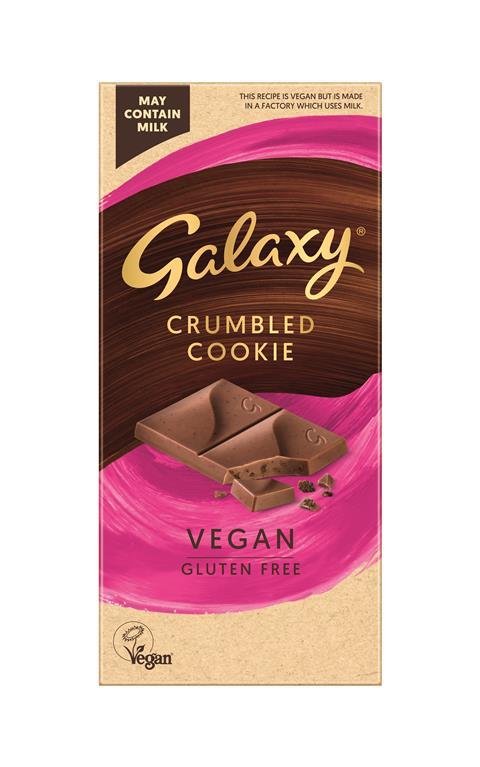 Galaxy Vegan Mars Wrigley
Until the arrival of Galaxy Vegan, plant-based chocolate had been the domain of artisanal brands. Mars took them on in November 2019 with a trendy trio of bars made with hazelnut paste and a rice-based milk alternative. Smooth Orange, Caramel & Sea Salt and Caramelised Hazelnut were joined in September this year by Smooth Mint and Crumbled Cookie. All come in wrapping made from wood fibre, which biodegrades within two months if composted at home