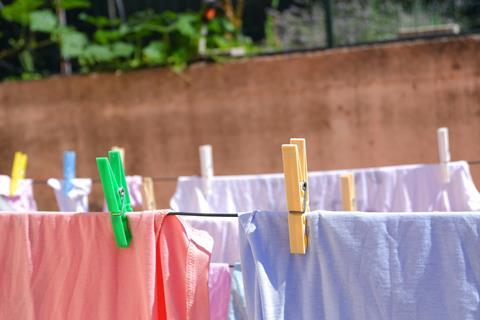 Brits have been obsessed with washing their hands this year. Sadly for the laundry category, the same can't be said about washing their clothes. Sales of detergent are down by £15.1m, after 119.6 million fewer packs landed in shoppers' baskets.
Own-label's £9.8m loss is largely responsible for the value decline – although top 10 brands Ariel, Bold, Vanish and Daz have lost £17.1m between them.
Predictably, the increase in home working has been the most significant blow to the category. The effect of the first lockdown was felt almost immediately: the average number of weekly laundry loads in homes dropped by 6% between March and April, according to Ecover. The brand is one of the few laundry detergent success stories, up 13% in value.
"Limited social occasions and activities meant fewer clothes were being worn and washed," says Ecover senior brand manager Charlotte Snelgrove.
By July, only 10% of people felt the need to wear fresh clothes for working from home, The Guardian reported. But that's begun to change, Snelgrove suggests.
"Since the summer, the category is beginning to see signs of recovery, which we can attribute to restaurants, gyms and schools reopening in August and September, leading to more varied clothing being worn on a daily basis," she explains.
That's a welcome boost for laundry detergent – and for fabric conditioner, which has shifted 6.2 million fewer packs. However, the sector added £3.7m thanks to a 4.8% rise in average prices, as premium new fragrances hit the shelves. This year has seen the launch of limited-edition lines like Comfort Frosted Pine & Apple and Lenor Rose Wonderland, the latter of which was in partnership with 'cleanfluencer' Mrs Hinch and hotly anticipated by her fans on Instagram and Facebook.
"Fragrance is key when it comes to home and clothes care," says Nadine Slyper, home care brand experience lead at Comfort owner Unilever. "Shoppers are always on the look-out to try new and interesting scents, especially during the festive season. Our limited-edition products have been hugely successful and driven incremental sales."
It certainly seems to have paid off for brands. While the big names have managed to add different degrees of value, own-label has dived by £4.2m. This is also down to a growing preference for brands at this time, says Nielsen senior client manager Nicoleta Cierghi. "Trust in big brands has played a huge factor in the performance of private label this year," she says. "Big brands are backed by their credibility and quality, meaning private label has suffered."
Top Products 2020
In association with Nielsen
Top 10 Laundry Detergents
£m
£ change
%
Total volume change:
-2.0%
Total Category:
899.4
–15.1
–1.7
Total Own Label:
100.8
–9.8
–9.8
This year's rank
Last year's rank
Brand
Manufacturer
£m
change (£m)
change (%)
1
1
Persil
Unilever
184.7
4.6
2.6
2
2
Ariel
P&G
150.0
–4.7
–3.1
3
3
Fairy
P&G
122.9
2.7
2.3
4
5
Surf
Unilever
97.1
2.1
2.2
5
4
Bold
P&G
91.2
–3.9
–4.1
6
6
Vanish
Reckitt Benckiser
55.8
–1.2
–2.1
7
7
Daz
P&G
33.9
–7.3
–17.7
8
8
Ecover
SC Johnson
18.3
2.1
13.0
9
9
Dettol
Reckitt Benckiser
12.9
2.3
21.4
10
10
Dylon
Henkel
7.3
–0.6
–7.2
Top 5 Fabric Conditioners
£m
£ change
%
Total volume change:
-4.0%
Total Category:
383.4
3.7
1.0
Total Own Label:
38.1
–4.2
–11.0
This year's rank
Last year's rank
Brand
Manufacturer
£m
change (£m)
change (%)
1
1
Comfort
Unilever
171.6
1.6
1.0
2
2
Lenor
P&G
126.9
2.4
1.9
3
4
Fairy
P&G
22.3
0.3
1.4
4
5
Febreze
P&G
14.5
2.8
23.4
5
6
Ecover
SC Johnson
4.8
0.5
11.4
The Grocer's Top Launch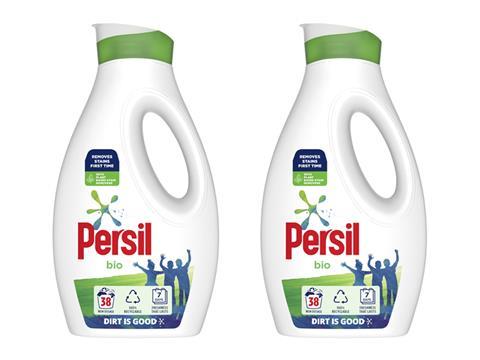 Persil eco-bottle, Unilever
Persil unveiled a new bottle for its liquid detergent in September. It's a fully recyclable pack made from 50% recycled plastic – and it's axed the plastic dosing ball previously provided with every bottle. The changes will cut virgin plastic use by more than 1,000 tonnes annually, says Unilever, which has also concentrated the detergent to make the pack smaller and further reduce plastic. Plus, it's reformulated the contents to include plant-based stain removers and biodegradable ingredients.