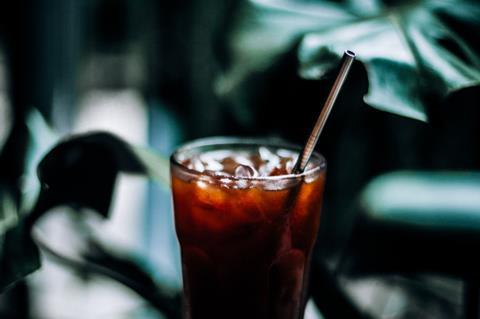 Behold the impact of the soft drinks levy: all the action in carbonates this year is sugar-free. Seven of the top 10 fastest growing SKUs (in percentage terms, at least) are sugar-free versions of top fizzy pop brands.
The figures are astounding. Just take Coca-Cola Zero Sugar and Pepsi Max, for instance, which racked up a combined £131.1m in extra value (with respective gains of £54.1m and £77m). Gains like these have established carbonates as the fourth fastest-growing category in 2019's Top Products survey. No small feat considering the market had to contend with a set of extremely tough comparables from the roasting summer of 2018.
Watch: The story of soft drinks in 2019 sponsored by Coca-Cola European Partners
Coca-Cola European Partners VP for commercial development Simon Harrison says this is partly down to sugar-free drinks – particularly new flavours and brand extensions – bringing new shoppers into the category. "We're overtrading on flavour and zero-sugar innovation with millennials," he says. "They want new, exciting zero-sugar options like Diet Coke Twisted Strawberry and Fanta Zero Grape."
Plus, there has been solid growth in smaller packs and formats. "We've seen much more focus on merchandising premium and smaller packs to attract new buyers," Harrison says. That's partly because retailers have upped their use of in-store communication "to help explain what these new formats are for".
It also helps that many of these smaller formats are glass, which is seen as more sustainable then plastic. Carbonates aren't exempt from the 'Blue Planet' effect, says Nielsen senior client services manager Laszlo Szom. "Sustainability and the fight against plastic is an increasing trend," he says.
Still, soda's £164.1m in extra sales isn't just down to new customers and trendy formats. People are also paying more per bottle. The introduction of the sugar levy in 2018 has pushed up average prices by 4.4%.
That same combination of tax-related price hikes and innovation has worked wonders for sports and energy drinks, too. Value sales are up £99.8m (8.1%), with huge gains for big players like Red Bull (up £42.2m), Monster (up £32.4m) and Lucozade Energy (up £20.2m).
Market leader Red Bull attributes its success to distribution gains, increased penetration and "stronger trade partnerships" – as well as a growing repositioning of energy brands around functional benefits.
LRS UK sales director Scott Meredith, meanwhile, says Lucozade's performance is down to new flavours and a £10m marketing push.
Seems like there's no shortage of energy in this market.
The Top Products
In association with nielsen
Top 10 Carbonates
£m
change (£m)
change (%)
Total Category:
3030.4
164.1
5.7
Total volume change:
1.30%
Total Own Label:
149.1
-2.4
-1.6
This year's rank
Last year's rank
Brand
Manufacturer
£m
change (£m)
change (%)
1
1
Coca Cola
Coca-Cola Company
1347.9
80.1
6.3
2
2
Pepsi
PepsiCo
582.4
52.2
9.8
3
3
Fanta
Coca-Cola Company
217.1
28.3
15.0
4
4
Irn Bru
AG Barr
121.3
-0.8
-0.7
5
5
Dr Pepper
Coca-Cola Company
109.6
7.7
7.6
6
6
Schweppes
Coca-Cola Company
58.9
2.1
3.7
7
7
Sprite
Coca-Cola Company
51.3
-0.5
-1.1
8
8
7 Up
PepsiCo
44.8
-0.4
-0.9
9
11
Tango
Britvic
35.7
8.0
28.8
10
10
Barrs
AG Barr
34.6
4.6
15.3
Top 10 Sports & energy drinks
£m
change (£m)
change (%)
Total Category:
1330.4
99.8
8.1
Total volume change:
4.40%
Total Own Label:
28.2
-3.2
-10.2
This year's rank
Last years rank
Brand
Manufacturer
£m
change (£m)
change (%)
1
1
Red Bull
Red Bull
374.9
42.2
12.7
2
2
Lucozade
Suntory
305.4
20.2
7.1
3
3
Monster
Coca-Cola Company
242.7
32.4
15.4
4
4
Lucozade Sport
Suntory
127.9
6.3
5.2
5
5
Rockstar
AG Barr
45.2
-12.9
-22.3
6
6
Relentless
CCEP
44.1
-1.4
-3.0
7
7
Euro Shopper Energy
Booker Belmont
39.3
0.7
1.9
8
8
Boost
Boost
19.6
-0.4
-2.0
9
10
Euro Shopper Sport
Booker Belmont
16.1
1.5
10.2
10
9
Emergy
Cott Beverages
15.5
-1.9
-10.7
The Grocer's Top Launch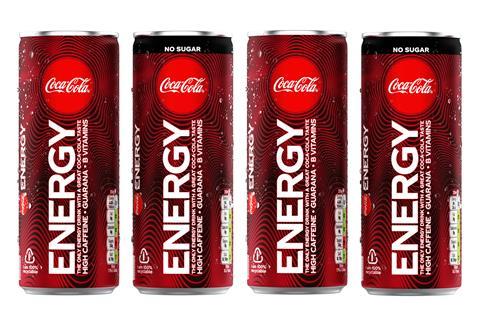 Coke Energy by Coca-Cola European Partners
When this highly anticipated drink hit shelves in the spring, it was uncertain whether it would grow the energy category or dilute sales. After roughly half a year on the market and £4m in sales, it's safe to say Coke Energy's full sugar and no-sugar SKUs have been good news. Ingredients-wise, CCEP was smart to omit taurine – thus differentiating its product from market leader Red Bull – instead getting its kick from "naturally derived" caffeine, guarana extract and B vitamins.