A 20% surge in promotional activity in the booze aisle reduced the overall cost of many festive tipples this Christmas.
The big four ran 4,643 promotions on alcoholic drinks in the four weeks ending 31 December 2013 - up 19.7% from 3,880 a year earlier according to BrandView.com data.
And though the average saving stayed virtually static year on year, at 22.8% this Christmas compared with 22.6% in 2012, in some categories, prices actually fell, despite the continuing imposition of the duty escalator
Savings were particularly pronounced in the Champagne aisle, likely due to increasing pressure from fast-growing lower-priced alternatives such as prosecco. The average depth of deal rose 2.1 percentage points to 31.7%, and total deals grew from 76 to 100.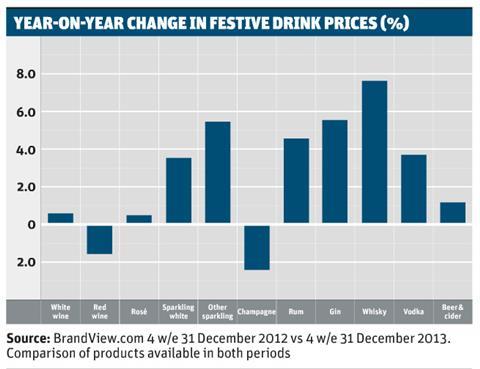 Looking at the price of products available at Christmas in 2012 and 2013, the promotional activity pushed the average price of a 75cl bottle of Champers down 2.2% from £28.70 in 2012 to £28.07.
Fans of red wine also made savings this Christmas, with the price of a 75cl bottle falling 10p compared with 2012, from £7.77 to £7.67. Shoppers were benefiting from a big increase in deals on still wine, which rose 48% from 1,018 in December 2012 to 1,510 this Christmas.
With deals slightly shallower year on year at 27.7% compared with 28.1% in 2012, the price of other still wines rose fractionally. White wine drinkers paid an average of 3p more per bottle, at £6.89, while rosé prices increased 2p per bottle to £5.89.
Average promotional savings also dipped slightly on sparkling wines, from 29.8% to 29.5%, which contributed to the price of a typical 75cl bottle rising from £6.91 to £7.19. Sparkling white wines were impacted slightly less, rising from £7.04 a bottle to £7.28.
Savings also fell slightly in the spirits aisle - from 18.8% to 18.5% - as retailers moved away from straight money-off deals, which accounted for 68% of promotions in Christmas 2012 and 65% in 2013.
Across the spirits category, the average price of a 70cl bottle rose exactly £1 to 18.67. Of the main spirits types, the greatest hikes were in whisky, with the typical bottle rising £1.73 to £24.39, followed by gin (up 81p to £15.43), rum (up 67p to £15.52) and vodka (up 59p to £15.60). The price of Irish cream liqueur rose 64p to £11.21.
With beer under more pressure than most drinks categories - volume sales of lager, for example, fell 2.4 % last year [Nielsen 52 w/e 18 October 2013] - it's not surprising that retailers upped the number and depth of deals in the beer & cider aisle at Christmas. This helped to keep the average volume price of a litre of beer or cider virtually static year on year at £2.94 compared with £2.90 the previous Christmas.
Storms send up fish prices
Recent storms around the British Isles have disrupted supply of several key fish species, driving up prices.
Plaice prices in the UK have gone up 10.8% over the past month and are up 51.2% year on year because storms meant fewer boats could fish, thus reducing overall catch volumes. It's a similar story for UK whiting, up 37.3% month on month and 44.2% year on year.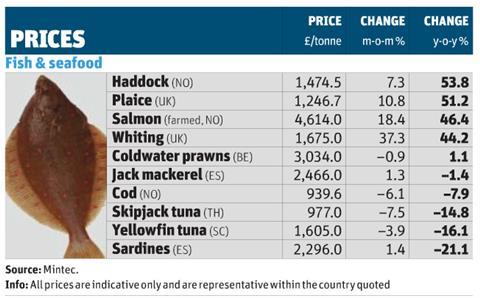 Bad weather in Norway has also taken its toll, with farmed salmon up 46.4% year on year because of supply problems caused by cold weather as well as increased demand over the holiday. Haddock prices in Norway continue to be driven up because of reduced quotas.
Tuna remains on a downward trend as a result of low demand from processors and good catches, particularly in the Western and Central Pacific. And sardines are down year on year with the return to more normal conditions following unusually high prices in 2013.
(Julia Glotz)