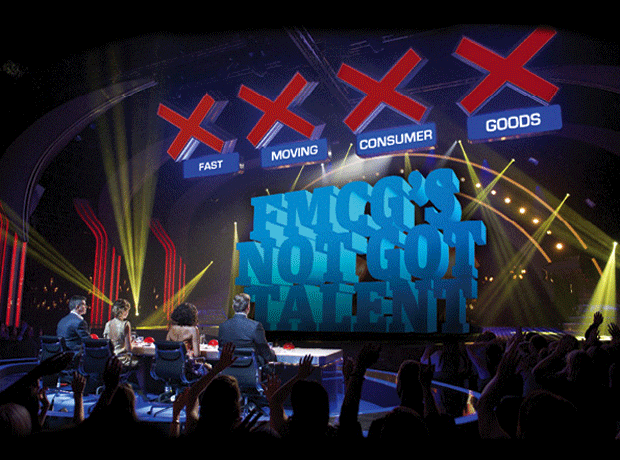 If Simon Cowell ever took an unlikely break from insulting wannabes on Britain's Got Talent to deliver his verdict on the amount of talent entering the world of fmcg, he would no doubt issue a camp put-down that barely concealed his disgust at the situation. Not because Britain's fmcg groups don't have any talent, but because manufacturers have failed to nurture it. And the talent has responded in kind.

Now, headhunters and industry figures claim that as well as alienating graduates, years of falling investment have left a lack of seasoned operators coming up through the ranks. The result is a gaping hole in middle management - and a pipeline struggling to inject fresh blood. So why has the industry allowed the situation to get so serious and what can be done to rectify matters?

Nicky Stapleton, co-founder of Veritas, which specialises in recruitment for fmcg clients, believes a "big time" problem exists and that the price pressure retailers put on manufacturers, shaving their profits to preserve their own, has been a major factor.

"It's been a real squeeze," she says. "If you look at the top four, their demands on margins have hit manufacturers' profits. It's had a knock-on effect, including on recruitment, because the manufacturers are trying to cut across every area of their business to save money."

Stapleton says cost-cutting has even taken its toll on fundamentals like field sales, which she notes are often outsourced to third-party operations. Shutting off that traditional entry point for graduates into the fmcg industry has restricted the amount of talent rising up through the ranks and left a "£40-70k national account manager"-shaped hole, claims Stapleton. "Every time we try to recruit them, the pool has shrunk," she adds.
The numbers tell the story of a steady decline in graduates entering fmcg manufacturing from the late 1990s until recently - leaving a shortfall in middle management today. However, the last couple of years indicate there is room for optimism, too:
57% According to the Higher Education Statistics Agency, the number of graduates entering fmcg manufacturing more than halved between 1996 and 2008, dropping by 57%
49% According to the Food and Drink Federation, 49% of food and drink employees are due to retire in the next 20 years. The FDF is concerned there isn't enough talent coming through to replace them
170,000 The number of new recruits the FDF claims will be needed by 2020 if the food and drink manufacturing industry is to continue to grow, based on a report it carried out with Grant Thornton
1, 795 The number of graduates has been climbing steadily since 2010, and the 2012 figure is 57% up on the low point of 2008, suggesting we're seeing the green shoots of recovery
Poaching talent

Murkier tactics have also been adopted to save cash, according to Steve Simmance from The Simmance Partnership, which specialises in fmcg and marketing recruitment. He suggests SMEs have been cutting costs by "making an active attempt to reduce graduate recruitment in favour of poaching young staff" from the multinationals.

"They were saying, why invest the money when we can leave it to Unilever, Mars and Nestlé to invest the money, then pick off the talent later?"

One MD of a drinks company admits to the practice, saying graduate recruitment is not considered a priority as the cost is "prohibitive". Instead, it relies on the "old favourites" to grow talent, before luring it away once they have got some experience. That way the "filtering process has taken place, the wheat has been eliminated from the chaff, the basic skills training has been completed and the talent is set to leave the womb".

However, Simmance argues this strategy has left a "dearth of talent" as it leaves SMEs "highly reliant" on talent coming from the multinationals. This would be all fine and well, but many multinationals have stopped recruiting as well, he says: "Thirty years ago, graduate recruitment was a very significant piece of activity It was annual, it was large volumes, it was 20 or 30 people. Now it's two or three."

The decline has affected the industry "right across the board, in the whole of fmcg", according to Simmance, who claims the major multinationals have decided graduate recruitment is "such a significant cost, they would rather pull it out of their profit and loss, rather than considering it as an investment".

This is not sustainable, he argues. "The industry needs to reintroduce the concept that human capital is an investment, not a cost, because fmcg is feeling the pain of 15 years of gradual decline."

His gloomy verdict is backed up by the figures. According to the Higher Education Statistics Agency, which surveys the industries students enter once they have graduated, the number entering fmcg manufacturing between 1996 and 2001 fell by 30%, almost a third. There was a flurry in 2002, but then numbers plunged again, from 1,695 in 2003 to 1,140 in 2008 - a fall of 33%.

If you to take into account the boom in university attendance over the same period, the numbers look even worse. According to HESA, in 1996, 0.7% of graduates that responded to the survey were heading for fmcg manufacturing. By 2009, that figure had dropped to 0.3%, meaning the pipeline of high fliers who might be taking up senior positions today, or in the next few years, has been severely constricted.

Angela Coleshill, human resources director at the Food and Drink Federation, says concern over the number of people coming into the industry is becoming more acute because of the numbers going out. The FDF says a wave of retirement is set to hit the industry. In other words, another hole is looming.

"We have an ageing workforce in food and drink manufacturing," she explains. "A good percentage are due to retire in the next few years. Some of the statistics are horrifying. In terms of technical and engineering staff, some of our members say 90% of their workforce are due to retire in the next five years.

"Admittedly, that's an extreme example, but we know 49% of all employees in the food and drink industry are due to retire in the next 20 years and the pipeline of talent isn't there to replace them. Today's graduates are tomorrow's leaders, but where are they going to come from? The industry has to pull together. We have to get this talent issue cracked."

Coleshill highlights a piece of research the FDF did in conjunction with Grant Thornton two years ago on the growth potential for the food and drink industry. One of its conclusions was that "the lack of future talent and evidence of skill shortages is one of the big barriers to growth", she says. Today, the FDF predicts in order to hit "current growth trajectories", the industry will have to recruit 170,000 new people by 2020.

"Out of those, 24% of those are needed in managerial positions," adds Coleshill. "That is where the biggest hole has appeared, in middle management. In the longer term, to build capacity for businesses, we need that middle tier."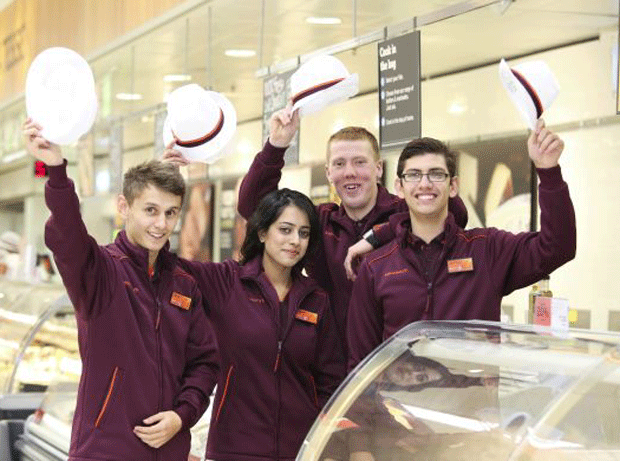 Graduates ignoring fmcg

They might need it, but they'll have to work hard to get it. All agree the talent problem has been exacerbated because fmcg ignoring graduates has led to graduates ignoring fmcg.

"The bright young things don't see fmcg as intellectually stimulating as other industries," says Simmance. "It was not uncommon in the 1980s to receive 200 applications for a position, now you might get five. The numbers are severely down. We are fishing in an ever-decreasing pool, it's getting more and more shallow."

He wants fmcg to fight harder for its place, like insurance and banking do, at universities' graduate fairs, which he says do not feature as many fmcg companies as they used to. "Fmcg is an incredible industry that consumes our lives, but if you ask young people to name a brand they will say apple, they won't say McVitie's. We are losing our identity as a very considerable career and employer industry."

A spokeswoman from Manchester University careers office agrees there are "significantly fewer" fmcg employers in fmcg making the effort to attend, although she is keen to highlight the presence of "the remaining old guard, like P&G and Unilever".

Indeed, the two fmcg giants remain very active. Unilever will take on 70 graduates in 2013 and a spokeswoman says the scheme has "steadily grown" every year since its inception. She also adds that "four of our UKI board are Unilever graduates", including chairman Amanda Sourry.

And while P&G corporate communications manager James Williams says the company doesn't disclose numbers, he insists: "Traditional graduate recruitment remains fundamental to everything we do in terms of securing our talent pipeline. It's the avenue into marketing, sales, finance. We make sure we are out recruiting on campus to make sure we get that top talent. And competition for places is increasing."

Yet it's not just a case of a wider range of fmcg companies turning up and making overtures. Stapleton suggests another reason for graduate apathy, and the lack of interest from young people in general, is the challenge of selling the food and drink industry to a bunch of digital natives more into smartphones than sausages.

"A lot of graduates don't even know what fmcg is," she says. "My friend's children are looking at graduate schemes and one has just gone to O2. To her, that was more sexy than going to work for Heinz because she thinks, 'I don't want to sell beans'. Yet there is so much innovation going on right now in fmcg."

Paul Monk, who worked at senior management level at Mars, Golden Wonder, Finsbury Foods and Burton's Biscuit Co, has set up a charity called Working Options to inspire young people to realise their potential. He says there are "not a lot of young talented people considering a career in grocery industry" and that "very, very few" of the young people he works with "even consider it a possibility".

Suppliers don't always help matters, he adds. "The industry doesn't engage with them enough. We need to change that by attracting the talent in."

The good news is that in some corners, efforts are being made to drive change and a key strategy is to aim younger. A spokeswoman for Nestlé says it is growing the number of graduates it takes on, as well as offering places to students and interns.

"In 2011 we took on 25 new graduates, in 2012 we took on 43 and we also opened up a further 22 placements for university interns," she says. "In 2013 we will look to bring in a further 53 graduates and 29 interns and placement students."

Williams adds that P&G is "diversifying as apprenticeships and interns become an avenue for attracting new, young, ambitious talent into the company beyond traditional graduate recruitment. It's been very successful and it something we are doing more of. It broadens the base of people we can target." P&G expects to take on around 100 interns this summer, he says.

Industry bodies are also active in targeting youngsters. The IGD has launched Feeding Britain's Future, backed by over 700 companies in the food and drink industry. Over 10,000 people aged 16 and 24 took part last year and this year it will run for a month, rather than a week, during September. The FDF has also launched a number of initiatives to sell the industry. It's already "smashed its original pledge" to double the number of industry apprentices in England and Scotland by quadrupling the amount, from 1,711 to 7,535, between August 2011 and December 2012, it says.

Graduates on the up in retail
When it comes to recruitment, the grass really does apear to be greener on the retail side. According to the Higher Education Statistics Agency, the number of graduates heading into retail has risen from 11,850 in 1995 to 30,585 in 2012, an increase of 158%. Although FDF HR director Angela Coleshill is concerned about the numbers of graduates opting for fmcg manufacturing, she says the "retail sector is still quite buoyant". So what are the major multiples offering?
Tesco: has 19 different graduate programmes to choose from, focused around three key areas - stores, offices (which look after dotcom, finance and property), or distribution. Tesco was ranked 127th in The Guardian UK 300 in 2010. This year, it is more popular, ranking 85th - making it the top-ranking major multiple - and will take on 300 graduates compared with 30 in 1990.
Asda: claims to be one of the "very biggest graduate employers, without a doubt. And certainly one of the most impressive." It's a bold claim but it plugs its US parentage hard. No surprise there - for any graduate considering a career in retail, Walmart is the biggest retailer in the world, after all. Asda was 221st in graduate employer rankings in 2010 and this year it's up to 138th.
Sainsbury's: has recently launched a 2020 Leaders concept, offering a very competitive £32,000 to graduates who makes it on to the scheme. It was 193rd in The Guardian 300 in 2010 and this year it's 107th. It's already started recruiting for 2020 Leaders 2014 when it plans to take on 31 more graduates and 18 'placement students'.
Waitrose: ranked 214th in the ranking in 2010, but appears to have slipped off the radar in 2013. However, it recently launched the Waitrose Graduate Leadership Scheme, replacing the Waitrose Retail Graduate Scheme. Where the old scheme was designed to find future department managers and branch managers, the new scheme aims to find "the potential future leaders and board directors of the business". The retailer says it will take on eight graduates this year.
Morrisons: has a dedicated graduate website set up, which reveals a gruelling selection process involving an online application, followed by a values-based scenarios questionnaire, verbal and numerical comprehension, a video screening and, finally, a trip to an assessment centre. It plans to take on 122 graduates this year. It doesn't feature in graduate employer ranking, but has made significant progress with its graduate scheme - a spokeswoman says 15 years ago Morrisons simply didn't have one.
"We need to help ourselves"

Going down the apprenticeship route is a "great way to build talent", says Coleshill. "The industry hasn't invested as much as it has done historically, so quadrupling apprentice numbers in food and drink over the last 18 months will have a significant impact in the longer term. We need to help ourselves. We can't just sit down and complain about the competition, or moan when the talented engineers go into the aerospace or automotive industry.

"We have launched our own engineering degree, where the student will be partly funded. It's being backed by a number of top companies including Coca-Cola, Mars and Arla. In effect, we are buying loyalty. The professional services have been doing this for some time, but for fmcg it's a new way of looking at things."

Coleshill holds up the degree as an example of how companies are starting to invest in talent again. She is positive the tide will turn. "It will work, but it's a slow burn. Trying to change hearts and minds takes time."

However, one senior industry figure from a leading UK food manufacturer is less optimistic. "I struggle to see it getting back to what it was, certainly outside of the large blue-chip multinationals," he says. "Graduate recruitment is an overhead, it's an investment. And therefore, if a manufacturer is under financial pressure, even if there is internal support for a graduate programmes, it may skip a year. Not because it wants to, but because it needs to.

When it comes to capex discussions, the graduate programme may not be the first thing to go, but it's vulnerable, he adds. "Nobody wants to cut graduate recruitment, but financial necessity will prevail. You have to protect marketing and you can't cut essentials, like legal. Graduate recruitment expenditure would be regarded in most organisations as a discretionary cost, not a mandatory one."

An undiscovered industry

Whether graduate recruitment does or doesn't make a glorious comeback, there is general agreement that targeting younger people is a positive step in the right direction, not least because it's significantly cheaper. "If graduate recruitment is too expensive, aim at a younger population," says Simmance. "Offer internships, placements or trainee roles."

It's no longer just an option, adds Stapleton. "They need to do it," she says. "We have been saying for 10 years there is going to be a problem. Now there is one. We had a client this year that couldn't find sales people, so we took it down a level and looked at undergraduates. We filled five roles in a week. We decided to look at their potential as opposed to their experience, simply because the experience out there is not the calibre we need. And it's the first time I've heard of that happening in 19 years."

As well as taking a broader approach to recruitment, Simmance suggests senior industry figures need to build on the work being done by the FDF and IGD to attract new recruits to the industry.

"For the vast majority of graduates we are an undiscovered industry. We need our icons, the CEOs and MDs, to start waving the flag, almost treat this like charity work," he argues. "As well as speaking to the next generation of graduates, they need to get into the secondary schools so we get these kids into university already thinking about fmcg. The other industries are making a lot of noise and effort, and they are attracting all the talent. We have to propagate the notion that fmcg is a fun industry to be in. We are at an all-time critical issue and we have to stop the problem. Because it isn't just going to go away."

Not immediately, anyway. However, HESA numbers show that in 2010, the number of graduates entering fmcg started to climb. By 2012, numbers were up to 1795, 60 more than the 1735 graduates who joined up way back in 1995. Again, taking into account the increase in university attendance, in real terms the number has only climbed from 0.3% to 0.4%, so it's a marginal increase at best.

However, up is up, and it's an indication that the combined efforts of the food and drink industry are encouraging the talent to audition. Now it's time to start putting more of them through to the next round.