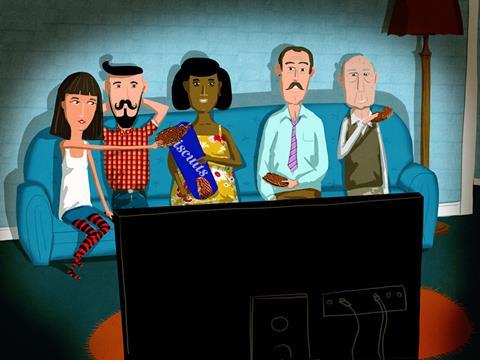 It's a British tradition as well-worn as the Queen's speech at Christmas or strawberries at Wimbledon. When times get tough, the nation turns to tea and a biscuit. Whether a chocolate digestive, custard cream or ginger nut, biscuits have established themselves as the ultimate comfort food.
Yet that positive association could have some negative implications. Exclusive research conducted by Harris Interactive for The Grocer shows there is an element of boredom in the nation's biscuit habits. Just 7% of the 1,026 consumers polled this month thought the biscuit aisle was innovative and exciting. Instead, the prevailing opinion was that biscuits were reliable and comforting (39%). In other words, the nation's relationship with biscuits is losing its sparkle. And that could prove a challenge for brands trying to shake things up.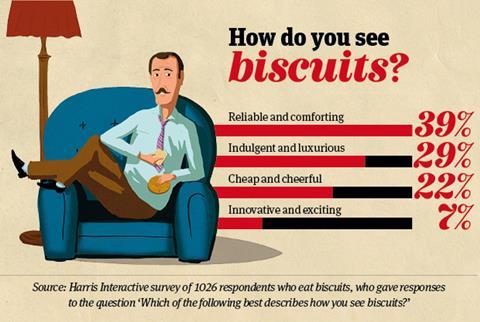 The idea of reliability and comfort is rooted in what consumers are buying. For the vast majority of Brits tend to always stick to a tried-and-tested choice. Three in 10 consumers polled said they always bought their favourite biscuit at the supermarket, while 43% reported buying their favourite more often than not. Only 27% of consumers said they bought a variety of biscuits.
It's not necessarily bad news for biscuits as a whole. After all, Britain's reliable love of biscuits has seen sales climb £114.6m over the past year to £2.9bn, marking the first period of growth since 2015 [Kantar Worldpanel 52 w/e 17 June 2018]. Volumes also climbed 1.5%. "Biscuits are undoubtedly a national treasure," says James Thomas, customer marketing director at Pladis UK & Ireland, who points out Britain has "the highest per capita biscuit consumption in the world".
But that could prove a stumbling block for more innovative products. While shoppers don't think of biscuits as exciting, there's an even more worrying insight: they don't actually want any more excitement. Almost nine in 10 shoppers polled felt there is already a large enough variety of biscuits in their local supermarket. Essentially, they have settled for the biscuit they want and have sacrificed excitement for a dependable hit of taste.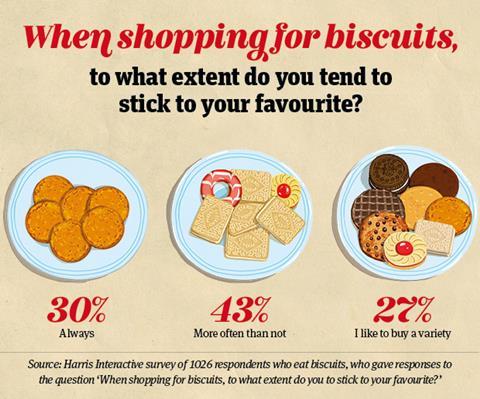 This perhaps explains why NPD in biscuits tends to be a variation on a popular favourite, rather than ground-breaking innovation. It can be a popular tactic. Take the McVitie's Thins range, which expanded to include Hobnobs and Chocfilled variants in July this year. Since launching in January 2017, Thins have accumulated £26m in sales, according to Pladis. Both Oreo and Burton's Maryland have introduced similarly thinned versions of their classic SKUs over the past two years, with the former range now encompassing seven flavours.
Still, some brands are looking to tempt consumers away from their regular habit with more unusual propositions. One such innovation was Pladis' Flipz, which finally made its way from the US to the UK this summer. The milk and dark chocolate 'swavoury' pretzels – designed to tap the growing appetite for sweet and savoury combinations in snacking – have since accrued £2.7m in sales.
Mondelez also took the plunge with the launch of Joyfills in August. Brand manager Carly Sharpe says the mini cream-filled biscuits, available in Oreo and Cadbury variants, were developed in response to modern consumer needs. "With increasingly busy lives and an always-on mindset shoppers are increasingly looking for convenient, bite-sized treats that deliver on delicious taste, but won't weigh them down," explains Sharpe. "The range offers something different to consumers, it's unlike anything else on the market and is designed specifically to meet the changing lifestyle of the consumer." It may also help that the biscuits are chocolate-based – the type favoured by 37% of consumers polled.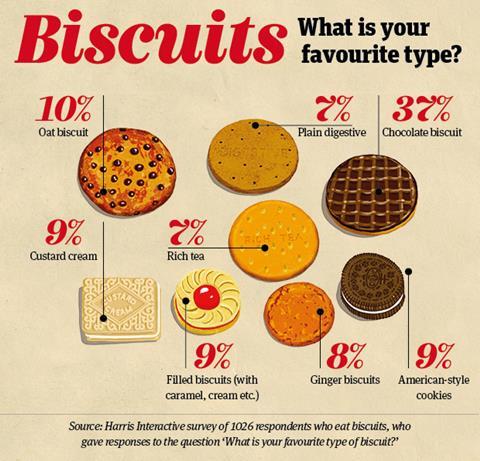 Bahlsen believes it is possible for new ideas to strike a chord with habit-driven biscuit shoppers. It has aimed to tempt consumers away from their routine with the launch of its Choco Leibniz Snack Packs and Choco Moments range in February. Admittedly, these ranges aren't a large departure from its standard offering – Choco Moments are essentially its signature biscuits topped with Crunchy Hazelnut and Crunchy Mint flavours. But it still had to work hard to grab consumer attention with a media campaign, in-store sampling and smartphone app coupons. "When introducing a new product into the biscuit category, it's important to disrupt consumer habits close to the point of purchase," says marketing manager Julien Lacrampe. He points out more than 50% of biscuit purchases are unplanned – making in-store activity a particularly crucial tool.
McVitie's took a similarly disruptive approach in summer with an experiential campaign at London's Westfield shopping centre. The experience, part of the brand's 'Sweeter Together' marketing campaign, included interactive challenges with prizes up for grabs and 800,000 biscuit samples. "You only have a few seconds to grab the attention of shoppers with a new product," says brand director Emma Stowers. "We do this by employing numerous trial-driving activities, such as events, highly visible displays and valuable competitions, depending on the innovation and the audience we're trying to attract."
Watch: What could make shoppers stray from their favourite biscuit?
It could prove a successful tack. Our Harris Interactive research found that, with the right motivation, biscuit shoppers can be convinced to stray away from their regular brand. When asked what could persuade them to try a new biscuit, 43% said they'd be tempted by a promotion or deal, while 41% would respond to a free sample or trial of a new product. More than one in five (21%) said they would be interested in trying a new biscuit if they had enjoyed the ad, and a quarter would be swayed by attractive packaging.
Perhaps reliable and comforting isn't the only way to win in biscuits, after all. With the right marketing and investment, new products might just be able to inject a bit of excitement into the biscuit aisle. So those who trade solely on habit had better watch their backs.
Creative Challenge: GOAT
Savoury is the only type of biscuit in decline, having shed £13.4m this year [Kantar Worldpanel]. We asked global brand agency Imagination to inject some excitement into the sector with a new range of savoury biscuits. Here's what they came up with.
The first task for the Imagination team was to identify the key factors behind the decline of savoury biscuits. "The consumption of savoury biscuits tends to be during an occasion," says creative director Jiri Bures. "They are often considered as something you'd have while entertaining guests at a dinner party, paired with cheese and wine, rather than a regular snack."
To change this perception and introduce new eating occasions, the team created GOAT biscuits, a range of all-natural savoury biscuits that provide one of your five a day. "As well as being nutritious, filling and full of flavour, we wanted the packs to be convenient," says Bures. The 23g packs (rsp: £1.29) come in 100% recyclable, on-the-go pouches to provide a quick and easy snack solution for health-conscious shoppers. The four GOAT flavours – Beetroot, Pumpkin & Flax Seed; Carrot, Parsnip & Fennel; Sundried Tomato, Lentil & Thyme and Courgette, Pea & Parmesan – were inspired by a chef and developed to include plant proteins, low sugar and high vegetable content.
No, the products don't contain any goat. But there was a clear reason behind the name. "GOAT has a double meaning for the brand – it's an animal but it's also an acronym for Greatest Of All Time," explains Bures. "We want to inspire our customers to be the best they can be, and a part of that is looking after your body and eating well. Also, just like goats, the biscuits are surprising, tenacious, and come in lots of varieties."
The launch will be supported with a social media campaign urging consumers to 'find their inner goat'. "Our target audience is everyday, hardworking consumers with fast-paced lifestyles who need healthy, quick snacks to stay on top," says Bures. "The campaign would centre around promoting unconventional influencers, people that are amazing in their fields but are likely unknown to our customers, who we feel embody the brand ethos of being strong, resilient and hardworking."
With increasingly hectic lifestyles driving more and more shoppers into the snack aisle, a healthy, convenient and sustainable savoury biscuit option could be just what the sector needs to get back in growth next year.
The biscuit innovations tempting shoppers away from their usual favourites
Flipz White Fudge
Launch date: October 2018
Manufacturer: Pladis
Pladis is looking to build on the success of sweet and savoury combo brand Flipz, launched in May (see above), with a new, limited edition flavour. White Fudge is the third in the Flipz UK range (joining Milk and Dark variants), selected for its popularity in the US, where it remains the second highest grossing flavour for the brand, beating other US variants Birthday Cake and Caramel Sea Salt. The NPD hit Asda shelves last month just in time for the festive season (rsp: £1.50/100g).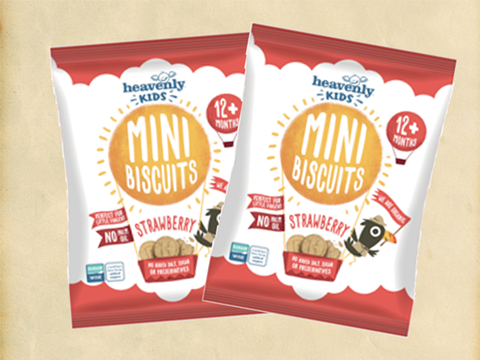 Mini Biscuits
Launch date: August 2018
Manufacturer: Heavenly Tasty Organics
The latest addition to the Heavenly Tasty Organics kids' range, Mini Biscuits are suitable for all children over 12 months, with an alphabet design and no added sugars, colours, preservatives or palm oil. The Apple and Strawberry snack bags (rsp: 69p/15g) contain organic ingredients including oats and spelt flour and are available at Sainsbury's, Ocado and Morrisons.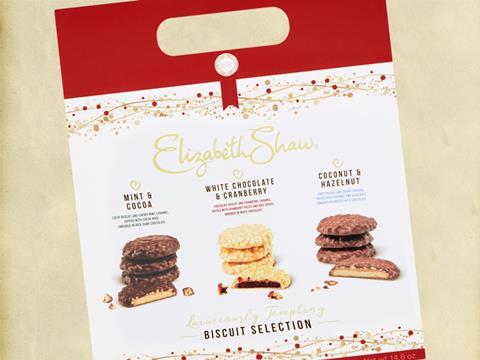 Christmas Biscuit Selection Box
Launch date: November 2018
Manufacturer: Elizabeth Shaw
Targeting Christmas shoppers, Elizabeth Shaw's new premium selection box includes White Chocolate & Cranberry, Mint & Cocoa and Coconut & Hazelnut biscuits, available at Sainsbury's for £5 (420g). Containing between 71 and 77 calories per biscuit, the Christmas packs offer maximum indulgence for the festive period.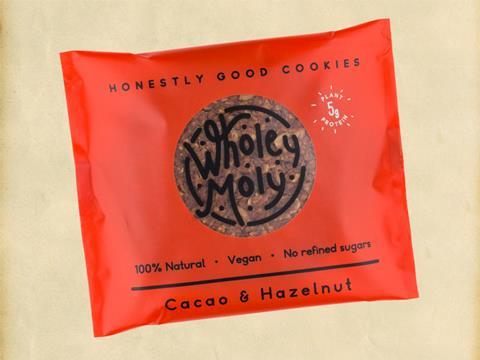 Wholey Moly Cookies
Launch date: August 2018
Manufacturer: Wholey Moly
Made using 100% natural ingredients, new Wholey Moly cookies entered the vegan market in August, touting high fibre, low sugar, healthy fats and antioxidants. Originally launched in Selfridges, the individually packaged cookies (£2.20/43g) have since gained listings in Whole Foods and Sourced Market, and come in Cacao & Orange, Cacao & Hazelnut and Almond, Hemp & Chia flavours, with the latter containing 8g of plant protein.