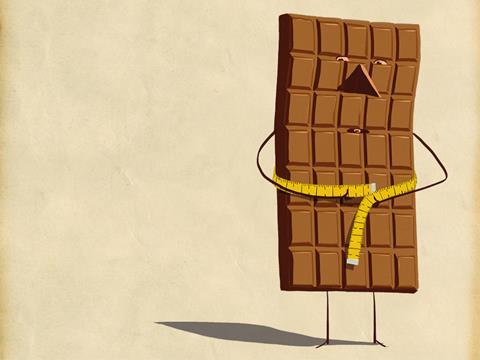 Chocolate is looking closely at its waistline – and it's finding room for improvement. As the war on obesity intensifies, more and more Brits are cutting back on their consumption. The focus on healthy snacking means many would rather have a raw cacao bar than an indulgent treat. All this is taking its toll on the value of the chocolate market, which fell by 4% in value and 4.4% in volume in latest figures compiled for The Grocer [IRI 52 w/e 15 July 2017].
The chocolate giants aren't ones to take this lying down, though. A flurry of NPD is promising to overhaul chocolate's unhealthy image. This spring heralded the big-bang launch of Nestlé's Milkybar Wowsomes, which uses technology to 'hollow' out sugar crystals and thereby reduce levels of the white stuff. Today, Mondelez has raised the stakes with a reduced sugar variant of its classic Cadbury Dairy Milk. Even smaller players are getting involved such as Scottish startup Rebel Chocolate, which produces bars with half the sugar content of standard fare.
All of this activity has one common goal: to reinvigorate the nation's love of chocolate by taking a healthier stance. So do these innovations have what it takes?
The likes of Nestlé's Wowsomes and reduced sugar Cadbury Dairy Milk certainly seem to hold consumer appeal. Our poll of over 2,000 UK consumers, conducted on behalf of The Grocer by Harris Interactive, shows a significant seven in 10 would be interested in trying low-sugar chocolate.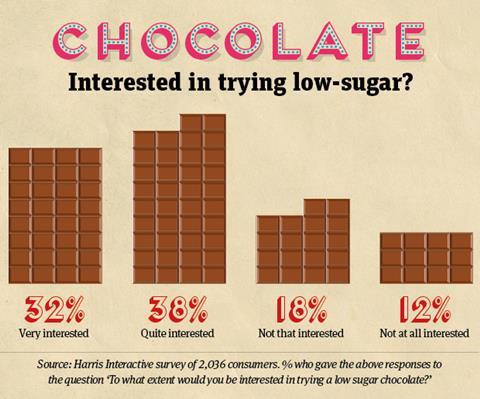 But as always in the treat sector, taste is more important than health credentials. Our poll showed 53% of consumers rated taste as the most important factor when choosing a chocolate bar, compared to 9% who named sugar content. So low-sugar chocolate still needs to tickle tastebuds.
The more high-end brands are able to ensure flavour is still up there simply by having a high cocoa content. Hotel Chocolat is an avid advocate of high-cocoa, lower-sugar chocolate (hence CEO Angus Thirlwell's fury at the "sugar-laden" copycat Waitrose slabs, including a dark chocolate that contained only 56% cocoa). Montezuma's takes a similar tack. Most of its milk chocolate contains at least 40% cocoa, around double the amount in mass market stuff. It even launched a 100% cocoa bar – Absolute Black – at the end of 2016 for real cocoa enthusiasts. "It's safe to say consumers are looking to still enjoy chocolate which provides a huge cocoa hit without the sugar," says Montezuma's co-founder Helen Pattinson.
The Grown Up Chocolate Company is noticing a similar trend. The desire for high-cocoa products has prompted it to look at increasing the cocoa content of its milk chocolate from 36% to 41%. "It's about meeting the needs of the consumer, which is what drives sales of the product and puts you ahead of competitors," says managing director James Ecclestone. He has seen a real demand for chocolate at the premium end of the market. "Brands like Lindt are the ones advancing sales and the more traditional countlines are struggling," he says. "We've ridden the back of that surge in the quality end. My whole business survives because people are becoming more discerning."
Watch: Skinny Chocolate?! What Brits really look for in the confectionery aisle
The likes of The Grown Up Chocolate Company and Hotel Chocolat trade on being premium, rather than specifically on low-sugar credentials. One company that trades on both is Rebel Chocolate. Co-founded by immunologist Neil Robson, the business is the result of months of work finding a formula that is low in sugar but delivers on taste. The winning formula for its milk chocolate contains fructose (1.5 times sweeter than sucrose) with a high fibre content that buffers fructose absorption. All variants include lactose-free whey powder to provide a 25% protein content. Amid all these credentials, taste was the most important goal for Robson. "If it didn't taste good, I wouldn't have done the project."
Again, a high cocoa content is crucial to the taste. Its white chocolate contains 44% cocoa butter, compared to the 20% seen in many mass market products. Yet there is a reason the chocolate giants won't go down this route. "Sugar is 10 times cheaper than cocoa, so the big companies don't want to put more cocoa in," says Robson. Indeed, a 90g bar of Rebel Chocolate comes in at £3.95 – a price that will be palatable for connoisseurs who appreciate the high-quality cocoa, but less so for those looking for a cheap chocolate hit.
And so the likes of Nestlé and Mondelez have turned to science to get their sugar content down. Nestlé teams spent over a year developing the aerated, porous sugar crystals that went into its Milkybar Wowsomes bar, which promises all the sweetness without a high sugar content. Mondelez hasn't revealed the exact science behind its 30% less sugar Cadbury Dairy Milk, but it involved replacing sugar with fibre. The project was complex enough to involve two years' work by a team of 20 scientists, nutritionists and chocolatiers. The price hasn't been set yet, but it's unlikely to be at the high end of the market. "There are two things consumers won't compromise on: taste and value," says Glenn Caton, president of Mondelez International Northern Europe.
Another thing Mondelez was keen to avoid was any increase in calories. Replacing sugar with more milk, for example, was out of the question. "Full fat milk has double the calories per gram of sugar, so by trying to fix one thing you can end up causing a much bigger issue," says Caton. "We won't reduce sugar at the expense of increasing calories."
This calorie-sensitive approach seems sensible. The Grocer's research with Harris Interactive shows a sizeable proportion of consumers are worried about the calorie content, especially women.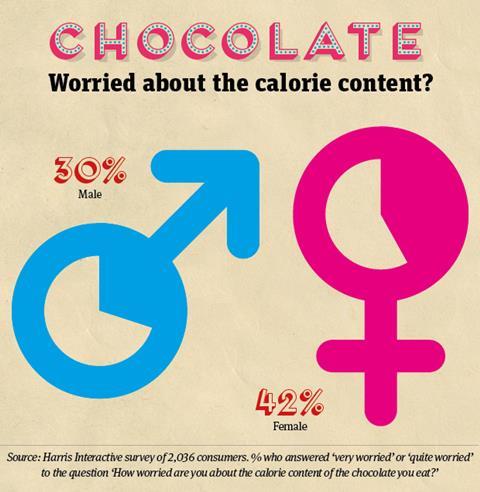 So as Caton says, cutting the sugar and upping the calories isn't an option. "It's not about focusing on one ingredient," he stresses. "For us, it's a balance of calories in and calories out."
That is very much in line with government thinking. Having taken no prisoners in the war on sugar – and given confectioners a voluntary target of reducing sugar content by 20% by 2020, or risk facing a levy – it is now turning its attention to calories. In March, Public Health England set out plans to reduce 20% of calories in popular foods by 2024. Granted, confectionery wasn't among those foods – which included pizzas, ready meals and ready-made sandwiches – but it is making the public even more aware of calorie consumption.
Even January's guidelines for children's snacking, which stipulated snacks should contain no more than 100 calories, are hitting home. They may be aimed at children, but adults are clearly taking note. More than seven in 10 of the younger generation would eat more chocolate if there were more options available under 100 calories, according to The Grocer's survey with Harris Interactive.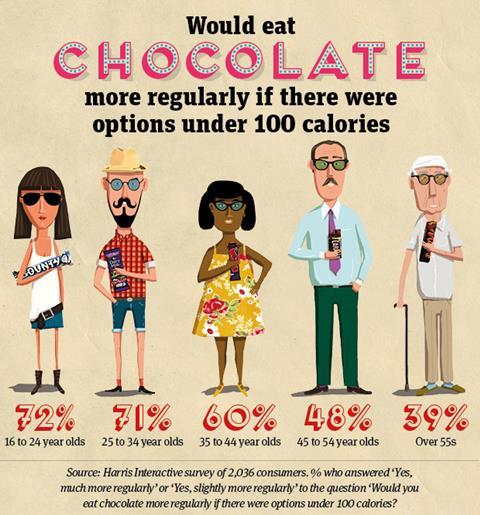 The chocolate giants are taking note. Nestlé's Milkybar Wowsomes contains just 105 calories per bar. Mondelez launched a 98-calorie Cadbury Dairy Milk and voluntarily introduced a 250 calorie cap on all single-serve chocolate bars, cutting its 'bar-and-a-half products'. Plus, over 90% of its Cadbury Dairy Milk products aimed at children are under 100 calories, including Freddo and Buttons.
Harris Interactive's head of research Lucia Juliano believes this is a smart move. "It is very clear that the 'less than 100 calories' label is very appealing to consumers – particularly women and the younger age groups," she says. "Tapping into the needs of this group and marketing delicious taste with the lower calorie message is surely a no-brainer."
No doubt about it, chocolate is facing a weighty challenge. Consumers want products that satisfy those indulgent taste cravings, but they don't want to feel unhealthy. Still, if chocolate can successfully lose some sugar and calories, it will have plenty to gain.
Creative challenge
It's not all about health. Consumers still want to treat themselves occasionally, so how can the chocolate industry make sure it's the first port of call for that hit of indulgence? We posed the question to creative agency Spark Foundry, and this is what they came up with…
The likes of Amazon have made personalisation the norm, rather than an added bonus. We can personalise our phones, shoes, foundation and perfume. So why not our chocolate?
Spark Foundry has come up with a concept that just might fill that gap in the market. Nova is a chocolate wheel that is designed to take chocolate connoisseurs on a "flavour exploration".
First, consumers choose the 'base' chocolate – white, dark or milk – they prefer. Then they can select exactly what they want to add to that base. The wheel offers three themes: a coffee curated experience, a gin curated experience or a culinary curated experience. Within each of these themes, users can choose two flavours to add to their chocolate to create a "completely new wonderful taste" such as nutmeg chilli coffee dark chocolate.
"What we think is missing from the market, and what people will gravitate towards, is the expert curation of their chocolate experience, in their hands and in their homes," says Spark Foundry. "They want to explore flavours, and discover different tastes and pairings, guided by an expert to ensure they don't end up with peculiar (and inedible) concoctions."
Making chocolate more of an experience chimes with trends seen in other sectors, adds the agency. "In alcohol, craft beer has made people more aware of taste and provenance, and mixologists are on the rise as people seek expert advice on how to consume spirits," says Spark Foundry. "And of course there's modularisation in the likes of coffee – coffee enthusiasts can choose from up to 52,000 ways to drink their coffee. As such the consumption of drinks, coffee and even chocolate is becoming an experience in and of itself."
So put down that boring bar and start embracing the nutmeg chilli coffee chocolate.
New 'healthy' chocolate launches
As the government cracks down on sugar content, confectioners have been knocking out plenty of health-conscious NPD. Here's our pick of the recent launches.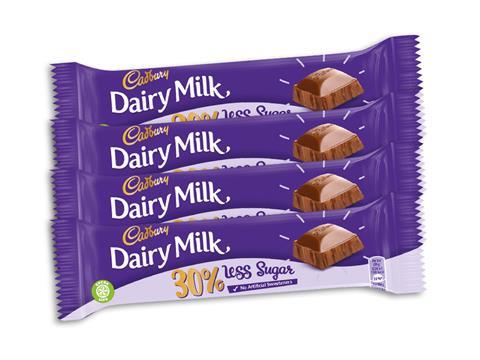 Cadbury Dairy Milk 30% less sugar
Launch date: 2019, month TBC
Manufacturer: Mondelez
Having been first mooted as an idea 11 years ago, the reduced sugar Cadbury Dairy Milk is finally here. The finished recipe, which replaces sugar with added fibre content, is the brainchild of a team of 20 scientists, nutritionists and chocolatiers who worked to cut sugar while replicating the "much-loved Cadbury Dairy Milk taste".
The 30% less sugar bar contains no artificial sweeteners, colours or preservatives. There is also no extra calorie content, which was a crucial point for Mondelez execs mindful of the government's calorie agenda.
The price has not yet been set but it is unlikely to differ much from standard bars.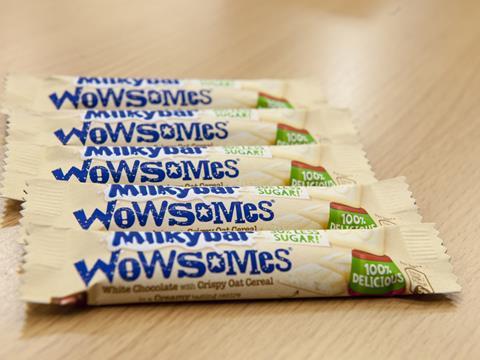 Milkybar Wowsomes
Launch date: March 2018
Manufacturer: Nestlé
Possibly the most scientifically advanced solution to sugar reduction yet, Milkybar Wowsomes launches this spring to much media attention. Scientists spent a year working to create the aerated, porous sugar crystals in the bar, which dissolve more quickly in the mouth to ensure consumers "perceive the same level of sweetness as before while consuming less sugar". Each SKU contains no more than 36.8g of sugar per 100g, compared to a regular Milkybar, which has 52.6g per 100g.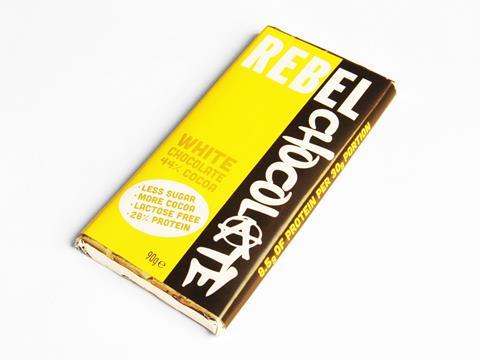 Rebel Chocolate low-sugar white chocolate
Launch date: January 2018
Manufacturer: Rebel Chocolate
Although a tiny producer working out of two shipping containers in the east end of Glasgow, Rebel Chocolate is causing quite a stir – not least because of its low-sugar credentials. The company won Scottish Innovation of the Year at the Scottish SME Business Awards last year. In January it launched its latest batch, a white chocolate product containing half the sugar of most of its peers. Plus, each bar boasts a whopping 28% protein content (rsp: £1.45 for 30g and £3.95 for 90g).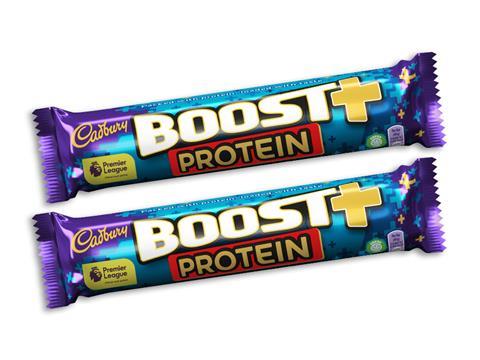 Cadbury Boost + Protein
Launch date: July 2018
Manufacturer: Mondelez
Hoping to jump on the trend for all things protein, the Boost + Protein bar makes its debut this month. The bar (rsp: £1.49/49g) contains 12g of protein – four times more than the standard Boost bar – and 32% less sugar. It features the same milk chocolate and caramel combination of the original, but with 'protein crisps'.
The NPD will be backed by a £1m campaign covering out of home, sampling, PR, digital and social media.
The protein bar market is growing at 54% year on year, according to Mondelez, driven "by the lifestyle, taste-driven segment as mainstream consumers look for ways to boost energy and balance their diet".