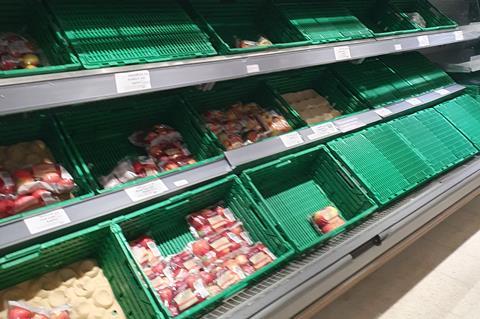 The availability of fresh produce in Waitrose had largely improved following widespread shortages over the bank holiday weekend, the supermarket said. However a spokesman for the supermarket said that "knock on" effects were experienced in some stores as late as Wednesday.
The shortages were caused by an update to its delivery system early last week which caused backlogs at one some of its distribution centres. The issue, which has since been fixed, meant some deliveries were not sent out or were sent with fewer items, leading to a number of stores running low or completely out of fresh produce and baked goods.
The shortages led store staff to erect signs in stores and begin issuing discount vouchers to customers saying that the supermarket was "sorry" for the shortages, which primarily affected fresh items including salad veg, baked goods and chilled condiments.
The vouchers, which offered all customers £5 off when they spend £30 between 10-25 June, were being issued across the chain's entire store footprint until Wednesday.
"We're really sorry that some branches have had low stock. We've fixed the cause of the issue, with extra deliveries already out with stores," a Waitrose spokesman said. "We're grateful for the hard work of our teams, and the understanding of our customers."
The shortages led to an outpouring of social media fury over the bank holiday weekend, as customers voiced their frustration, saying they were unable to buy products including coleslaw, salad veg and apples.
Multiple posts, claiming to be from different stores around the UK, included pictures of empty fruit and veg boxes, and large gaps on dairy shelves.
It's not the first time the supermarket has suffered IT related shortages in recent months. In accounts filed at Companies House in May, the grocer revealed that availability shortages were partly the cause of a massive £217.3m loss last year.
The supermarket paid £152m in one-off impairments in the full year 2022. It said the implementation of a new merchandising system, as well as a fire at its Brinklow distribution centre near Milton Keynes had affected availability across its network, and increased its wastage costs.