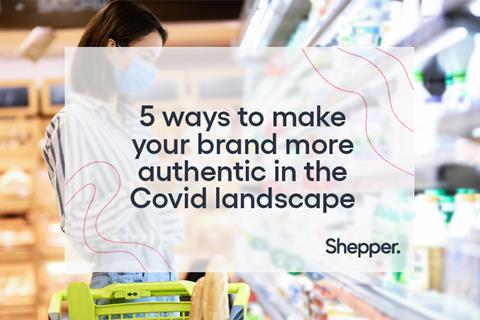 Making your brand more authentic is a sure fire way to engage with consumers in 2021. After a year of Covid chaos, people are looking for authenticity in the brands they engage with: shopping more locally, choosing brands that show they stand for something and supporting those that show consistency and clarity in their messaging and visuals.

If Covid has taught us anything, it's that brand messaging needs to be spot on and resonate with customers. Flashy, multi-channel campaigns can work wonders, but it's important not to overlook the importance of the small details and make sure that your brand strikes the right tone in this sensitive environment.

So, how do you navigate this new retail landscape and make sure you brand comes across as authentic?

Find out in Shepper's whitepaper with the 5 key things you can do for your brand to appeal to consumers.

Featuring two detailed Shepper case studies with leading FMCG brands.

Fill out the form below to download the free whitepaper now.
Company: Shepper
Format: PDF
Length: 38 pages
Type: eBook
The Grocer may use your contact data to keep you informed of its products and services by email. You can withdraw your marketing consent at any time by clicking the unsubscribe link in such email or by sending an email to dataprivacy@wrbm.com. More information on our processing can be found in our Privacy Notice. By submitting this form, you acknowledge that you have read and understand our Privacy Notice.