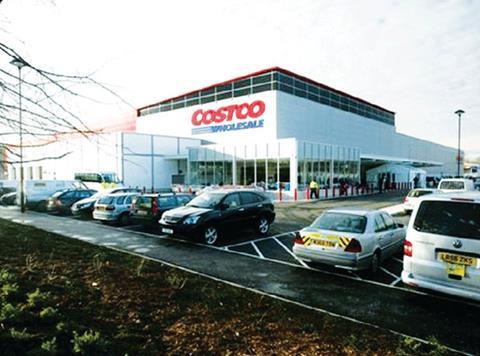 Sales at wholesale giant Costco have rebounded "very strongly" after suffering a decline during lockdown.
Reporting its latest accounts at Companies House, Costco said it saw a period of "significant uplift" in sales in the run-up to the lockdown announcement on 23 March, with food and drinks, sundries, over-the-counter medicines and other health-related products in high demand.
However, during lockdown sales took a "material decline", especially sales of fuel as customers adhered to government guidelines to stay at home.
The wholesaler launched its online business in April, consisting of 400 products across 15 categories, allowing members to have groceries delivered for the first time.
Although figures are not yet available for its e-commerce division, the report said this new channel had shown 'substantial growth' and had created a broader audience within the marketplace.
As lockdown measures had been eased Costco said its "overall sales have rebounded very strongly".
Sales are currently up around 10%, driven primarily by higher footfall and basket sizes with increased demands for food and drinks, outdoor, electronics and health products, it reported.
It added: "Our membership club business model, offering a wide selection of products and services with tremendous buying power, allows us to quickly react to changes in our members' behaviours and demand, such as what we have been experiencing as a result of the coronavirus pandemic."
Despite the recent fall in fuel sales, Costco said it was pressing ahead with its forecourt expansion plans after finding petrol stations were driving footfall and boosting sales at nearby depots.
The results for the year to 1 September 2019 showed pre-tax profits climbed 4.4% to £21.5m on sales up 2.9% to £2.62bn.