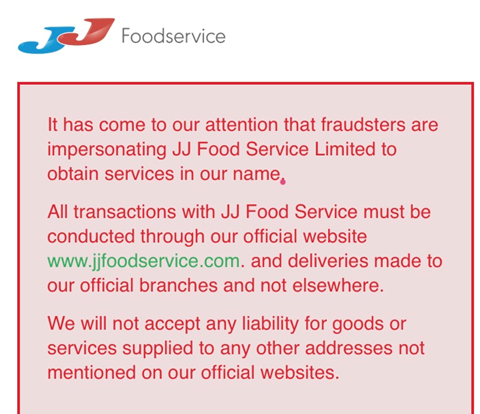 JJ Foodservice has issued a warning to its suppliers after being targeted by fraudsters impersonating the wholesaler.
The north London-based business has posted prominent anti-fraud messaging across its website.
The warning reads: "It has come to our attention that fraudsters are impersonating JJ Foodservice to obtain services in our name.
"All transactions with JJ Foodservice must be conducted through our official website and deliveries made to our official branches and not elsewhere. We will not accept any liability for goods or services supplied to any other addresses not mentioned on our official websites."
JJ has now tightened its online security and altered its purchasing policy with a new 'robust' system which requires a unique purchase order ID and pin codes to log in.
"It's our duty to protect our suppliers, as a result of the scam we have created a robust selection system," explained JJ Foodservice head of operations Sedat Kaan Hendekli.
"JJ's has always used tech to improve service to customers and are continuing to use technology to ensure suppliers can work with us with confidence."
The Federation of Wholesale Distributors has advised wholesalers to stay vigilant.
"FWD compiles a database of all incidents against members and we have had reports of wholesale websites being replicated by criminals," said CEO James Bielby.
"It is important that as we move increasingly towards an online way of working both wholesalers and suppliers follow established processes."
The latest scam is one of a swathe of similar online crime targeting major retailers last year. Cybersecurity firm Mimecast detected 30 spoof Tesco websites, 11 for Asda and 10 for Amazon in May 2020.