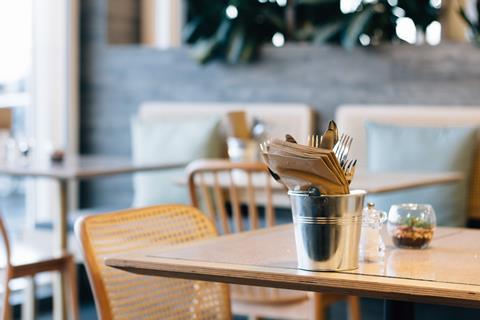 Wholesalers have issued fresh calls on the government to extend business rates relief to the sector amid fears that the 10pm curfew could set foodservice's recovery back months.
In response to the "body blow" of new restrictions imposed on the hospitality sector last night, the Federation of Wholesale Distributors has written to MPs once again urging them to help lobby the Treasury for an extension to business rate relief, outlining a raft of "critical issues" facing the sector.
The letter asks for urgent financial support in light of the new regulations, warning that many members were already operating with huge unsustainable losses prior to yesterday's announcement.
It includes data from a survey carried out in August that showed 90% of FWD members confirmed they would be making large-scale redundancies by the end of the year. Up to 70% said they were still experiencing a reduction in sales volumes despite the success of the Eat Out To Help Out scheme.
FWD CEO James Bielby told The Grocer the new restrictions would put intense pressure on the wholesalers who supply pubs and restaurants, many of whom had barely recovered from the initial three-month lockdown.
"It's essential that government offers those wholesalers direct support so they can ensure continuity of food supply to vital public sector and care home customers," said Bielby. "The Treasury must give wholesalers the same business rates relief it has given hospitality outlets and major supermarkets, and extend the furlough scheme for foodservice employers for as long as these restrictions are in place."
Wholesale buying group Unitas' CEO Darren Goldney said: "This is another body blow. The government has offered sledge-hammer support so far, with disproportionate support for the 'shout loud' voice in multiple retail whose sales largely grew.
"Surely this [curfew] accelerates the need for those businesses supplying the hospitality sector to be allowed the same business rate relief. It is the single most tangible thing the government can do."
Country Range Group CEO and FWD chairman Coral Rose said: "Our members have gone from reducing staff and fleet during lockdown to increasing resources as a result of the EOTHO scheme. They will now be left with all this cost whilst faced with another hit in turnover and the prospect of no government support.
"Much of the consumer media is only focused on the impact of the curfew on the hospitality businesses. So many people fail to see the supply chain reliant on this business and the important role wholesalers play."
It follows calls from FDF CEO Ian Wright for a targeted extension to the job retention scheme, describing the new restrictions as a "fatal blow" to the hospitality and foodservice sector.