Vince Bamford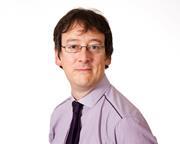 Vince Bamford is The Grocer's Buying & Supplying Editor, and oversees print and online coverage of news related to issues including sourcing, new product development, branding, marketing and advertising.

Areas of particular personal interest include confectionery, beer & cider, bread, ice cream, free-from and marketing innovation. He also loves a good factory visit.

Vince has been a journalist longer than he is willing to admit, having started out on local newspapers in the mid-1980s. Career highlights include crashing a 747 Jumbo Jet (while writing about flight simulators); and covering a murder, gun siege and riot in a single night.

Vince's interest in the grocery trade began with a Saturday job on the deli counter in Spar. @VinceBamford
Contact Info
Tel:

01293 610369

Email:
Recent stories
Hovis is relaunching its premium seeded and granary breads to flag up their health benefits and taste.

The Barts Ingredients Company cumin recalled in January after testing positive for undeclared almond protein did not, infact, contain any

Sarah Dickson, currently HM Ambassador to Guatemala and Honduras, is new director of global affairs

KP's Phileas Fogg adds French-style Squares

Subscription

Unilever snaps up Dermalogica

Subscription
Recent blog posts
England's tears have barely had time to dry and already the World Cup merchandise sell-off is under way.

How does the new Coca-Cola Life compare to its stablemates?

How did The Grocer report on the build-up and aftermath of the D-Day landings in 1944?
Vince Bamford contributes to: