Vince Bamford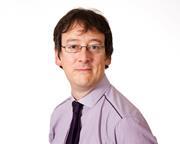 Vince is buying & supplying editor at The Grocer and covers news of developments in food, drink, entertainment, health & beauty and toys. Contact him with details of new product launches, other innovations and advertising campaigns.
Contact Info
Tel:

01293 610369
Recent stories
Mondelez is revving up its marketing activity with a 'Win a Banger' promotion on some of its Cadbury brands…

Two of the UK's biggest rice brands are hoping to tap growing interest in wholegrain rice with new pouched products…

Less than 1% of British food exports go to Russia, but restrictions could still have serious knock-on effects on UK prices…

PepsiCo enters coconut water category in UK

Subscription

Galaxy to offer 'value treating' with 23g bar

Subscription
Recent blog posts
England's tears have barely had time to dry and already the World Cup merchandise sell-off is under way.

How does the new Coca-Cola Life compare to its stablemates?

How did The Grocer report on the build-up and aftermath of the D-Day landings in 1944?
Vince Bamford contributes to: