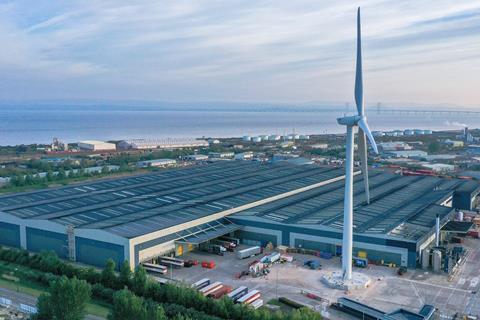 Accolade Wines has relaunched its massive bottling plant in Bristol, Accolade Park, as a new independent contract booze production business called The Park.
The wine giant is ploughing £7m into the site. It has hired a new management team and increased its production capabilities with canning lines and carbonation facilities, which will allow it to produce not just wines but other drinks such as spirits, RTDs and hard seltzers.
The move comes after a strategic review of how to best optimise the facility, which was built for £100m in 2009, The Park's general supply manager Richard Lloyd told The Grocer.
"Our set-up was not optimal," he said. "We're the number one wine business by value and volume in the UK, but The Park has double the capacity of our current sales. So while we are looking to grow our branded business we were unlikely to double the volume of that.
"Wine is our core but we can do any beverage, any RTD – we're even doing a ginger beer in two months, and there are hard seltzers that are yet to be released to the market.
"It gives us a phenomenal scale to launch synergies off. We can go and partner with a company that has a million nine-litre cases in the UK, and deliver to their customer network on full loads which their volume wouldn't otherwise justify. We're happy to do the global shipping and design the packaging."
Accolade has contract bottled for Aldi for some time as well as "other important contracts", said Lloyd, but the business' previous owners "have been unsure as to how best to use this facility and caused some confusion in the market. The rebranding is to be absolutely clear that we are 100% into this.
"The complexity in wine is significant," he said. "There hasn't been that much consolidation and [retailers] are looking for partners to take out the complexity. They can come to The Park and collect wine, a hard seltzer and some of their own label."
Accolade is touting the site's sustainability credentials as a major draw: it uses 100% renewable energy and CO2 neutral electricity, with zero waste to landfill and a water conservation management programme.
It has already signed up Benchmark Drinks, the supplier run by former Accolade CEO Paul Schaafsma, which sells the Graham Norton and Kylie Minogue wine brands in the UK.
The move comes after a major management shake-up at Accolade, which saw its European MD Ade McKeon step down in April. Caroline Thompson-Hill was appointed acting MD in April and took on the position full time in July.
Accolade kicked off a major strategic review into its entire operations in 2019, merging its UK and European operations and closing its EU headquarters in Poland.