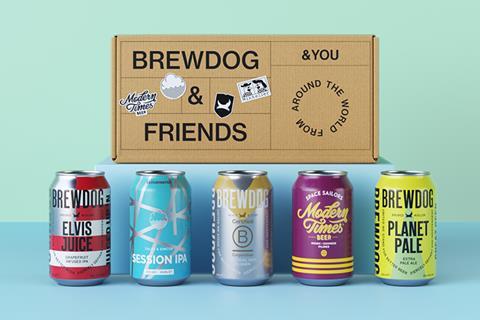 BrewDog has launched what it claims is the first carbon negative beer club.
The craft beer pioneer's new DTC subscription service will ship monthly boxes of beer from BrewDog and craft brewers such as Cloudwater and Mikkeller, which will be brewed under licence at BrewDog's carbon neutral Ellon base to reduce brewery-to-brewery shipping and ensure freshness.
For every box of beers shipped, BrewDog – which is officially carbon negative as a business and was recently awarded B Corp status – said it would offset 2.5kg of CO2.
It was "designed to introduce its members to a diverse range of beer styles and breweries, promising super-fresh beer shipped directly to the customer", said BrewDog.
It will offer two subscription models: a pay monthly price of £19.95 plus £3.95 shipping with no commitment, and a quarterly commitment, which costs the same per month but with free shipping. Shoppers first boxes will be free.
Each box will contain eight beers, four from BrewDog and four from 'Friends of BrewDog'.
"We have great relationships with the best craft breweries in the world so what better way to showcase the incredible range of beers being produced than BrewDog & Friends," said BrewDog CEO James Watt.
It's the latest in a series of major environmental plays from BrewDog, which has put sustainability front and centre of its marketing over the past year, using NPD such as its MMXXX beer to highlight climate issues.
In typical controversial form, it fell foul of the ASA in November 2020 after it ran a billboard reading "F**k You CO2" with a can of Punk IPA obscuring the two middle letters of the swear word.
When the watchdog ruled the ads were not suitable to be displayed, Watt responded by telling the ASA to "go f*** themselves" because "we are in the middle of an existential climate crisis".
Just this week the brewer teased a coming collaboration beer with ethical chocolatier Tony's Chocolonely on Twitter, though it gave no details as to what form that collaboration might take.