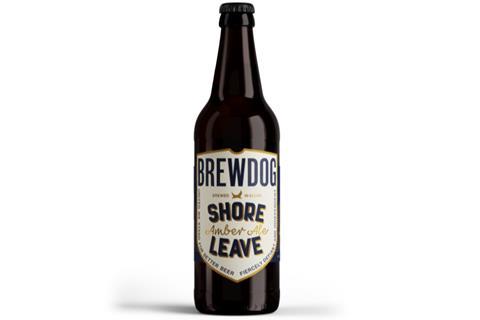 BrewDog is to launch Shore Leave, a new 4.3% abv amber ale in a bid to "disrupt and win" in total beer.
The Scottish brewer will launch the "moreish, malty amber ale" in single 500ml bottle (rsp: £2.05), 4x440ml can (rsp: £6.25) and 10x440ml (rsp £12.50) formats from 1 September.
BrewDog head of grocery Stuart Harrison told The Grocer the move to enter ale was borne out a desire to expand beyond craft and lager, and drive incremental sales.
"We've got to a position on craft where we've got probably 100% distribution [in grocery]," he said. "So whilst we're continuing to try and bring people in it comes to a point where that category is only so big."
The move into ale comes seven months after BrewDog launched Black Heart, a stout aimed at challenging the ubiquity of Guinness.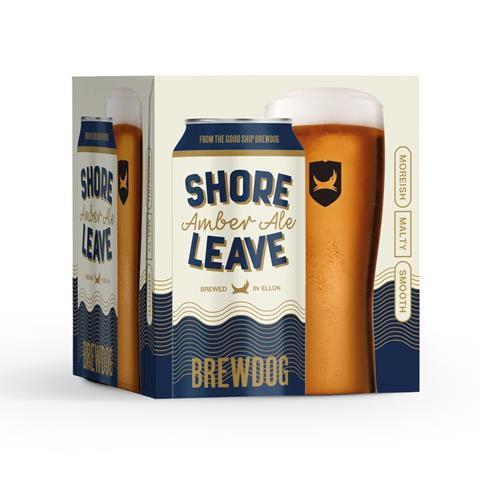 Harrison said Black Heart was now worth £2m in retail, adding it and Lost Lager were converting mainstream beer drinkers over to craft.
"Forty-four per cent of people who purchase Black Heart have never bought craft before, and 22% go on to buy craft beer afterwards," he said. "We've got the play in lager and in stout – the question then has always been do we play in ale?
"The categories are quite adjacent so in the past, as craft grew ale got smaller, but if you take a step back… ale is still a £400m category so it is still sizeable."
He said he was unperturbed by the current malaise in ale in grocery – sales are down by 7.6% to £392.4m [NIQ 20 May 2023], adding he believed BrewDog could bring the "energy" needed to drive penetration.
"We will be looking to bring in a younger, more affluent demographic to the market because there's no point for a retailer to come in and just cannibalise another product that is there," he said. "We have to bring incrementality."
The decision to offer Shore Leave in single bottle as well as can format came after a review of category consumption habits.
"We looked at category consumption and as much as 33% of total spend was in single bottle format," Harrison said. "If you're going to go into a category as a disrupter in which you've never appeared – and in a pack format that the consumer currently doesn't buy into – you are asking a lot."
He added, however, that a single 440ml can version would also be trialled in Sainsbury's to compare rate of sale.
The launch of Shore Leave will be supported by a £1.1m multichannel campaign across OOH, in-store, digital and social and influencer marketing.
Harrison said the 'Rock The Boat' campaign would echo the tone of Black Heart's 'What if it's better?' strapline in a bit to encourage trial.
He said: "There will be a nod to the products that are in [the category], but putting the doubt in people's mind about if it's better and asking 'can they rock the boat and try something new?'"