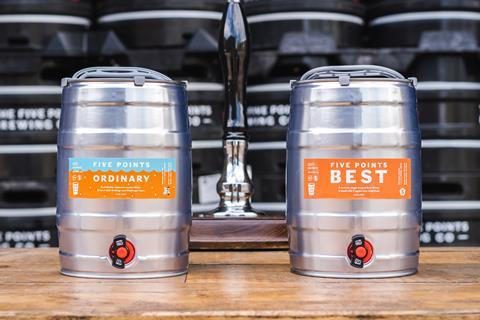 Bohem and Five Points are among the breweries launching keg delivery

There has been an 82% drop in sales from small independents since the onset of lockdown

CAMRA has launched Brew2You, an app designed to offer pubs and breweries a new route to market
London's craft brewers are turning to mini-kegs to help keep them afloat as lockdown continues across the UK.
London-based Bohem Brewery has begun offering same-day free delivery of 10 and five-litre kegs of several of its lagers – Martina Session Pils (4% abv); Amos Czech Pilsner (4.9%), Raven Lagered Porter (4.2%); Agnes Czech Bock (7%), and Sparta Amber Lager (5.4%), priced at £26.99-£34.99 for the five-litre kegs and £45-£60 for the 10-litre kegs.
The 10-litre kegs have an in-built carbon dioxide supply to ensure freshness for seven days, while the five-litre kegs keep the beer fresh for 48 hours once tapped.
Once they are finished, the brewery will collect the empty kegs.
"Our lagers are cold-stored for a minimum of five weeks, so most of the beer we're selling now by direct delivery was originally earmarked for sale to pubs," said Bohem co-owner Glynn Davis. "We've had to adapt as quickly as we could, including sourcing 10-litre reusable kegs from a German supplier.
"At least our long lagering process has given us time to plan, and to scale back production to meet the lower level of demand we expect until pubs reopen. Brewers with shorter lead times will very likely have had to dispose of surplus beer."
East London's Five Points Brewing Company, meanwhile, has added a range of 'mini casks' of its Five Points Best (4.1% abv) and Five Points Ordinary (3.6%) brews – both of which would have been cask-only brews when sold in the brand's pubs.
Its founder Ed Mason said "one of the things people are missing most at the moment is that draught beer experience" and that the brand would measure shoppers' response before pouring more beers into the format.
The moves come as small brewers are struggling to make up for the loss of sales caused by the near total shutdown of the on-trade.
The Society of Independent Brewers posted figures last month showing an 82% drop in sales from small independents since the onset of lockdown.
"Unlike the global beer brands who can supply supermarkets in great volume, small independent breweries sell the majority of their beer through pubs, bars and restaurants, meaning the lockdown measures have hit them much harder," said SIBA CEO James Calder.
"While many have launched local delivery services or online shops to try to stay afloat, the increase in online sales is a drop in the ocean compared to the overall decrease their beer sales have seen."
Campaign for Real Ale CEO Tom Stainer said: "With their routes to market all but blocked through pub closures, we need to ensure that brewers have the same access to business rate reliefs, loans and grants that is currently available for pubs.
"We'd also like to see beer duty payments deferred and licensing laws relaxed so that brewers and pubs that only have on sale licences can sell to the off-trade during the crisis."
CAMRA has launched an app called Brew2You, designed to offer pubs and breweries a new route to market, through which they can sell stock without setting up an online shop.