Intensely flavoured, high-strength gin designed to be served in small measures is an eye-catching trend to emerge from Dry January this year. Could it catch on as a means of more virtuous drinking?
The point of Dry January is to cut out alcohol completely, right? Not necessarily, as more consumers are using the month to rein in their drinking rather than going totally, well, teetotal.
It's a fact not lost on some opportunistic booze brands, which have seen a way to market alcoholic drinks around the occasion. For example, a string of gins have launched this month that are as strong as, or even stronger than, your typical London dry. Not only that: they are positioned as a way to reduce alcohol consumption. It may sound a little ludicrous, but could they really be a means of more virtuous drinking?
"The trend for low & no is here to stay so we must continue to look for ways to build on quality choices for our loyal customers," says John McCarthy, head distiller at Adnams. The Southwold-based business has this month launched Smidgin, a 50% abv gin sold in 20cl bottles. Described as "the little gin that is big on taste", Smidgin "is intended to create a low-alcohol serve with an impressively intense flavour", according to Adnams.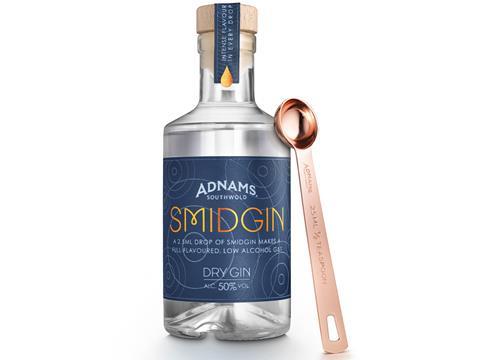 Only 2.5ml of the spirit is required to create a full-flavoured G&T and it is sold alongside a half-teaspoon copper measure for the purpose. And while this is only a tenth of a typical single gin measure, the product is distilled with 10 times the botanicals to ensure it still packs a punch. "It is a new concept for us at Adnams but one we feel is bound to be a hit," says McCarthy.
Along the same lines, Inginious is a 43% abv spirit with 10 times the flavour concentration of standard gin. The tipple also comes with a measuring spoon, but this time suggests 5ml as the optimal serve to recreate a double gin & tonic. The spirit promises "a familiar gin and tonic taste experience" with only 0.2 units of alcohol per serve, says Inginious.
So what's to stop consumers from ditching the spoon and pouring themselves a large measure? After all, there are super-strong gins on the market that drinkers serve as standard without a thought. Take BrewDog's new LoneWolf Gunpowder Gin, launched this month, or Brighton Gin's Seaside Navy Strength, which both ring in at 57% abv. Brands such as Inginious will be hoping their target market – sensibly-minded gin lovers who want the same flavour experience with a fraction of the alcohol – will be led by taste rather than a quest to get tipsy.
After all, such spirits are "inspired by the increasingly conscious and mindful drinker", according to Quarter, which claims to be "spearheading the 'light spirits' movement".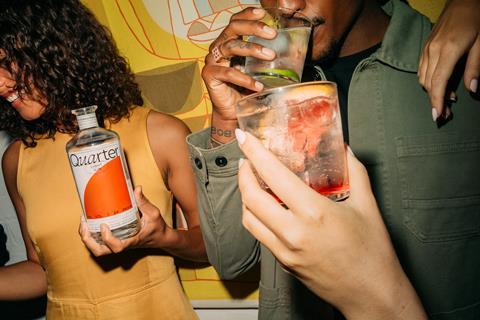 While still flogging alcohol, the brand is taking a slightly different tack. As its name suggests, Quarter offers spirits a quarter the strength of the standard equivalent, and hopes to "claim the space between full-strength distilled spirits and low & no-alcohol offerings". Although its Light Gin comes in at 12% abv, a similar strength to a glass of wine, Quarter is marketing the spirit as a more virtuous choice for Dry January and beyond.
"Quarter Gin was created to empower and inspire consumers with more choice and flexibility whilst drinking socially and professionally", says the brand. It is said to bring the "much-needed flavour punch, mouth-feel and texture that is synonymous with the full-strength spirit, but often lacking from the low & no space".
It's perhaps a wiser concept for Quarter's target audience, which, if its marketing is anything to go by, is made up of party-loving but health-conscious millennials and young professionals. The lower, but not ultra-low, abv means drinkers can enjoy a buzz when drinking socially while still consuming less alcohol, even if they are more liberal with their measures.