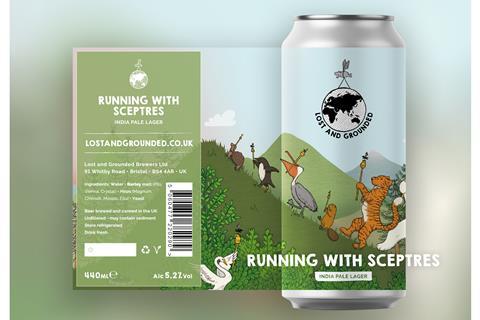 Lost & Grounded has become the latest brewer to defy a ruling by the Portman Group.

The Bristol-based craft brewer's Running with Sceptres ale, which is stocked in Waitrose, was ruled as having a risk of appealing to under-18s by the watchdog's independent complaints panel thanks to the "prominence of cartoon animals" on its cans.

But the brand has refused to change the brew's branding, with co-founder Annie Clements this week arging it was "no different to the multitude of other brands on the market that utilise an artistic style".

"This product is integral to our brand story, and a change to its branding would be costly, and to do this based on a single complaint is simply not practical and has the potential to cause significant financial damage to our small, independent business," she added.
The Portman Group has now issued a retailer alert bulletin, requesting retailers who stock the beer to stop selling it.

But both the Society of Independent Brewers (SIBA) and Lost & Grounded's local MP, Kerry McCarthy, have come out in support of the brewery.

SIBA CEO James Calder said it "would like to see the Portman Group move to a system where, like other regulators, numerous complaints are needed to trigger an investigation".

"This ruling will cause significant damage to a brewery with good ethics and business at its core."

It comes just months after Welsh craft brewer Tiny Rebel fought the watchdog over cans of its Cwtch ale brand.