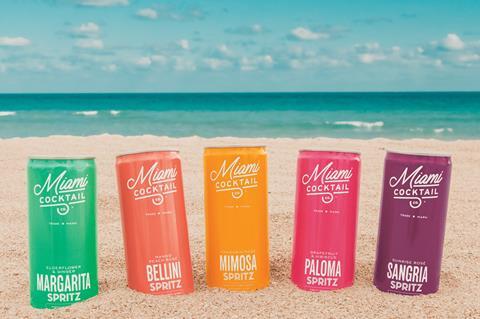 Molson Coors is moving into RTDs with a new distribution deal.
The brewing giant has signed up to distribute Miami Cocktail Company's RTDs across the UK – the latest in a series of moves from the beer giant to broaden its portfolio.
Miami Cocktail Company makes a range of organic spritz canned cocktails such as Margarita Spritz, Mimosa Spritz, Sangria Spritz and Bellini Spritz. They are sold in 250ml cans, contain 110 calories each, have no added sugar, and come in at 4% abv.
It also offers a range of 'Small Batch Originals' – 750ml bottled cocktails such as Copper Pot Margarita (12%), Sunset Sangria (9%) and Blood Orange Mimosa (8.4%).
The brand is currently stocked in Harvey Nichols, and will launch into Waitrose over the summer thanks to the deal.
Miami Cocktail Company CEO Ross Graham said he was "excited to expand Miami Cocktail Company's presence into one of the most discerning tastemaker markets in the world, and we are thrilled to have Molson Coors Beverage Company on board to lead those efforts".
"Our plan is to start and focus in the UK, followed by select European markets and Australia. This partnership provides us with the expertise and routes to market to scale our brand properly."
It's the latest in a series of moves outside its brewing heartlands from Molson Coors, which recently rebranded itself as Molson Coors Beverage Company.
Earlier this month it inked a simlar distribution deal with Bodega Bay, bringing it into the hard seltzer market. Last year it moved into soft drinks with the launch of hopped sparkling water brand Wellraiser.
"The partnership with Miami Cocktail Company will embed us firmly into the higher-end cocktail market, and fulfils consumer demand for lower-calorie, more natural ingredients that we're increasingly seeing become a key driver of purchasing decisions," said Molson Coors marketing director Ali Pickering.