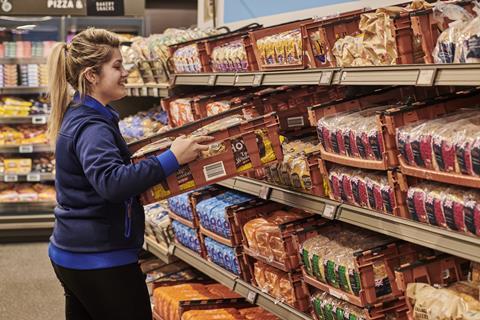 Aldi has announced new minimum hourly pay rates for store staff, higher than those offered by any other supermarket in the UK.
As of September, Aldi store staff will receive a minimum of £10.50 an hour nationally and £11.95 within the M25, up from £10.10 and £11.55 respectively.
It's the second raise for Aldi store workers this year and beats a new Morrisons rate effective from October of £10.20 an hour nationally – up from £10 – with an 85p top-up inside the M25.
Aldi is also one of the only remaining major grocers to offer paid breaks, along with Co-op.
Aldi said 26,000 workers would benefit from the new rate, which exceeds the Living Wage Foundation's recommended real living wage of £9.90 nationally and £11.05 inside the M25. It takes Aldi's investment in pay this year to £43m.
"Our new rates of pay maintain Aldi's position as the UK's highest-paying supermarket," said Aldi UK & Ireland CEO Giles Hurley.
"This announcement recognises the amazing contribution our colleagues make in serving local communities across the country. Their outstanding efforts have ensured that our customers continue to have access to fresh affordable food, every single day."
Aldi is also on a recruitment drive in its 11 regional distribution centres across the UK, with 1,000 new roles to be created over the next 12 months to supply its growing estate.
The roles are in its distribution, transport and maintenance teams and include both full- and part-time positions, with salaries of up to £19.80 per hour.
Aldi UK recruitment director Kelly Stokes said: "As we continue to grow and make Aldi accessible to even more shoppers, we need more amazing colleagues at our distribution sites across the country to make that possible.
"As well as market-leading pay and benefits, being an Aldi colleague means a great working environment and real opportunities to progress within the business. We look forward to welcoming even more great people to our distribution centres to become a part of our success."