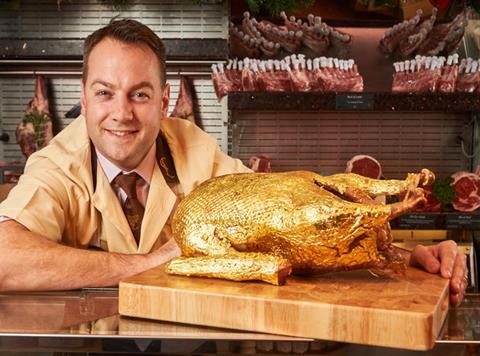 AmazonFresh is paying homage to the Grimm's fairy tale by selling a golden goose this Christmas.

No longer just a fictional character, an edible golden goose is available to purchase on the online grocery site for £98.50 over the festive period.

The free-range goose is prepared by butcher C.Lidgate, one of the first businesses to partner with AmazonFresh when it launched last year, and comes with 24-carat edible sheets of gold leaf.

Customers must first cook the 4.5kg to 5kg bird, which is enough to serve five or six people, and apply the gold leaf once the meat has rested for 10 minutes.

The tradition of eating gilded birds dates back to the 16th century, when it was considered the ultimate sign of opulence. Henry VIII was rumoured to be a particular fan of serving up golden poultry to demonstrate his wealth.

C Lidgate managing director Danny Lidgate said the goose could be a more mainstream treat this Christmas.

"Rich, buttery and packed with flavour, roast goose is a great Christmas day alternative to turkey," he said. "Customers are constantly seeking out food that not only tastes great but also looks great too. What better way to achieve this than by using high-quality edible gold leaf to astonish your guests this Christmas."

Last month, C Lidgate brought back another historical food in the form of a traditional mince pie containing meat.