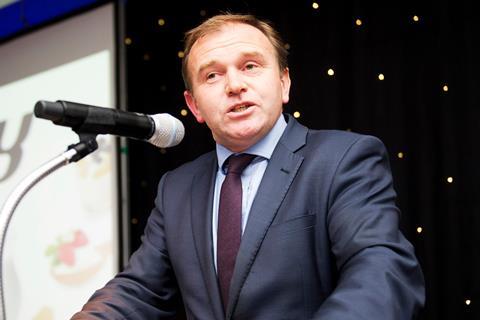 Environment secretary George Eustice has been accused of "overcooking" the impact of British labour in the fresh produce supply chain.
Eustice hailed the effectiveness of the industry-wide Pick for Britain recruitment scheme in evidence to a Commons Efra Committee hearing on 22 September. At the same time, he played down the urgency of industry concerns over lack of migrant labour in the sector for 2021.
Responding to a question by SNP MP Dave Doogan on the gap between the government's current Seasonal Agriculture Workers Scheme trial and "actual operational demand from growers", Eustice claimed Defra found "roughly one third" of the sector's labour needs had been meet by the UK workforce in 2020.
"Roughly a third were under the SAWS pilot, mainly from the Ukraine, and then the other third were EU citizens who were already here," he added.
"That mix worked reasonably well. Most would tell you that the level of productivity among UK workers was lower on average," he pointed out.
There were also higher churn rates, and staff turnover. "But nevertheless, they made a significant contribution this year," he claimed – while suggesting the sector would need to ensure it "does as much as it can to make room" for unemployed UK workers next year.
However, Eustice's claims were described as "massively overcooking it", by a senior farming source, who added the comments had "caused consternation" among the growing sector. They suggested the true figure for the entire fresh produce category was actually between 5% and 7%.
A survey of British Summer Fruits members, due to be published within the next few weeks, is set to further reinforce this claim. Its CEO Nick Marston suggested the total number of UK registered workers, which could also include a large proportion of naturalised workers, was closer to 10%.
"Of that 10%, only about 1.8% of those jobs were in harvesting, so it's a tiny proportion of the total amount of people who harvested crops," he said.
"Our data would suggest, certainly among berry growers, that the data Eustice quoted is grossly inaccurate," Marston added, while bemoaning the lack of understanding in government of the difficulties in relocating largely city-based unemployed hospitality workers into seasonal labour jobs.
BSF's data is also closer to the results of the NFU's Labour Providers Survey, which shows that between January and August this year, UK workers in horticultural businesses represented about 5.5% of the workforce, though this compared to just 0.2% in the same period in 2019.
A Defra spokeswoman declined to respond on the source of Eustice's data when asked by The Grocer, insisting British-based seasonal workers had "stepped up to the challenge to ensure industry needs were being met".
"Thanks to the success of the Pick for Britain campaign growers were able to find the workers they need – despite the impacts of the coronavirus crisis," she added.