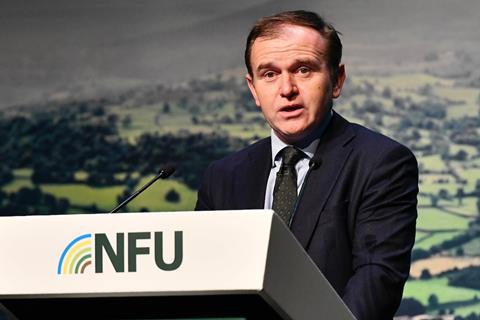 New Defra secretary George Eustice has pledged the government "will not jeopardise" UK food standards in future trade deals, despite appearing to suggest UK farmers will have to compete more post-Brexit.
Addressing the NFU Conference for the first time as Defra secretary today, Eustice called on farmers and growers to have "no more jangling nerves" about their ability to compete with the global market.
Using a rugby analogy to make his point, Eustice said: "Let's not get spooked by some New Zealand haka performance on the global trading environment.
"We have in this country some of the most efficient and innovative farmers in the world and we need to get on the pitch and compete."
In a frosty follow-up question-and-answer session with NFU president Minette Batters, Eustice was asked about sourcing labour post-Brexit.
He stopped short of giving an outright commitment to scale up the Seasonal Agricultural Workers Scheme further ahead of the end of freedom of movement next January, despite Batters calling for certainty in her speech yesterday.
"I do understand recruitment for next season will need to commence later this year," he said. "Businesses will need clarity and certainty, not least to inform their cropping decisions, if nothing else."
Eustice was also taken to task over his comments on the Sunday political programmes, on which he did not rule out compromising standards by importing products, such as chlorinated chicken.
"I did not say there is room for compromise, I said there is room for discussion [on standards]," he said.
"We have had a farm-to-fork approach to reduce diseases through good farm husbandry and we want to retain that and we want to also ensure that other countries that export their products to us abide by that same type of approach."
Eustice's comments follow yesterday's speech by Batters, in which she described suggestions the UK would accept imports from countries with lower food standards as "the work of the insane".
After criticising the farming systems of countries the government is said to be pursuing trade deals with – such as the US and Japan – Batters said: "To sign up to a trade deal which results in opening our ports, shelves and fridges to food which would be illegal to produce here would not only be morally bankrupt, it would be the work of the insane."
She called on the government to demonstrate "global leadership" and make UK farming standards the global "benchmark for climate-friendly farming" after Brexit.