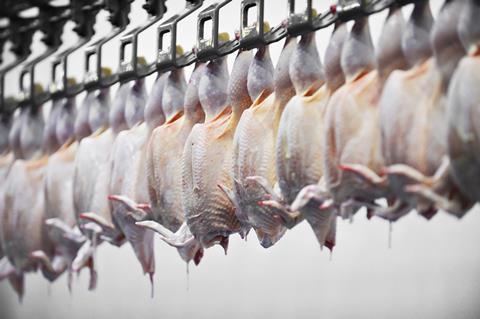 More than half of US shoppers have growing concerns over food safety, exclusive research shared with The Grocer has revealed.
However, new Defra secretary George Eustice has refused to commit to a ban of US chicken.
A survey of more than 1,000 US consumers by global food safety certification experts Lloyd's Register also found 46% of Americans had changed their shopping habits because of a food scare, while 56% were more concerned about food safety than they were a year ago.
Meanwhile, some 58% of US consumers said their biggest concern was the presence of foreign objects in their food, added the study, titled Food in 2020: What's trending for US shoppers.
Equivalent research carried out in the UK found that 18.7% of shoppers had changed their habits due to food scares, while 31% were more concerned about food safety than they had been 12 months previously.
It comes as Defra secretary George Eustice yesterday refused to rule out importing chlorinated chicken into the UK as part of a future US trade deal.
When asked by Sky News' Sophy Ridge on Sunday whether he would commit to banning the future sale of chlorinated chicken in the UK, Eustice said: "We won't make any moves on our standards."
But he stopped short of guaranteeing an outright ban on such imports, by adding the sale of chlorine-washed chicken and beef treated with hormones was currently illegal, while the government had "no plans to change those things".
The US has said its negotiating objectives for a trade deal would include demands for "comprehensive market access" for agricultural goods, while prime minister Boris Johnson recently described concern over US food standards as "mumbo jumbo".
Consumer watchdog Which? said its own research had found that 93% of people think it is important to maintain food standards after Brexit, with 72% saying that food from countries with lower standards should not be available.
"It is astonishing that instead of improved food safety and health, chemical washing techniques for chicken and hormone-treated beef are still being left on the negotiating table when the debate has to be firmly focused on the food standards consumers want," said Sue Davies, head of consumer protection and food policy at Which?.
"British poultry producers don't dip their chicken carcase in chemicals as we do not 'clean up at the end' or take any short-cuts when it comes to producing food," added British Poultry Council CEO Richard Griffiths.
"It's government's duty to ensure that production standards of imported food meet British standards as a condition of entry. If food produced to lower standards is allowed to enter the British market, it will create a two-tier food system, in which only the affluent can afford to eat British food grown to British standards."