Chlorine treatment is safe to use, say US regulators - but there is a lot of resistance to the idea in Europe
The prospect of the UK accepting US chicken treated with chlorine in order to secure a lucrative trade deal has got everyone in a right old flap.
Concerns the UK may have to accept lower standards on imported meat as part of any post-Brexit trade deals have been rising ever since last year's EU referendum.
Ministers have previously insisted the ban on chlorinated chicken would be upheld. However, amendments that would have enshrined existing food standards in law were voted down when the government's Agriculture Bill passed through the Commons.
The government is now looking at imposing a dual-tariff system that would impose different levels of duty on imported foods – dependent on whether they complied with UK animal welfare and food manufacturing standards.
So just what is so-called chlorinated chicken? And why is it something that exists in the US but not over here?
What is chlorinated chicken?
Chlorinated chicken – or chlorine-treated chicken – refers to chicken that has been treated with antimicrobial rinses in order to remove harmful bacteria. These rinses are often referred to as Pathogen Reduction Treatments (PRTs) in the US.
After the birds are slaughtered and the carcases eviscerated, they are examined and then undergo a "final washing procedure", where chemicals are applied as a spray or wash on the processing line, "or as an addition to the water used to lower the carcase temperature".
Why is it used in the US?
To help manage pathogens like salmonella and campylobacter and protect consumers from infections.
According to a report from the Adam Smith Institute (which argues in favour of allowing PRTs), "immersing poultry meat in chlorine dioxide solution of the strength used in the United States reduces prevalence of salmonella from 14% in controls to 2%. EU chicken samples typically have 15-20% salmonella."
Why is chlorine treatment banned over here?
The EU and the US have a long-running dispute over imports of chlorine-treated poultry, which EU member states have refused to accept since 1997. The feud has resulted in proceedings before the World Trade Organisation (WTO) and remains a major bone of contention in EU-US trade relations.
One of the EU's key concerns is that the use of antimicrobial treatments like chlorine washes compensates for poor hygiene behaviour elsewhere in the supply chain (for example on farms), and that consumers are better protected by a system that doesn't allow processors the simple 'get-out' of treating their chicken with chemicals. As a result, EU processors are only allowed to use cold air and water to decontaminate poultry carcases.
The US disputes this, says the ban is not based on scientific evidence and little more than wilful protectionism designed to protect EU poultry producers from more competitive imports.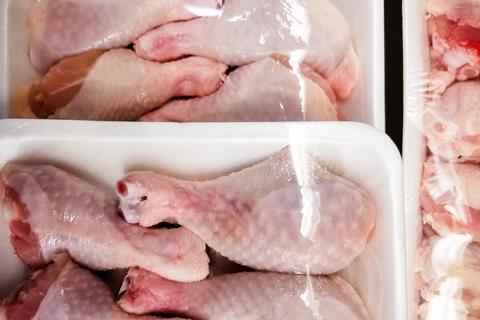 So is it safe?
US regulators are unequivocal: yes, it's safe. The USDA has approved several antimicrobial rinses for use in poultry processing, including chlorine dioxide, acidified sodium chlorite, trisodium phosphate and peroxyacids, and meat treated with such rinses is considered safe for consumers to eat.
And, in fact, their EU colleagues agree. The European food safety regulator EFSA looked at the issue of chlorine treatment and found "chemical substances in poultry are unlikely to pose an immediate or acute health risk for consumers."
What's more, the US National Chicken Council estimates that only 10% of the processing plants in the US actually use chlorine washes.
But many Europeans argue it's not simply about whether chlorine treatment is safe. They believe a farm to fork approach of avoiding bacteria contamination delivers better public health outcomes all round – and that allowing chlorine treatment disincentivises industry to put in place proper hygiene practices.
In a piece from 2014, Monica Goyens of the EU consumer body BEUC wrote: "Essentially, what we are concerned about is not just the chemical itself, but rather the risk that these treatments will be seen as the "easy fix" to clean up dirty meat. Let's be clear – no chemical rinse will ever remove all bacteria from meat heavily contaminated as a result of poor hygiene."
Other than trade negotiators, does anyone else think this is a good idea?
Yes. The Adam Smith Institute says there are good reasons for the UK to scrap EU rules that currently ban chlorine-treated poultry in this country.
In a new briefing paper called Chlorinated chicken - Why You Shouldn't Give A Cluck, it argues British consumers could enjoy much cheaper poultry if the ban on chlorine treatment were lifted. "US methods produce fresh chicken at 79% of the price of equivalent birds on British supermarket shelves," it says.
It also points out American consumers eat about 156 million chlorine-treated chickens a week, and are fine, and that the risk associated with chlorine treatment are tiny. "Adults would need to eat 5% of their bodyweight in chlorinated chicken each day to be at risk of ill health from poultry alone," it says. "Brits would have to eat three entire chlorine-washed chickens every day for an extended period to risk harm."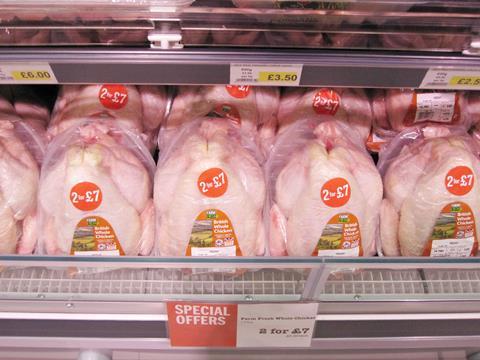 What does the UK poultry sector think?
It's fair to say the British Poultry Council is not at all impressed by all this talk of American chicken imports. In fact, chief executive Richard Griffiths flatly rejects the notion of importing chlorine-washed chickens as part of a makeweight in trade negotiations with the US.
"We are proud to produce wholesome, nutritious and affordable food for the UK population. We also know that British consumers trust nothing other than British chicken," he says.
"The UK poultry meat industry stands committed to feeding the nation with nutritious food and any compromise on standards will not be tolerated. A secure post-Brexit deal must be about Britain's future food security and safety. This is a matter of our reputation on the global stage."
What happens next?
Following concerns raised by the poultry industry over the dual-tariff proposals, Environment secretary George Eustice and international trade secretary Liz Truss have written a joint letter to MPs insisting they won't relax standards.
The government remained "firmly committed to upholding our high environmental, food safety and animal welfare standards outside the EU", the letter said. These standards included a ban on artificial growth hormones and set out that "no products, other than potable water, are approved to decontaminate poultry carcases".
However, the UK farming sector remains concerned over a lack of legal protection for food standards and the direction of travel for post-Brexit trade negotiations.
With UK under pressure to line up big-ticket trade deals for life after Brexit, American producers have clearly spotted an opportunity. So expect this issue to continue dominating headlines over coming months.
*This article was originally published on 24 July 2017

Julia Glotz is a freelance writer and editor. She was managing editor of The Grocer between 2014 and September 2019, and fresh foods editor between 2010 and 2014.

Julia frequently appears on radio and TV as a commentator on grocery retail and the politics of food and food sourcing, and has worked extensively on food authenticity and fraud issues. In 2013, she headed up The Grocer's coverage of the horsemeat scandal.

Prior to joining The Grocer in 2010, Julia was editor of New Media Markets, a trade publication for the TV industry. She started her career as a staff writer for The Legal 500 at publisher Legalease. @juliaglotz
View full Profile