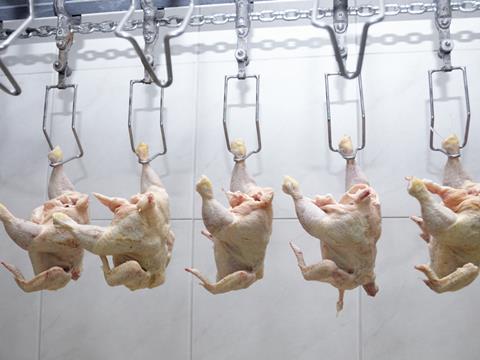 New government proposals that would permit the import of US chlorinated chicken and other foods made using techniques banned in the UK represent the "worst of both worlds", the British Poultry Council has warned.
Under the proposals – revealed by The Telegraph today – the government is planning to introduce a so-called "dual tariff" regime as part of free-trade deal negotiations with the US. However, BPC CEO Richard Griffiths said the plan could lead to a series of unintended consequences for the UK sector – including the cutting off of access to the European market.
The regime would impose different levels of duty on imported foods – dependent on whether they complied with UK animal welfare and food manufacturing standards, and was adopted at a ministerial meeting on Monday, The Telegraph claimed.
It will now be put to the US as part of ongoing talks over a post-Brexit trade deal. With the powerful US farming lobby insisting access to the UK market was a deal-breaker in any trade agreement, the proposals would allow the UK to overcome a big stumbling block in negotiations, the report suggested.
UK producers would be protected as the tariffs would essentially make it uneconomical for US producers to export their lower-standard products to the UK. Meanwhile, high-quality foods, such as organically reared free-range meat, would be subject to lower tariffs, it added, in order to encourage foreign producers to lift their animal welfare standards to British levels.
The Telegraph report presented the proposal as a victory for environment secretary George Eustice against international trade secretary Liz Truss' calls for more tariff liberalisation. NFU president Minette Batters described it as a "significant step forwards that the government has recognised the damage [a deal with no trade barriers] would do to our farmers".
But there were big questions over whether the tariffs "would be high enough", said the BPC's Griffiths, who also cautioned the proposals were unlikely to be welcomed by the EU.
"In a worst-case scenario, we could see [lower standard] US product still imported into the UK under a tariff that's too low," he added, while the fact a deal had been agreed with the US could affect trade with the key European market. "We could be selling out on our standards while also making it considerably more difficult to trade with the EU," Griffiths warned.
He also suggested offering lower tariffs on higher standard imports, such as organic chicken from the US, would still undercut UK producers – due to the lower cost of production prevalent across US systems. "That could spell trouble for our organic producers."
Defra declined to comment on the report's claims, with a spokesman continuing to push the department's line that the government would not "undermine our high domestic environmental protection, animal welfare and food safety standards" in any trade deal, when approached by The Grocer today.