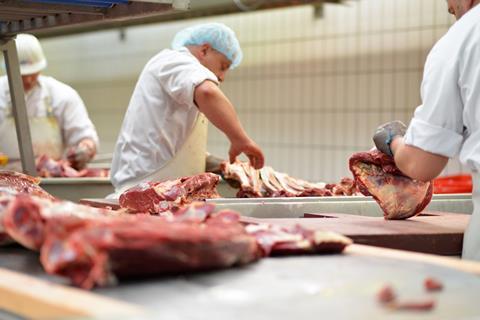 Jobs in Northern Ireland are under threat because of new post-Brexit rules, the meat industry has warned.
British companies could pull some of their production sites out of Northern Ireland because of how burdensome it is to move goods under the Windsor Framework deal, insiders have reported.
The Windsor Framework officially started on 1 October, and was designed to allow a smoother flow of goods between GB and NI via a two-lane system that involves minimal paperwork and no border checks for businesses trading in the UK internal market. The first lorries from Britain arrived at the Irish Sea ports earlier this week without any reported disruption.
However, meat processors claim the Windsor Framework's "proposed easements mainly favour retailers" sending shelf-stable and packaged goods to their stores in Northern Ireland, as they can use the less arduous green lane.
Businesses sending animal parts to Northern Ireland to be processed in local plants and distributed to other businesses across the island must instead use the red lane, where they are subjected to more paperwork and physical checks. This could cost them "hundreds of thousands of pounds per year" on average, British Meat Processors Association (BMPA) technical policy manager Nan Jones said.
If the costs prove too great, companies might consider moving their factories to Britain, she warned.
"Some of our members have meat processing plants in both Northern Ireland and GB, which means they will have to decide where to do their processing, considering the extra costs and complexity of moving material between the two regions.
"It could force some UK companies to pull some of their production sites out of Northern Ireland and relocate to the mainland because the new rules will restrict how they're able to move goods between the two."
Read more:
The costs for red lane users were set to become even greater with the looming end of the Movement Assistance Scheme. The government-funded programme, set up in the early stages of the now defunct Northern Ireland Protocol, covers expenses such as veterinary inspections and export health certificates for traders moving agrifood goods from GB to NI. The government announced earlier this week it would extend the scheme until 30 June 2025 – a move that has been welcomed by the industry.
But the trade body pointed to wider problems with the model. Because of the recent delay on border checks on all EU imports, it is currently less burdensome and expensive for European goods to enter Britain than for British goods to move between the UK's own domestic market, the BMPA said.
Additionally, once the Border Target Operating Model fully rolls out next year, there will be a streamlined process for exporters from the EU and the rest of the world sending goods to the UK, to reduce as much trade friction as possible.
Meanwhile, GB meat producers sending goods to NI will face huge amounts of red tape under Windsor Framework rules, BMPA trade policy advisor Peter Hardwick told a government committee last month. "We are in a situation where for [Great Britain] to send goods to another part of the internal market, we will continue to have to meet full certification requirements, whereas businesses in the EU and other countries outside the EU will have to do less to send goods to GB. That is very concerning," he said.
"To highlight this and to give you a sense of how ridiculous this is, not only will that apply to EU countries but, from next year, countries outside the EU, such as Brazil or even Botswana, will be able to use a streamlined export health certificate to send beef to the UK, and we will not.
"That document that we will have to complete is a third longer than the document they will have to complete to send goods to the UK. All of that equates to time and cost."
The government has previously said it was committed to supporting and working with industry through the implementation of the Windsor Framework.
"The current model in place is flexible and we are working to ensure the continued efficient movement of both green and red lane goods when the new arrangements are phased in," a Defra spokesperson told The Grocer last month.