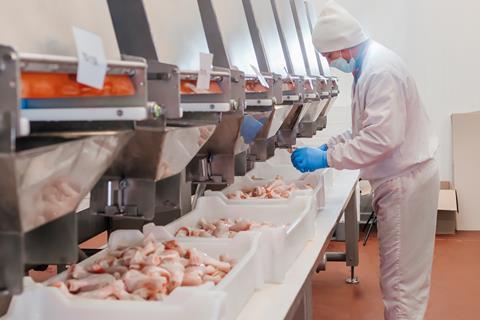 The Food Standards Agency is under fire for its failure to produce a regulatory framework to replace the EU laws that may be repealed at the end of the year.
British food safety laws carried over from its time in the EU are set to be scrapped from 31 December under a "sunset clause" that requires any outstanding EU legislation to be reviewed and approved by ministers to remain.
But replacing EU laws with a new UK regulatory framework is a task that is unlikely to be finished by the December sunset period, according to Margaret Ritchie, member of the Food, Poverty, Health and Environment House of Lords Committee, at a Westminster Food & Nutrition Forum this week.
"It's going to take forever," she said.
FSA chair Susan Jebb told the forum that the chance to change EU rules was "coming down the tracks really rather fast", but that the FSA was facing "substantial headwinds" and "real challenges over resources".
Jebb added the FSA was "going to need to work with partners across the food system to deliver this", but later told the Grocer: "It's for parliament and not the FSA to decide which laws to keep or reform."
Both industry figures and local authorities are therefore calling for an extension of the December deadline so that the UK can continue abiding by EU laws until there is a "robust" framework in place.
The House of Lords is set to meet on Monday 6 February to decide whether to extend the December sunset period by an additional three years.
Which? strategic policy advisor Sue Davies argued the EU Retained Law Bill which contains the sunset clause poses a "huge risk" to UK food law that consumers had come to rely on, and that setting up a new UK-only framework came with various challenges.
"At best it is a missed opportunity to reform and update UK law to ensure customer trust," she told the forum. "At worst we could lose essential protections and create huge uncertainty."
Local authorities have also warned that food crime was bound to increase without strict regulation from the FSA post-sunset period.
Health and safety authorities are even preparing to "shut down shop" if there was no solid regulatory framework in place by January 2024 to tackle this issue, according to Una Kane, an environmental health manager for Rother and Wealden councils. "We need statute to exist and deliver to the public," she said.
Read more:
The FSA's latest accounts showed the number of food and feed incidents where products were not compliant with safety legislation, were up 18% to 2,336 in the year to March 2022.
Industry campaign group Sustain has said the accelerated deadline was "unnecessary", claiming it would put "huge amounts of our food, farming, public health and consumer standards at risk".
"Our view is that the government has set itself an unrealistic deadline of December 2023, which is going to eat up massive amounts of civil service and parliamentary time," said Orla Delargy, Sustain head of public affairs.
"The government still doesn't even know exactly what it is in scope so is effectively seeking a 'blank cheque' from parliament to make changes without parliamentary input or oversight."
She added that the possibility of extending the deadline beyond December 2023 "provides only a modicum of relief".
"The UK was party to these laws when they were written, and in some cases generated them. Putting them at risk in order to deliver an imaginary 'Brexit dividend' is foolhardy."