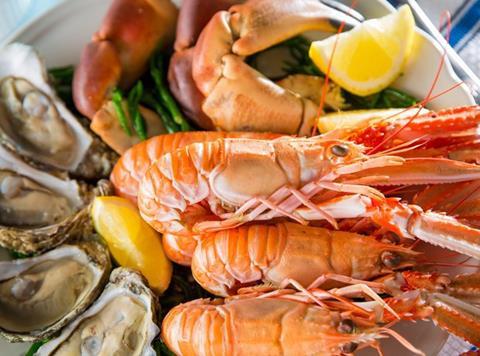 Logistics companies have halted groupage loads to the EU as they look to avoid the worst of the disruption caused by post-Brexit red tape and paperwork.
Groupage is the consolidation of multiple small loads into a single lorry, meaning inadequate paperwork on one product can end up delaying an entire truck's worth of goods.
The suspension of the service is particularly damaging for small and medium-sized companies who typically cannot afford to send their goods individually. Freshly caught seafood requires transport to Europe within 12-24 hours, leaving it as one the worst affected sectors.
"It effectively means we can't export to the EU," said James McMillan, MD at Loch Fyne Seafarms, costing the business about £10k-15k of sales per day, or up to £60k in an average week.
Scottish producers rely on one of three logistics hubs in the country to transport their loads, all of which have stopped taking groupage loads in the past week, said McMillan. "We've had to tell some of the boats to stop fishing because we just can't sell the same volume into the UK as you can in Europe."
DFDS, a major logistics provider, confirmed on Wednesday that its groupage services will restart on 18 January, although deliveries will still take 1-3 days, and the success of the resumed service will depend on a number of elements running smoothly, such as IT systems communicating properly and documentation completed correctly.
McMillan warned that any delays that take the journey beyond 12-24 hours would be high-value seafood would perish on route. "It's imperative that we cannot have any delays in access to the EU market. We've said it and we've said it until we're blue in the face and nobody's listened."
The halt of groupage services had been "devastating" for businesses, according to John Davidson, strategy and external relations director at Scotland Food and Drink, who estimated the cost to the sector exceeded £1m per day in lost sales.
"Groupage is now the main issue and it's because of the complexity, the paperwork, and the risks that are associated with carrying multiple loads from multiple suppliers."
While there was talk of groupage loads starting towards the end of the week, said Davidson, he warned "it's a fast-moving situation".
Many EU hauliers remain wary of entering the UK "because half of them got stuck here for three days at Christmas," said Edward Velasco, import manager at Rodanto, a major fruit supplier.
All drivers must still display a negative Covid test before entering France, and Rodanto has sought to reduce the chance of delays at testing sites in Kent by taking part in a government scheme to offer tests upon delivery at their warehouses.
"It's being proactive in in giving the drivers a bit of a bit of trust to return. So unload it, and we'll test you here. And you can go back a little bit more smoothly than having to do queue again for a test," said Velasco.