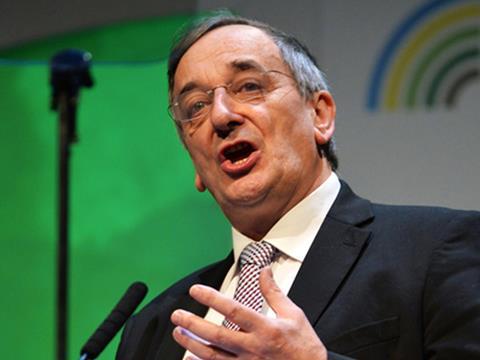 Pursuing global free trade at all costs and unilaterally lowering tariffs after Brexit would have a "devastating" effect on British farming and the UK's food security, NFU president Meurig Raymond has warned.

Speaking after two separate studies - by economist professor Patrick Minford and the Institute of Economic Affairs - suggested the UK could thrive if it eliminated trade barriers, Raymond this week urged the government to "maintain a deep trading relationship with the EU".

Minford's study for the Economists for Free Trade group suggested unilateral free trade was 'the threat that will force the EU to do a trade deal' and could deliver gains of up to £135bn to the UK economy per year.

The IEA's paper, meanwhile, said no trade deal with the EU did not mean disaster. The primary objective of trade policy 'should be to promote the interests of UK consumers, not producers', it added.

In response, Raymond said he had "grave concerns" over the positions advocated by Minford and the IEA.

"Under these scenarios, British farming would be severely damaged as cheaper imports are allowed in while British exports remain subject to high tariffs abroad," he added.

"These arguments involve a very narrow economic analysis that fails to acknowledge the benefits farming delivers to the public outside the limited confines of food prices in shops. The British public needs a viable and productive farming sector."

The NFU cited the recent publication of a comprehensive review by the Agri-Food and Biosciences Institute which looked at possible trade policy scenarios post-Brexit. It stated, in the case of unilateral trade liberalisation (where all tariffs on food imports are abolished), that the price, volume and value of all British agricultural commodities would fall significantly, with prices for beef falling by 45% and sheep by 29%.

"These outcomes would clearly have a devastating effect on British farming and, by extension, the British countryside, the rural economy and our ability to feed ourselves in an increasingly volatile world," Raymond added.
Irish question
It comes as the Irish Farmers' Association this week warned the UK's stance on future customs arrangements amounted to a hard Brexit and "would be very negative for Irish agriculture and the value of our agri-food exports".

IFA president Joe Healey said while it was positive the UK government had put forward the principle it wished to avoid a border in either the UK or Ireland for any purpose - including customs or agri-food checks, it would be difficult to see how this could be achieved in practice.

"Cross-border trade in agricultural produce encompasses crucial issues such as food safety and animal health," he said,

"If the UK insists on pursuing its own free trade agreements, two divergent regimes would have to operate on the island and it is impossible to see how border checks could be avoided," Healey added. "The UK will have to compromise on their future trade ambitions with third countries in the area of agricultural and food products."